Enterprise contract management describes the specific challenges and approaches for managing contracts at scale in enterprise organisations.
While the majority of the principles are consistent with smaller businesses, there are some unique challenges to be met when working with larger organisations.
What is enterprise contract management?
Underpinned by dedicated software, effective enterprise contract management allows larger businesses to better centralise, manage and monitor their contracts – without the need for manual intervention, generating internal bottlenecks or managing multiple sources of information.
If you're currently contemplating investing in contract management software, you've likely identified that your current approach to managing contracts is inadequate."

Below, we take a look at the types of businesses that should consider enterprise contract management software.
1. Large business handling large volumes of contracts
Contracts underpin the way businesses work and the bigger the business, generally, the more contracts there are to manage. Medium to large sized organisations typically find that a manual approach to contract management eventually leads to chaos and a lack of control.
Effective management requires granular, repeatable activities to occur at each stage of a contract's lifecycle and a manual system cannot support the level of work required. When larger organisations use spreadsheets for complex tasks and record-keeping, valuable resources are wasted on administrative work, the risk of errors increases and it becomes difficult to quickly find key information, such as contract clauses in this case.
Working manually with spreadsheets can also encourage data to become fragmented, with duplicates created and saved separately. This can lead to a build-up of hidden risks and missed opportunities for cost-savings and overall business efficiency."

Businesses should consider contract repository software as it provides a secure and central way to store data, giving complete visibility to everyone who needs it and helps businesses to create a single source of truth for standardised working.
Intuitive software also automates internal processes, helping large businesses in particular process contracts and their metadata more efficiently and effectively.
Enterprise contract management solutions also supports advanced search functionality so businesses can rapidly find the information they need from across their contract portfolio.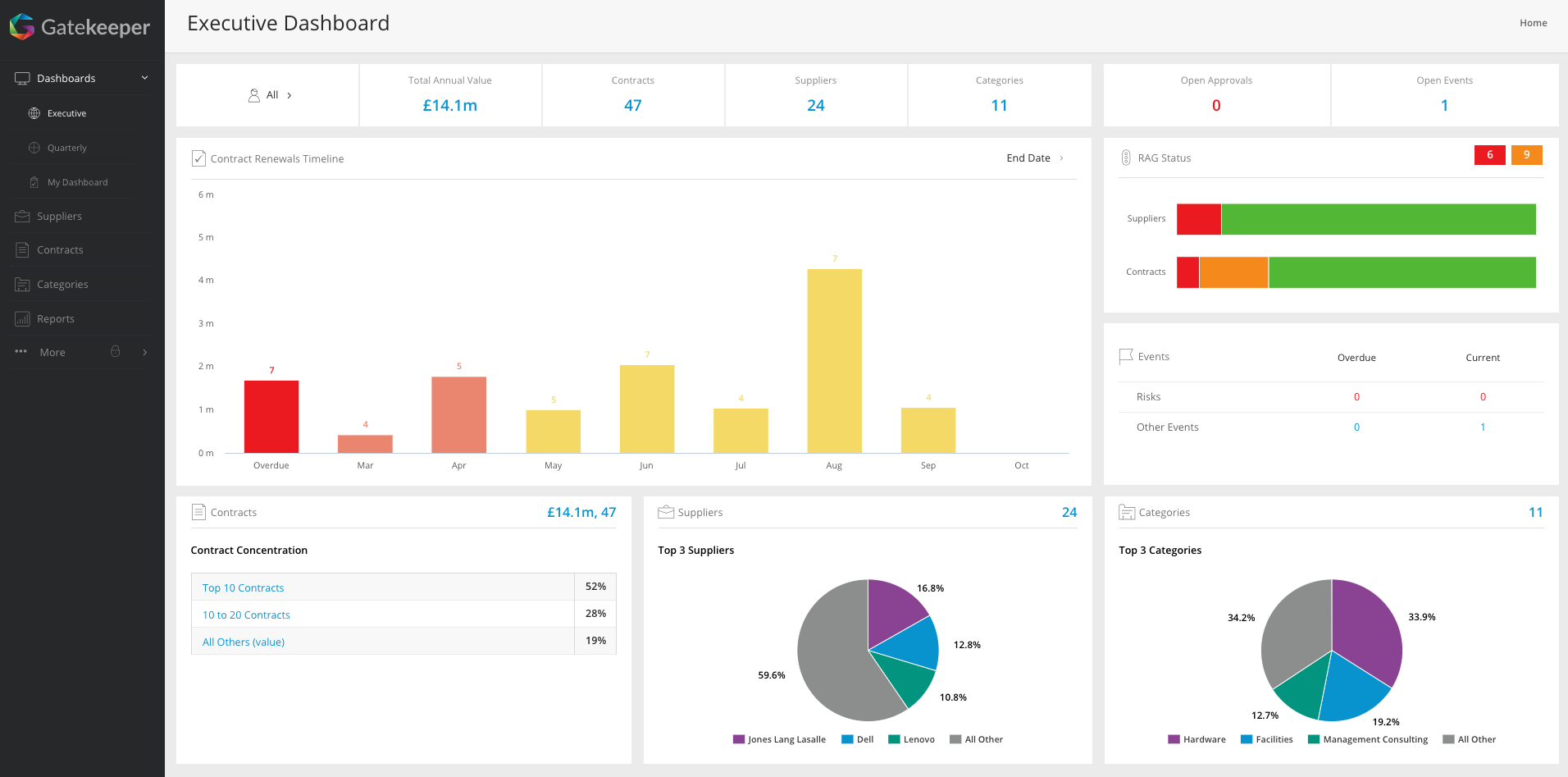 Gatekeeper's Executive Dashboard
2. Organisations operating multiple divisions or across multiple locations
Larger businesses are often geographically spread with team members working across the globe. This geographical distribution has been made more commonplace by the growing trend of working from home in light of COVID-19.
In these circumstances, localised databases of contracts and other information are quick to develop and can easily lead to disparate data and inconsistent ways of working.
This lack of standardisation can lead to inaccuracies, contract risk, costly mistakes and a lack of collaboration across the organisation. In enterprise-level organisations, these risks are exacerbated by the fact any single contract can be required to pass through multiple departments such as Procurement, Legal, Sales and IT.
In mid-to-large organisations, company-wide collaboration is vital for success. For best results, all divisions need to work in the same way, or at least as closely as possible."

Manual processes and spreadsheet-based contract management can easily lead to silos in businesses with multiple divisions and geographical locations.
Cloud-based enterprise contract management solutions can resolve and prevent many of the issues listed above through centralisation and improved accessibility for contract data.
For example, teams can securely access a central repository of relevant contracts and their metadata from wherever they are. Access is controlled and tracked and documents are stored in the cloud which ensures that they aren't lost, even when people move on from the business.
Traditional working silos are eliminated, internal contract processes are standardised and the whole organisation can work together to drive maximum value from contracts.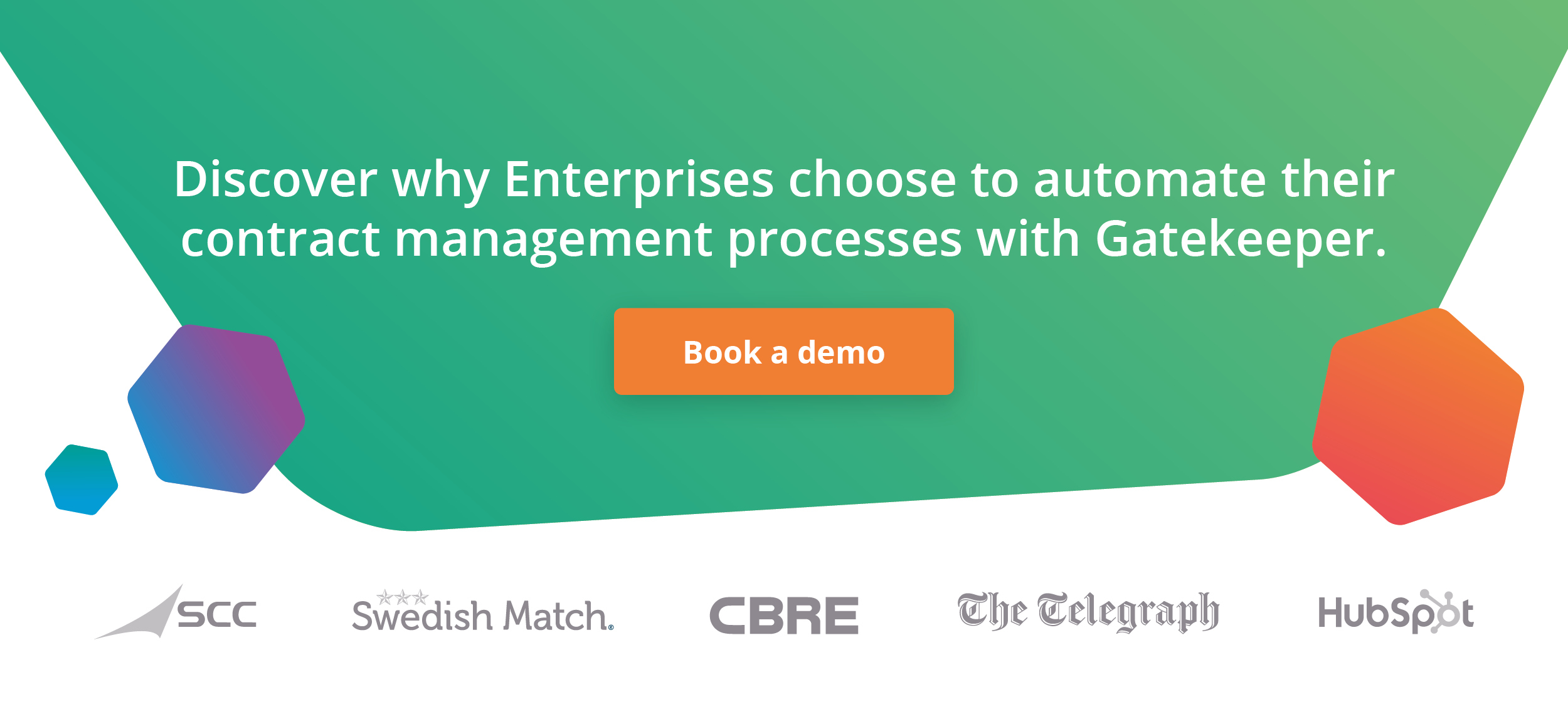 3. Enterprises in heavily-regulated industries
Many enterprise businesses have to manage a larger volume of contracts while meeting stringent regulations and layers of compliance requirements. This is especially true for organisations within healthcare, pharma and financial services industries.
Regulation of these industries in particular dictate that a business's contracts and suppliers need to be carefully monitored to ensure that relevant certifications or insurance documents haven't expired and risks are being minimised.
Data protection is every bit as important as other regulatory requirements too, especially for enterprise businesses that are operating in multiple jurisdictions. There are a number of factors that define the regulatory regime a business must abide by including:
The industry worked in
Where its headquarters are
Which countries it operates in
Which countries it obtains products and services from
For organisations managing thousands of complex contracts, using a spreadsheet for compliance tracking, monitoring and data protection is impractical and takes up too much time, resource and effort.
Enterprise contract management software automates compliance efforts. It provides businesses with timely alerts and notifications when a contract or its associated certifications are about to expire, allowing the business to act ahead of time and ensure any obligations and regulatory requirements are being met."

Any changes made can then be recorded against the contract's master record, with a visual and fully searchable audit trail created for each one. This helps to demonstrate compliance, keeps auditors happy and provides a complete history of how the contract has been managed.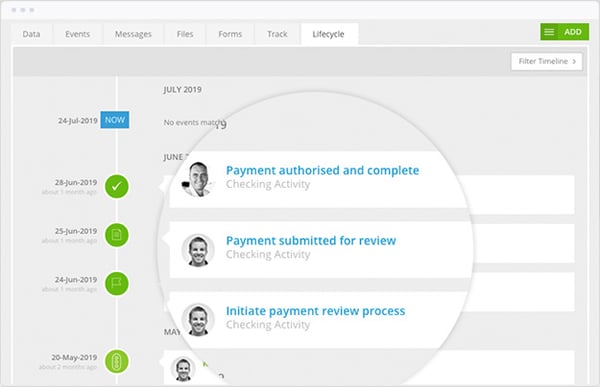 Example audit trail as displayed in Gatekeeper
Using a dedicated cloud-based solution also helps enterprise businesses to remain compliant and protect data through a variety of features. These include respecting data sovereignty requirements, encryption for data in transit and rest and role-based access permission so only approved individuals can access and edit data.
How Gatekeeper approaches enterprise contract management
Gatekeeper is well versed in working with businesses in highly regulated industries, with those managing complex contracts and with those managing volumes that simply can't be effectively controlled through spreadsheets.
We work closely with multiple stakeholder teams such as Legal, IT, Procurement, Finance, Sales and Vendor Management to help them embed an enterprise contract management solution in their business and give them visibility and control over their contracts and processes."
Our years as a remote-first company combined with our expertise and intuitive product enables us to help enterprises around the world benefit from the following:
Greater control of legacy data using AI. Enterprise businesses can auto-extract key metadata and clause language, create fully digitised records for storage in a central contract repository and create greater levels of accuracy for compliance. This is a huge time-saver for those investing in their first dedicated contract management solution, who have a large number of legacy documents.
Ability to manage approval controls and tracking. Our dedicated software automates even the most complex approval workflows. Our platform enables enterprises to drive conditional approvals from data fields, and all approvals are automatically linked to contract records, creating a searchable audit trail.
Greater understanding of contractual obligations. With huge volumes of contracts underpinning the business, understanding of contract obligations can be easily obscured. Our contract management software creates end-to-end visibility of obligations by storing all terms centrally and supporting alerts about events that could lead to a lack of compliance.
Drafting agreements more quickly with contract templates. Businesses can use best practice guides as part of their contract creation and negotiation processes - whether it's for an NDA or a a more complex agreement.
Ability to see performance data in one place. Enterprise-level businesses can track performance for all their third-party vendors and make data-driven decisions. Balanced Scorecards give businesses an overview of vendor performance, create sharable results and the opportunity to drive corrective actions to maximise the value gained from contracts.
The ability to quickly search and locate contracts, documents and clauses. Gatekeeper offers powerful search functionality through OCR technology. You can search for information from any area, across all data-points and within every documents. Results are returned and categorised by file name for easy access.
Never missing another contract renewal. Gatekeeper's platform helps enterprise businesses to boost their bottom line by minimising missed contract renewals. With automated reminders about upcoming renewals, businesses can review the current value being delivered by vendors and look for cost-effective alternatives rather than accidentally paying for non-optimal services.
Flexible API for seamless integrations. Larger businesses have multiple systems that need to work together in an ecosystem whether that's CRMs, ERPs or communication apps. Gatekeeper's flexible API supports over 220 third party solutions, including Single Sign On and Document Management Solutions.


With hands-on support from our implementation team and a dedicated Customer Success Manager, businesses looking to implement enterprise contract management system are in safe hands when they choose Gatekeeper.
To find out more about how a contract management system can help improve your approach, access our contract management resources, book a demo or contact us today.