As the market for contract management software grows, so does the option for native redlining software.
You'll generally see these solutions marketed as web-based alternatives to using Microsoft Word, offering similar functionality to its Track Changes feature.
In theory, this method offers some advantages over the traditional Word redlining process as, for example, it doesn't require documents to be downloaded and therefore helps with maintaining version control. It also allows for co-editing and potentially quicker agreement on contract language.
So far, so good.
However, we all know that contract professionals are a diverse group, with some being happy to adopt new technologies, while others are either content with their longstanding processes or obliged to use legacy solutions due to rules outside of their control.
Certainly not every contract professional will want, or be permitted, to use a native redlining solution. And even if they are, the third-parties that they're aiming to contract with might well be unable or unwilling to do so.
So what does this mean for contract professionals when they're comparing CLM solutions and weighing up those with native editors?
There are a few considerations:
Are you confident that your internal teams will be happy to learn and work in a new system?
Are you confident that the third-parties that you contract with will be happy to learn and work in a new system?
Does the solution replicate all the key functionality you rely on with Microsoft Word Track Changes?
The above questions need to be considered carefully. Any limitations can lead to poor user adoption and teams finding workarounds.
With Legal Counsels typically finding themselves under time and resource pressure, the temptation to revert to previous processes is naturally strong. Any disruption to this kind of work can increase contract risk, create difficulties for versioning and slow down negotiations.
Why is it important to get the redlining process right?

Redlining is a collaborative process. It relies on internal teams working together and external parties reviewing if the terms are satisfactory. Any redlines are made with the intention of reaching mutually agreeable terms that all parties are willing to sign.
The fewer redlines an agreement requires, the better. But the number of suggested changes can naturally vary depending on the complexity of the agreement and the number of stakeholders involved."

When redlining, especially with high volumes of collaboration, it's important that:
All parties are working on the same version of the agreement each time
All revisions can be tracked, stored and revisited
It's clear who made a redline and when.
The final agreement is the version that is actually executedFor some businesses, this is easier said than done. The redlining process can be disjointed, especially where manual processes are still being used. The scenarios for manual management can vary from tedious to damaging.
Draft versions can be left in outboxes. Different versions may be stored in different locations. A lack of consistent naming conventions between internal and external parties can cause confusion. Some businesses may even be redlining with traditional red pens as opposed to Microsoft Word or another digital tool. If the edits are illegible, or the agreement itself gets lost during delivery, a poor outcome can be expected.
If versions aren't being tracked or aren't easily accessible. Parties may be committing to outdated obligations or not fulfilling obligations at all. This can lead to business disruption further down the line. Getting the redlining process right isn't just about making edits to a document. It's about mutual collaboration, understanding and reaching agreeable terms without delaying time-to-contract.
Why Your choice of contract redlining Software matters
Your business may use Microsoft Word, but problems can still occur when third-parties are using different technology. They may receive the file and open it in Google Docs. They may make changes using their in-house editor that break formatting when converted back into .docx
Broken formatting, a change in file type and even programmes that don't automatically save changes can all lead to later confusion. To maximise collaboration and prevent slow turnaround return times, all parties should be on the same page when it comes to redlining.
The usability of whichever solution you choose is one of the most important features to prioritise. Ask yourself:
Will everyone be able to access and use it easily?
Will the changes they make be stored centrally and kept secure?
Can the solution help you to track every edit made and who by?
Gatekeeper is a contract management solution that offers several redlining options. It's designed to help you redline in the way that suits your business most. Centralise records, track edits and speed up time-to-contract.
Redlining your way
At Gatekeeper, we believe that contract management software should work with your business - rather than against it. When it comes to redlining contracts, Legal teams and any other party in the business working on a contract, should be able to work wherever they want to work. That's why our options work with your process.
Gatekeeper doesn't aim to replace Microsoft Word. It's tool-agnostic, leaving the choice up to you."

Below, we take a look at how contract management software can be used to compliment, improve and streamline your redlining process. Gatekeeper prevents fragmented processes, helps businesses to keep control of their version history and gives in-house legal teams confidence in the solution they are using. Let's see how.
Redline contracts in eNegotiate
eNegotiate is a redline solution that allows you to work within Microsoft Word. Legal teams can track changes natively with the end-to-end Microsoft-compliant solution.
It can be used to redline contracts supplied by vendors or other members of an internal team. eNegotiate allows teams to work centrally within Gatekeeper, while using the platforms they know best.
Legal teams are given greater control of version tracking. eNegotiate tracks all versions and stores them against contract records automatically, centralising all information and creating an auditable history. This improves visibility, accuracy and accountability while ensuring that everyone is working from the most up-to-date version.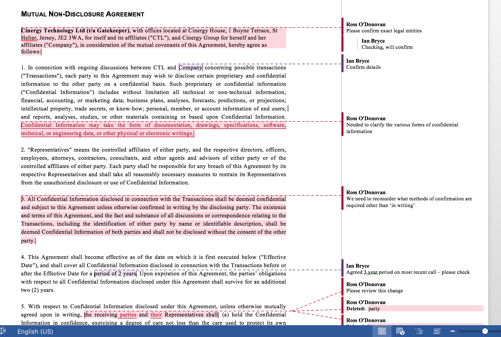 eNegotiate is Microsoft Word-compliant
Not only is eNegotiate completely compatible with Microsoft Office, it also saves huge amounts of time. Users can generate unlimited Microsoft Word-based contract templates, using data from contract records to speed up the process.
The inclusion of a clause library also allows contracts to be generated and self-served, using approved boilerplates to ensure they are legally binding and compliant.
Gatekeeper keeps legal teams in the tools they already know. Unlike third-party solutions that take legal away from Microsoft Word, there are no barriers when it comes to eNegotiate. This streamlines the entire negotiation process and speeds up time-to-value.
Redline documents in your web browser with Office for the Web
For teams looking to save time, the process of downloading, redlining and uploading contracts can feel arduous. Not only is it time consuming, but it also doesn't lend itself to teams that are working remotely or who have multiple stakeholders involved in the process. That's why Gatekeeper integrates with Office for the Web, a web-based version of Microsoft Office.
This integration streamlines the negotiation process by improving real-time collaboration. Users can edit internal agreements directly in a web browser rather than downloading it. Collaboration is enhanced as multiple people can redline at the same time, with visibility of who is making what changes.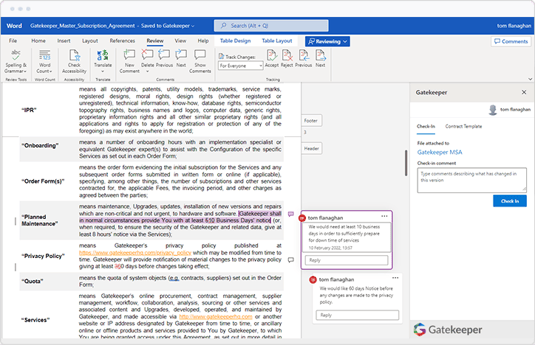 Improve real-time collaboration with Office for the Web.
Wrap Up
Gatekeeper is the only contract management software that offers native support for Microsoft Word and an Office for the Web integration. These options save legal teams time from training on new programs, chasing the most up-to-date version of agreements and spending too much time uploading and downloading documents.
With the option to work in the redlining solution that suits your team best, the negotiation process becomes seamless. If you're ready to find out more about our redlining options or how Gatekeeper can help you to improve your negotiation process, book a demo today.