Microsoft Word has and continues to dominate legal processes for redlining contracts.
It is the solution lawyers and contract professionals know and trust to mark up, compare and manage simple and complex contract negotiations.
Since the launch of the online version of the Microsoft Office Suite 'Office 365', usage has soared and the latest data indicates there are well over 1 billion global users of Office products.
In our series "Beware the Seductive Trap of Third-party Redline Solutions" we outlined the scale of the challenge of replicating and supporting dozens of previous versions of Word within a browser. This is demonstrated by the fact that Microsoft Word online does not support Track Changes online.
Let's say that again - Microsoft does not support Word Track Changes online.

This gap in the market has given rise to a raft of contract management platforms such as Apptus, Concord and ContractRoom with proprietary solutions to capitalise on the lack of track changes in Word online.
While they do provide online editing they bring with them an enormous user adoption and change management challenge of forcing legal users from other companies to use a solution they do not know and do not trust. There is no benefit for them, only risk - to them and their company.
The growth of Microsoft continues under the inspirational stewardship of their CEO Satya Nadella. Since his appointment in 2014 Microsoft's market capitalisation has grown over 230%, which makes it currently the world's most valuable company at over $1 trillion.
This has led to new technology and an incredible rate of innovation. As a global partner to Microsoft, we at Gatekeeper know of a host of exciting projects in beta including bringing the full power of Microsoft Word online.
In this new era of cloud, do you really think Microsoft will not support its full product suite and bring track changes support for Word online?

When it does, where will this leave customers who have invested in expensive proprietary systems?
They will be isolated in a world that will quickly adopt the gold standard redline solution online when fully supported within the browser - Microsoft Word.
Gatekeeper was the first contract management platform to fully integrate with the Office365 suite into its solution. When Microsoft provide support Gatekeeper will be the first contract management platform to provide native Word track changes capabilities online and fully embedded into our solution.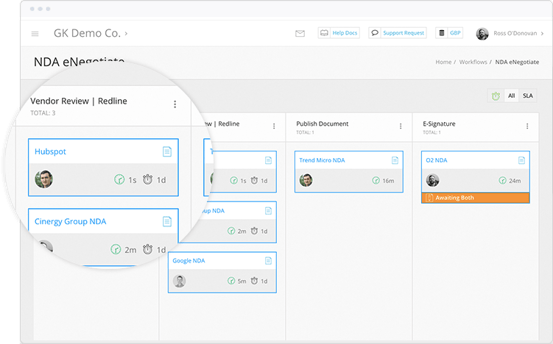 An automated contract redlining workflow with Gatekeeper's eNegotiate
In the meantime, we provide comprehensive support for our customers using Microsoft Word within our Visual Workflow Engine. It's called eNegotiate from Gatekeeper.
If you would like to see eNegotiate in action, get in touch with us today for a demonstration.