We've written before in depth about how prospective buyers of contract management software need to be mindful of being seduced by the virtues of integrated redlining solutions.
While you or your team may have the appetite to learn and use a dedicated system for redlining contracts, you can't necessarily rely on all your counter-parties feeling the same way.
Trying to insist that they use your system has the potential to create unnecessary roadblocks and delays as well as errors in the final document.
But what about Google Docs? As G-Suite continues to make gains in the enterprise market, more and more companies are reducing their reliance on Microsoft Office.

Google Doc's "Suggestion" feature replicates much of the functionality of Microsoft's Track Changes. Surely it therefore has the potential to be a viable alternative to MS Word when it comes to contract redlining?
Well, not exactly. And this is for two main reasons.
1. The need for a Google Account
This first issue is one of practicality. In order to access and edit a Google Doc, the user needs to have a Google Account.
Despite the fact that more than 5 million businesses currently use G-Suite (according to Google), this is clearly only a fraction of global companies. For comparison, the most recent data points to more than 1 billion global users of Microsoft Office products
What this means is that it's far from guaranteed that any business you seek to negotiate a contract with will use Google Docs and that the employees will have access to a work Google account.
No Google Account, no negotiation.
In fact, a lot of companies' IT Teams go as far as to ban access to Google apps due to data security concerns and adoption of other competing platforms like the ubiquitous Office 365.
Which brings us to the second major issue with relying on Google Docs for contract negotiation and redlining.
2. Data sovereignty
Again, we've written about data sovereignty separately to explain the principles and issues.
Essentially, when it comes to storing any kind of personal data, including that contained in contract agreements, relevant legislation can apply to dictate where (geographically) it should be held.
Examples of this legislation include GDPR in Europe, the prospective CCPA in California and 1988 Privacy Act in Australia.
At Gatekeeper, we work with many companies with tight stipulations around where their data can be stored and we accommodate them by offering multiple global locations for them to select from.

This ensures they stay compliant with relevant legislation.
There are no such guarantees with Google Docs. Google doesn't offer the same controls over server location for information uploaded into Docs.
This means that by using Google Docs for online collaboration and redlining legal documents, parties could be unwittingly breaching relevant data legislation as the data moves to servers outside of the relevant jurisdiction.
These two issues combine to make Google Docs an unsuitable system for conducting redlining processes reliably and compliantly.
As we've highlighted above and in our related article, redlining features integrated within contract management systems also have significant drawbacks related to adoption, familiarity and user confidence.
Which is why the majority of contract redlining continues to be conducted using MS Word and Track Changes.
Its combination of reliability, ubiquity and familiarity make it the go-to, compliant option for legal and contract teams around the world.
Rather than try to build an alternative solution within Gatekeeper, we've embraced the fact that MS Word is our customers' preferred option and built Gatekeeper to accommodate it.

Gatekeeper's redlining solution operates a "check-in and check-out" system, which allows users to download the latest version of their document, redline contracts in MS Word, and then upload to Gatekeeper again to continue the process - all tracked in one place.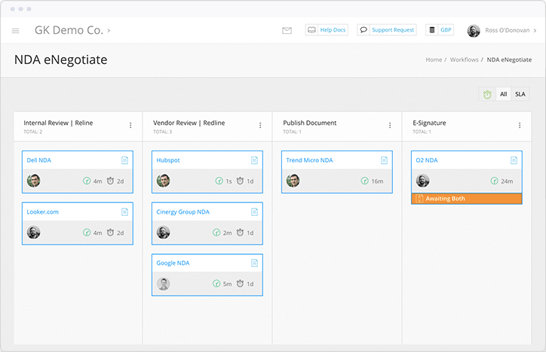 This ensures a quicker turnaround, while simultaneously recording all previous versions of the document and the specific actions taken against it.
If you'd like to understand more about how Gatekeeper can help you manage contracts effectively, while also ensuring that your negotiations are completed efficiently and your data protection requirements are met, or if you want to know more about our redline solution then contact us today.