There is a range of solutions on the market today that can digitise the entire contract negotiation and redline process online. This is a seemingly very valuable solution to a very real problem.
These solutions take the accepted legal and commercial standard that is Microsoft Word and 'Track Changes' and replicate this feature-set in a web-based application.

These third-party redline solutions allow you to move fully online - to take fragmented processes and centrally manage them, consolidating both internal users and external users into one smooth trackable workflow.
Perfect! This almost sounds too good to be true. Sorry, it is.
Let's consider a few scenarios from the lawyers' perspective:
There is a major contract that needs redlining. The contract value is high value. The CEO wants it done - today. You are responsible for ensuring your business is protected. It's late.
You receive a link, from third-party redline solution, that has 'Track Changes'-like features built in. It's not Microsoft Word.
Are you going to log in and use this new system and hope it works like Word?

Are you going to trust this?

Are you going to potentially risk your job to use some other company's new toy?
No, no and no.
This is just one of many examples of the seductive trap of these solutions.
What legal counsel wants to trial a new solution at the expense of risk to their own business?
Let's consider another scenario:
A large complex contract is undergoing a redline process. There is a hard deadline (let's face it when isn't there?).
You receive a link to an online solution that has redlining built in. It's not using Microsoft Word.
OK let's give this a go. The only problem is the deadline is an hour after you get off a 3-hour flight.
Are you going to wait until you get to the other side so you can work or use the time on the flight to get the job done in Word - the solution you have always used, know and trust?
Exactly.
Wait, this third party redline solution allows you to upload a Word version and it will take all your changes and apply them. Perfect! You can work on the plane in Word and then just upload all your complex changes.
Mmmm….are you sure all your changes will be tracked?
What if they are not?
Will you need to do this again online?
Can you just tell your boss you like new technology so decided to use this solution instead of prioritising the company's exposure and risk?
I think not.
Why is this so hard?
Microsoft Word was released in 1983 and there have been more than 35 versions released across different operating systems.
Almost all companies lag behind the latest version, adhering to corporate IT policies that prioritise security and stability over the latest features and versions.
Some organisations, particularly public sector bodies, are running versions of Windows and Word that are over six years old.
In most negotiations, the parties will be using different versions of Word. Maintaining compatibility with these versions for a feature as complex as Word Track Changes is incredibly difficult. Doing this online is almost impossible.
Want further proof?
As you may know, Microsoft provides Word online as part of their Office365 suite. But did you know that Microsoft does not support Word Track Changes online?
That's right, Microsoft cannot support their own feature online, despite having one of the largest development teams on the planet
If Microsoft invented Word track changes and they don't support this online should you trust a third party that says they can? [Click to Tweet]
So do we need to stick with a fragmented process using emails and no central management?
No. Instead, you can use eNegotiate from Gatekeeper.
Our solution that allows you to work with Microsoft Word and track changes natively. It also allows you to generate unlimited Microsoft Word® templates from contract records, automate the generation of compliant legal agreements and track all changes against contract document and records through a visual audit trail.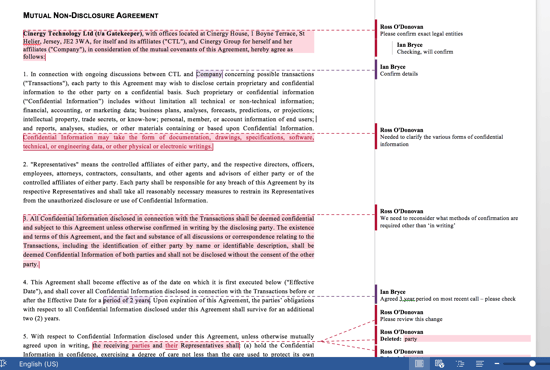 Redline contracts with Gatekeeper
If you would like to see eNegotiate in action, get it touch with us today to arrange a demonstration.
In the meantime, here's the second of our articles on the danger of using third-party solutions for redlining contracts.