Contract deadlines shouldn't add extra pressure to your day-to-day life. Knowing what's due and when helps businesses to be proactive, plan accordingly and approach key milestones with a sense of calm.
But realistically, this isn't always the case. Many businesses are familiar with missed deadlines which can take the form of:
Auto-renewals that go unnoticed and cause revenue leaks
Security certificates expiring which threaten compliance
Unfulfilled obligations contributing to poor performance
SLAs being exceeded
Breakdown in internal communication and collaboration
The consequences can be severe. Business operations can be disrupted. Reputations can be damaged. Profitability can give way to bankruptcy through fines and sanctions. And even if your business continues to carry on as normal, it may be at the expense of higher renewal costs and poorer terms.
This article will explore how contract reminder software can help your business to stay on top of important deadlines.
What causes missed contract deadlines?

Managing contracts is complex by nature. Each agreement has different requirements, different dates and potentially a different process. Managing multiple contracts, as well as their key dates, is no small task.
Businesses that lack visibility and manually track key dates are most likely to miss contract deadlines.

Burying key dates in Excel, shared drives or email inboxes is a key cause of missed deadlines. As with any task, if finding and staying on top of key dates is too difficult, it's a task that is likely to be ignored.
Today's stakeholders and legal professionals don't have enough time to contribute at a strategic level while handling low-level administrative tasks and so critical information needs to be in a centralised, accessible location for all stakeholders to see.
Why should businesses invest in contract reminder software?

Contract reminder software benefits every type of organisation. It lifts a weight off teams that are already overburdened and it streamlines processes within businesses that are looking to do better.
Individuals don't have to spend time manually extracting and storing key dates, repeatedly checking the portfolio, or prompting other teams to take action or reacting to events after the fact.
Key dates can be extracted and stored in a central repository. All relevant stakeholders have visibility of what's due and when via customisable dashboards.
Contract metadata can be used to trigger automated reminders, allowing careful planning and proactivity. Leveraging contract reminder software will make life easier for your teams, but its impact has far more wide-reaching benefits for the entire business.
Using contract reminder software is a route to improving renewals management, compliance and performance.

Let's take a look at some of these areas in more depth.
1. Never miss another renewal
An auto-renewal that you don't know about could cost your business thousands. The price of the renewal could increase. You could end up paying for a service you no longer need. Or you could be paying for a duplicate service or goods. In short, unintended auto-renewals can eat into your business's profitability.
Contract reminder software can send you notifications ahead of the renewal date. This creates a window of time in which your team can review the financial and tangible benefits of any agreements. It can make an informed decision about whether to renew, renegotiate or simply consolidate.
Reminders for key contract dates are about more than knowledge of upcoming events. Acting on reminders helps to protect the bottom line and ensures the business moves forward with agreements that deliver the best possible terms.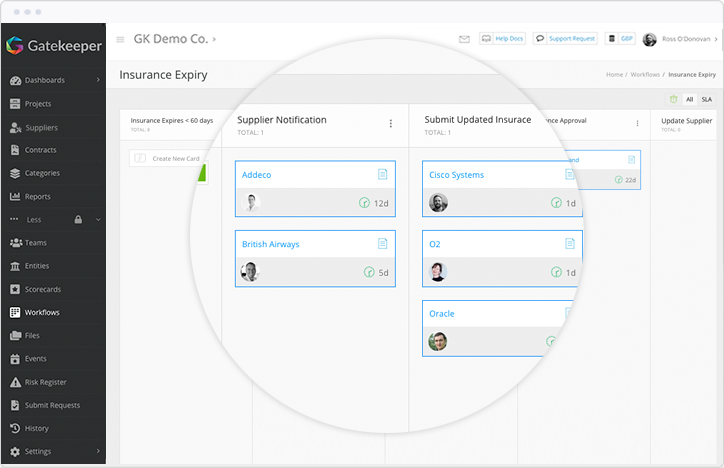 Receive alerts for key actions and dates so nothing falls through the cracks
2. Maintain compliance with ease
Are you putting enough focus on tracking key dates related to third-party documentation? If supplier information is out of date, your business may become non-compliant.
Insurance or other certificates can expire without anyone realising and regulations can be broken just because something slipped through the cracks. But regulatory bodies, the public and your customers are unlikely to be forgiving.
Digitisation of contract management offers the potential to improve compliance by 55% - Forrester and Aberdeen

Contract reminder software not only digitises the way you manage contracts, but it allows you to plan for dates and deadlines. Receive alerts when documents need updating and automatically notify your suppliers. You can delegate supplier inputs which takes the pressure off internal teams and holds third parties accountable.
Automating your response to key dates ensures that compliance is never an afterthought. Your business can take action early, keep itself protected and demonstrate its efforts to auditors.

Contract reminder software allows you to build an auditable history of any actions taken. See when a document has been updated, by who and any other critical information.
3. Set time aside for contract reviews
Do you currently know when all your services are due? Are goods being delivered on time? Are they to the agreed and expected quality? It might be that you might not be building in time to review these things. It may be that obligations aren't being fulfilled - and it's happening without your knowledge.
Seventy-eight percent of companies say they don't systematically track contractual obligations - EY Legal

Manual contract tracking isn't fit-for-purpose. Especially if your business is managing multiple contracts of varying complexity. It takes time to keep rechecking the portfolio. The contract lifecycle and your relationships are also always changing - so these manual contract reviews may not be a true representation of the current landscape.
If a contract underperforms and your business tries to remedy it after the fact, it's already too late. The damage can be significant - whether it's financial penalties or business disruption. By implementing contract reminder software, you can define review points for your agreements - and adhere to them.
Receive alerts and refocus efforts on a timely review. Whether it's for performance, spend or general contract risk, team members can proactively review whether obligations are being fulfilled. Making informed decisions and taking early action keeps the business protected and operational.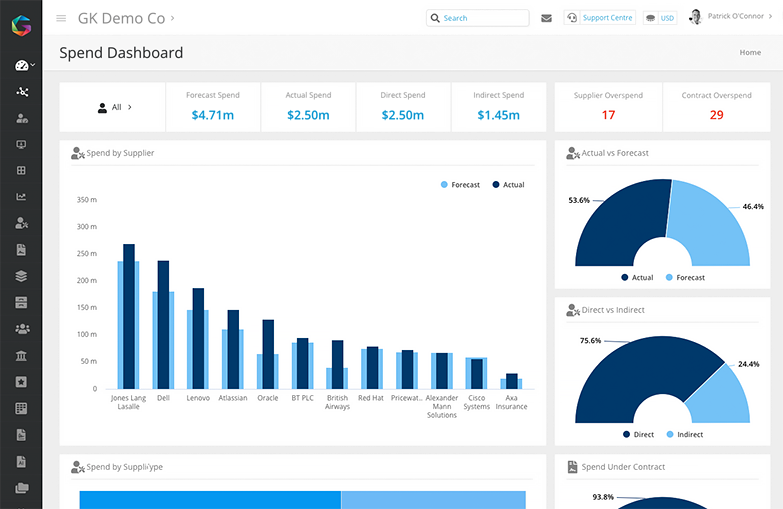 Easily review spend, performance and risk with Gatekeeper's dashboards
4. Negotiate better terms or consolidate suppliers
The combination of contract reminder software and timely reviews benefits businesses beyond checking everything is in order. It gives businesses the opportunity to review how current agreements have performed against expectations. And, with the right reminder set, can give businesses time to review the market to see what else is available.
Less than 50% of negotiated savings are typically realised over the life of a contact. - The Faculty

If your current agreements are fixed for five years, it can be easier to go with the flow as long as the contract is ticking along nicely. But you could be losing out on savings without ever realising it.
Contract reminder software alerts you to information such as End Dates. From this, you can build in time to complete a market review and see if there are better suppliers and terms out there - even for your key contracts.
Combine contract reminders with integrated risk intelligence feeds to strengthen your negotiating position. MarketIQ from Gatekeeper keeps you up-to-date with any changes to the risk profile of your current suppliers. It also ensures that you have the right information to only engage with viable suppliers in the future. It sends notifications on potential risks based around supplier credit scores, for example.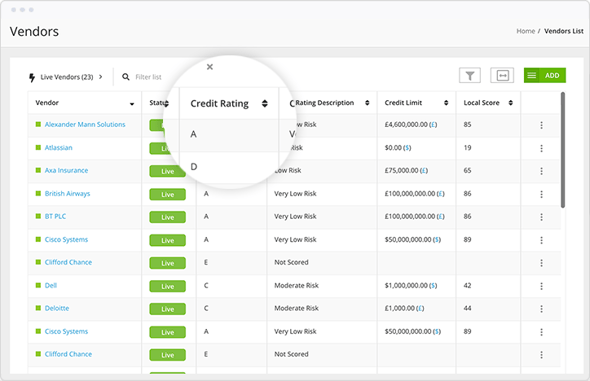 Receive notifications about changes to your vendors' compliance and viability
5. Improve collaboration between teams and suppliers
Contract reminder software is built around visibility. The more visibility your business has of its key dates, the better teams can work together. Legal teams don't need to be interrupted with random requests for information relating to a contract. Procurement teams can easily see when a supplier needs to submit documentation by. And more importantly, teams such as Procurement and Legal know when they need to come together to progress a contract.
Contracting cycles are cut in half through the use of automation - Aberdeen Research

Bottlenecks usually caused by manual requests and management are eliminated with contract reminder software. Stakeholders and suppliers can see each of the phases - and receive email alerts when the progress changes. This keeps contracts progressing easily. SLAs can also be set around each phase and if it's exceeded, reminders can be sent to prompt urgent action.
Seamless collaboration leads to better knowledge sharing and decision-making. Automated reminders mean that teams no longer need to work in silos. Every stakeholder is kept accountable for how a contract progresses and reducing time-to-contract.
Wrap Up
Contract reminder software can help businesses to stay ahead of important dates, but only when there is a company-wide strategy in place. Reminders themselves can still easily be ignored. Teams need to buy in to a shared process of accountability. They need to know what action should be taken, when and why.
Eliminating high volumes of administration and automating manual tasks gives time back to teams. As a result, they can balance proactive date management alongside strategic work. Compliance, performance and renewals will remain a priority without overburdening teams.
If you're ready to take back control of your portfolio and stay one step ahead of your contracts, get in touch with us today.