The number of active vendors in most organisations means that it is challenging, if not impossible, to effectively monitor them all.
Segmenting vendors in a way that highlights those that are critical to your business paves the way to track their performance.
The main objective of vendor performance management (VPM) is to achieve the highest level of reliability, quality and performance from key vendors while limiting risk.
"Relationships with strategic vendors are increasingly key to business performance." - Gartner

Benefits of managing vendor KPIs
A robust program to improve the performance of key vendors leads to more than reduced costs.
It can generate ideas for continuous improvement, both in products and services. It also is a critical move towards lowering business risks. Furthermore, streamlining administrative processes can contribute to cost savings for both parties.
If we can identify the root causes of issues and solve them quickly we can also expect a higher level of customer satisfaction.
Moving from no vendor management to world class
Where there is poor, or little, focus on managing vendors and their performance, all actions are reactive and unlikely to help improve delivery.
If there are no agreed measures in place and no way of tracking what went well or what failed (and why), the chance of improvement is correspondingly low.
The ultimate goal is to move to world class vendor management but, depending on your starting point, that can involve up to three initial stages: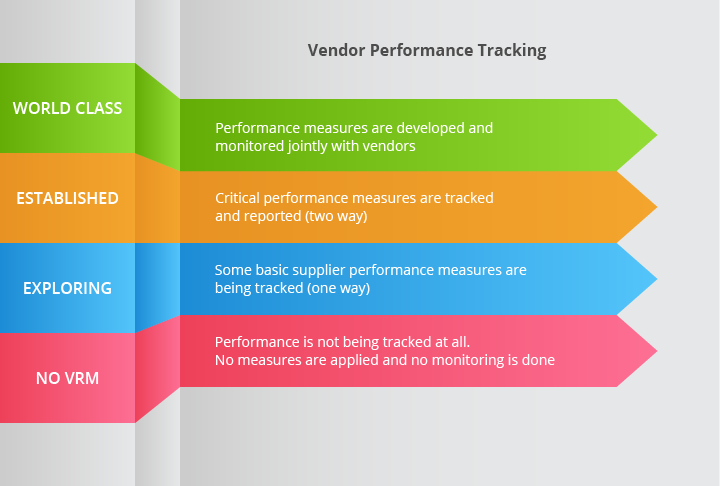 Many enterprises reach the exploring phase before stalling. The main reason for this is the need to move from one-way to two-way measurement.
One-way measurement means that the buying company measures and monitors the vendor performance with little negotiation on the measures to be used.
Try asking "How am I doing?"
Organisations have to be sure of their own behaviours if they are bold enough to ask this question of the vendor.
At the world-class level, the parties usually measure and monitor each other's performance (two-way) and automate their reporting using a balanced scorecard.
Measurement goes beyond the basic measures of quality, delivery and cost; it would include measuring the overall success of the relationship taking into account responsiveness and ability to communicate well at all levels.
Adherence to contract terms
Full "adherence to contract terms" is a challenge for many organisations. The intention may be there but delivery can still fall short of expectations. Why is this?
One pitfall is choosing too many vendor performance metrics to monitor. The most important goal of each measure or metric is to motivate the appropriate behaviour of not only the vendors, but the buying organisation too.
Drowning in the data is a real possibility, which can leave insufficient time to analyse the information and take any remedial actions. At worst, your business could be victim to contract breaches without even realising it.
It can also be the case that the metrics chosen do not have the support of stakeholders. In this case, it can be very hard to motivate the parties to report on the KPIs, let alone to hit them consistently.
Establishing the Vendor Management kPIs
Vendor performance is usually measured by a series of agreed and contractual Key Performance Indicators (KPIs) that are most relevant and suited to the industry. This prevents any obscurity and means that everyone involved knows what's expected from each party.
If best practice is to define, agree and implement measurable KPIs, what should they be? We outline some examples below, but you can also read our related article on Contract Management Measures that Matter Most.
Here are some examples:
KPI Type
Products
Services e.g. IT
Quality
Operational failures, administrative errors
Resolution of issues based on priority level, % of coding errors.
Delivery
Late delivery, breakages, loss in transit
System availability or uptime, defect rates, change requests completed on time
Innovation
Product design improvements, cost savings in materials
Proposals for system improvements, better speed
Risk
Risk Financial stability, compliance with laws, reputation
Cyber-security requirements upheld, no breaches,
Cost
Frequency of price increases
Customer Service
Customer satisfaction, handling of complaints and escalation of issues, communication
Success is likely when the vendor performance metrics are known to all stakeholders and no one is surprised when the results are tabled.
Process improvements can only happen if evaluation reports are communicated to both parties and acted upon. This is often where the process falls down.
It may be that vendor management roles are not clearly defined or those with the responsibility are not able to tackle the vendor with requests for remedial action. Amendments to either processes or behaviours may be required and should be addressed, sooner rather than later.

Unpredictable circumstances, such as the COVID-19 global pandemic, may also lead to changes in performance from your vendors and leave room for contract disputes. In this instances, effective vendor management for is crucial.
Punishment may not be the best way to improve performance. Penalties without incentives will not enhance either service delivery or the relationship with your vendor.
Penalties may keep the vendor on track but incentives can be used to encourage innovation and continuous improvement.
5 vendor management KPI best practices
They must be established for each critical element of the product and/or service and should be realistic and achievable
KPIs should be both quantitative and qualitative and relevant to the importance of the vendor relationship
They should be based on a minimum acceptable required level of performance
If they attract penalties, there should be incentives for the vendor.
KPIs should be reviewed regularly and realigned as required.
For more best practice advice on effective vendor management, you can read our related blog article.
Using a specialist solution
Once you have decided on your KPIs, an easy way to track the performance of your vendors is through a dedicated contract management solution.

Gatekeeper not only gives you visibility into overall vendor performance through a contract repository software, but it also allows you to automate tracking. By visualising and sharing data-driven results, your business will be able to identify areas of poor performance, strengthen areas of weakness and enhance overall performance.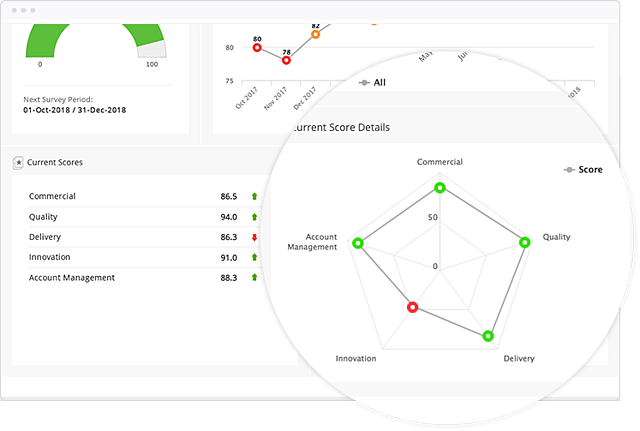 Gatekeeper's Balanced Scorecards
With an easy-to-use dashboard and built-in best practices, tracking vendor performance and driving maximum value is simple. You can also easily manage third-parties through a dedicated Vendor Portal which allows you to automate vendor compliance.
If you're interested in finding out how Gatekeeper can support your vendor performance metrics and automate performance tracking, book a demo today.