Contracts play a huge role in defining how businesses work and how they interact with third parties.
Within a contract you can usually find the rules for the engagements, the terms of the agreement and key dates that need to be adhered to for obligations, renewals, notice and close-out. In short, all the information you need for a productive working relationship.
However, what happens if you can't find the contract itself?

Many businesses are familiar with the experience of fragmented data, realising that trying to function with contracts all over the place doesn't tend to work well at all.
When businesses are unable to quickly find and access the information they need, some (if not all) of these issues can arise:
No awareness of obligations
Missed renewals
Duplication of contracts, paired with an inability to control version history
Poor supplier performance going unnoticed
Non-compliance with regulations or legislation
In-house teams wasting time looking for contract information
Not only do these issues increase contract risk, but they increase overall business risk.
By failing to have a single source of truth when it comes to contracts, businesses make themselves vulnerable to financial, compliance, relationship and reputational risk.

In this article we explore why your business needs a contract repository, the benefits it brings and why data fragmentation needs to be a thing of the past. Specifically, we'll cover:
What is contract Repository Software?
Contract repository software is a centralised place where contracts are stored. It moves businesses away from storing contracts in filing cabinets and email inboxes. Instead, contract repository software puts contracts in a single, secure database.
Some businesses may be using a filing cabinet as part of their contract management process, despite the inherent risks of relying on hard-copy storage. In fact, this type of repository can lead to missing contracts, outdated information and the inability for team members to access the information as and when they need it, especially if they're working remotely.
Others are slightly more advanced, using a mixture of electronic solutions such as shared drives, emails and programmes such as SharePoint to store, manage and collaborate on contracts.
This manual management is typically employed by companies that either don't have mature processes in place or need to manage their contracts without committing to large investments."

Another common way to manage contracts is through Excel spreadsheets and while using this programme comes with its own benefits, it comes with many pitfalls too.
Next, we take a deep-dive into each of those issues and why you should reconsider using Excel as a contract repository system in the long-term.
Why Excel isn't the best use case for a contract repository
Excel spreadsheets offer a convenient centralised repository for businesses trying to get on top of their contracts. Managing contracts through Excel has become a popular choice for many reasons including:
Accessibility – Excel is typically already installed on most devices
Usability – teams don't require training to be able to use it for contract management
Cost – Excel doesn't require a significant amount of financial investment
Security – Businesses may feel that password protecting a sheet secures the data
For those looking to create a contract management repository, Excel offers an immediate solution without high levels of investment.
It gives businesses a simple way to store the crucial information they need, including key contract dates, supplier contact information and even the basic value of each contract."

If your business isn't yet using Excel sheets for its contract repository, or is currently using Excel and isn't ready to invest in a dedicated centralised solution yet, there are a number of templates that can help you to get started or to help you get the most from your current approach.




Using Excel as a document repository is a clear step forward in contract centralisation, however, businesses should err on the side of caution.
Excel only offers a "starter" solution for contract management and will rapidly become unsuitable for a scaling business.
Pitfalls to look out for with Excel
Using Excel comes with some potentially business-critical pitfalls that can lead to data fragmentation. Excel documents can easily be duplicated or "saved as". Once this happens and they end up in different shared drives or inboxes, it can make it incredibly difficult to track different versions of contracts as they are updated or changed.
Data fragmentation generally leads to a lack of visibility and control, potentially costing businesses in other ways.
Delinquent spend, duplicate contracts and updated terms can all sit in different locations, going undetected by legal, procurement, sales and any other departments that deal with the contract."

This can lead to poor management of supplier performance, frustrated relationships and even a failure to realise any benefits outlined by the contract's terms.
Excel spreadsheets rely on manual management
Another huge pitfall of using Excel as a centralised contract repository is the manual nature in which it needs to be managed.
Businesses that use spreadsheets are likely relying on a small group of individuals to input the data each time a new contract is initiated. Not only does this create additional, time-consuming burdens on in-house teams, it leaves businesses vulnerable to human errors.
If individuals aren't following exactly the same process for data entry, contract data is likely to be mismanaged, fragmented and – at worst – inaccurate.
This can lead to problems much further down the line, especially when it comes to performance reporting and overall contract reviews.
Spreadsheets don't provide scalability
Ultimately, it's hard to keep track of contracts within a spreadsheet – especially when each lifecycle stage requires its own data management activities. A process that works for 10-50 contracts can easily become unworkable if a business grows to 500+ contracts.
While using Excel as a centralised repository is a great starting point, it will only ever be a limited solution.
This will be particularly felt as businesses start to grow and introduce more contracts with greater complexity that need to be managed by already overworked teams.

Flaws in manual processes are only likely to increase, with the added risk that contracts may not be stored in the repository at all due to time constraints, the effort required or the fact it's fallen off someone's to-do list.
If your business is already showing signs that Excel spreadsheets aren't working effectively, then it's likely time to invest in a contract repository software.

Below, we outline some of the benefits your business can realise by adopting more sophisticated technologies.
Five benefits of centralising your contracts
Any good contract management software (CMS) will offer you a centralised repository which will allow you to store, view, track and manage your contracts all in one place – giving your business far more benefits beyond those delivered by Excel.
1. Create a single source of truth
By using a dedicated solution, you can centralise all of your documents and easily extract and upload your contract metadata. By doing so, you can prevent the fragmentation of data as new contracts come into the business and you can also take any existing contracts out of their siloed storage.
Having a single source of truth is essential for making informed and accurate decisions.
Discover how ManpowerUK centralised their contract and vendor records with Gatekeeper. Read the case study here.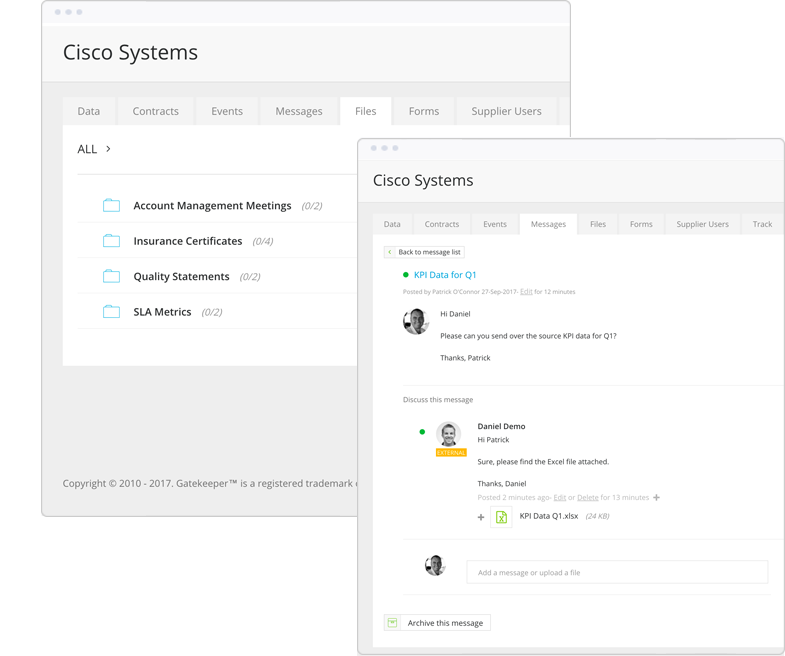 Gatekeeper's central repository
2. Take back control of your processes
As previously mentioned, a specialist CMS will provide far more benefits than just a central repository to store your contracts. Instead, it helps to take out the manual work associated with central repositories built from Excel.
A dedicated solution removes the need to rely on individuals for data entry, thus eliminating the risk of human error. You can also easily search and find contract terms, saving you time and helping you to get to information faster. Simple contract management solutions like ContractNow are the ideal purchase for businesses looking for their first CLM system so they can automate their processes.
When automated processes replace manual input, everyone works together in the same way and businesses can have confidence in the accuracy of the stored data."

3. Operate efficiently by minimising admin work
A centralised repository that holds accurate contract data should be at the heart of any business looking to become operationally efficient.
Having all your contracts in one place allows teams to work more efficiently as employees no longer have to spend excessive amounts of time searching for up-to-date information.
Indeed, with the right solution, secure access can be granted to stakeholders allowing them to self-service for minor contract queries. This further reduces the administrative burden on central teams such as Legal or Procurement.

Discover how implementing dedicated contract management system that offers a contract repository can save you 7.5 hours a week by watching the webinar below.
4. Get organised and stay one step ahead
A centralised contract repository shouldn't just be used as a storage centre. Rather, businesses can utilise their repository as a strategic tool that helps them to stay one step ahead.
The accumulated data of your contract portfolio can quickly reveal actionable insights. For example:
Different departments may have separate contracts with the same supplier, meaning there could be the opportunity for combined cost savings.
Renewal dates across the business may be unevenly distributed meaning that cashflow needs to be managed differently at different times of the year.
Following the 80/20 rule, your team will want to identify its largest contracts by spend and allocate commensurate resources to managing those relationships effectively.
5. Improve governance and due diligence
If your contracts are hidden away or if where they are stored doesn't provide you with a single, accurate picture then you can be sure that your business's risk of failing to comply with regulations is unnecessarily high.
If you are unsure where your contracts are stored, or whether the stored information is up-to-date, how can you be sure, for example, that your suppliers have the right certificates in line with the most recent regulation?"

A central repository, powered by automation, gives you oversight of key information that can help you to mitigate the risk of non-compliance while keeping on top of due diligence.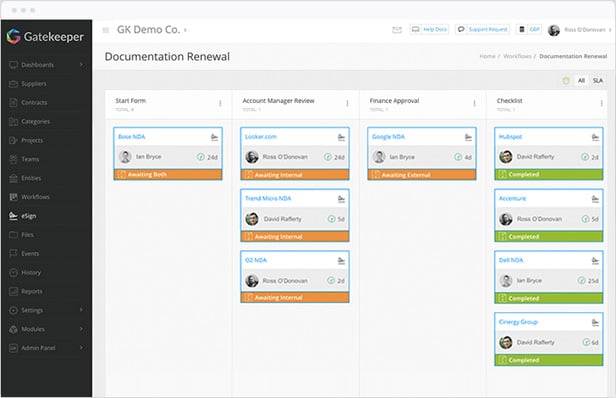 Automate compliance management with Gatekeeper
Set repeating reminders for suppliers to provide up-to-date certifications and intervene only by exception when processes aren't followed. Not only will this save valuable time, it will build up a fully auditable record of all compliance documentation and make it instantly accessible.
These five benefits are just a few of the ways working from a central repository can improve your contract lifecycle management processes.

How to take back control of your contracts
Throughout this article, we've discussed the pros and (mainly) cons of using separate sources such as Excel, SharePoint and even email to store and manage your contracts.
These approaches will always be limited as they naturally lead to fragmentation and the risk of incomplete data.
But more importantly, they aren't great solutions for contract lifecycle management as opposed to simply contract management.
To use centralisation strategically and to unlock its benefit at every stage of a contract's lifecycle, you should invest in a cloud-based contract management solution.
By doing so, you'll be able to leverage much more than just a method to store your documents. Below, we take a look at the ways a dedicated solution can support your business.
Align your contract repository with the needs of its users
Investment in a contract management solution is all well and good, but it needs to align with your people and processes. A repository exists to make life easier for those who are in charge of the day-to-day management of contracts.
It should help to streamline processes and simplify the overall approach, rather than complicating it or compounding existing issues. Investment is only the initial step.
Successful adoption across the business is next. Everybody using the same contract repository, in the same way, is a clear sign of success.
Create digital records from legacy contracts
The prospect of having to digitise legacy contract documents is often a strong disincentive for addressing the issue of fragmented contract management.
Having to scan multiple documents and then manually create contract records can be daunting and easily deprioritised in favour of more short-term projects.
Here's where the right contract management solution can take the strain for you. With a solution like Gatekeeper, you can upload pdf documents and have the key data points extracted automatically using AI.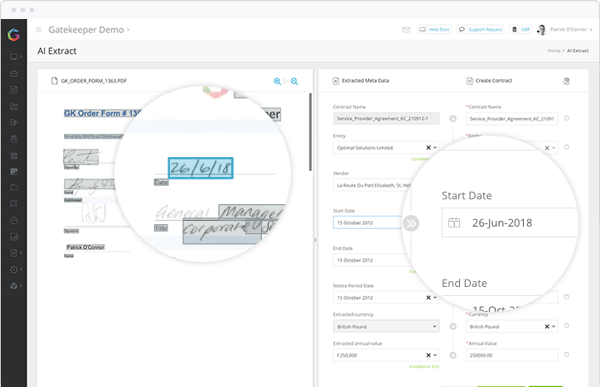 Gatekeeper's AI Extract in action
Data will be matched to existing records or new records created and OCR technology will mean that all the text contained in the document will become searchable.
This automatic creation of records and files means that you can easily move once-disparate and legacy data into the contract repository, giving you more control.
It also creates greater efficiency for teams as they no longer need to spend time manually inputting data. Data duplication also becomes a thing of the past.
Simplify complex contract management processes
Another reason that contract data can become so fragmented is because of how many touch points it goes through during its lifecycle.
Multiple departments will likely handle the contract, with hand-offs often being made between legal and procurement. It's crucial that your departments all use the same solution to interact with the contract so that all those steps are captured in its audit trail."

Everyone should know what's going on with a contract, when and who is responsible for actions such as data entry or approvals.
Unlock greater value from your contract data
A central contract repository gives you more control, but it's also the basis for getting more value from your data.

A contract repository is much more than a storage option, it's a framework for your business to build upon as it propels itself forward. Contract management software enables you to index, analyse and link relevant documents to key contracts, all through a single platform.
This centralisation makes it easier for those handling contracts to quickly search for the information they need – across multiple data points. Optical Character Recognition technology can help you to locate the information you need and drill into different types of data including clauses, tables and handwritten text that's been scanned in.
Conclusion
At it's very basic level, a contract repository is a centralised place to store your contracts and their related documents. This centralisation is crucial to the success of any contract management approach but in reality it's just the starting point for an effective contract management strategy.
Many businesses still use a mix of Excel, SharePoint and even email to manage their contracts – but this leads to data fragmentation and duplication. Not only can this approach cause issues at a granular level, but it also impedes successful contract lifecycle management at a strategic level.
Having contracts spread across multiple sources visibility, accessibility and accuracy – all of which increase overall contract and business risk. Without a single source of truth, businesses won't be able to gain control of their full contract portfolio and will find it incredibly difficult to unlock the full value of their business agreements.
If your business still isn't using a contract repository or is ready to take a step forward with a more sophisticated solution, please contact us today.