Today's in-house legal teams have more responsibility than ever before. Research from Lawyers on Demand highlighted that 59% of in-house lawyers believed the Covid-19 crisis has increased their workload, with 65% finding it difficult to 'predict how long their workload will remain at this elevated level.
As the amount of contracts within growing businesses continues to increase, so does the workload for Legal. In-house teams are often the epicentre of all things related to contracts including:
General administration including contract creation
Handling legal matters such as breaches and disputes
Managing new requests, reviews and approvals
Compliance and risk management
Managing the increasing workload often means increasing internal headcount or hiring external counsel. And with the average cost of processing a simple contract being $6,900 rising to more than $49,000 for more complex agreements, reducing spend, improving efficiency and maximising productivity are now a key focus for in-house counsels.
In this article, we take a look at how Legal teams can use contract management software to deliver increased ROI to their business. We'll explore some key areas where Legal can be perceived as a cost centre - and how the use of technology can turn it around.
Time spent on contract administration vs legal matters
Depending on the maturity of the organisation, Legal can be left overwhelmed with contract administration. In organisations that rely on manual processes, where contracts are stored in silos, daily workload increases with activities including:
Locating contracts and specific clauses
Gathering information from internal and external sources
Extracting and recording key metadata
Tracking key dates to ensure key milestones are hit
Bloomberg Law's 2021 Law Firm Benchmarks Survey revealed that 37% of attorneys are seeing their colleagues overworked due to stretched bandwidth and that 33% of attorneys feel their firms lack sufficient personnel to handle the current workload.
Time spent by Legal on these administrative tasks may feel critical to your business, but it takes away their time and attention from higher-value, strategic work."

The cost of a dispute taking months to handle because your Legal team doesn't have enough resources to dedicate to it could cost your business far more than the price of investing in CLM software that automates administrative tasks.
A solution that offers a contract repository combined with OCR Search and Analysis technology means that all contracts are stored centrally and can be quickly found. Legal can even search for specific clauses and data points.
Data from new and legacy contracts can be auto-extracted to the repository, quickly creating accurate and digital records so your Legal team doesn't need to spend hours manually inputting contract metadata.
Reduced hours spent uploading key data and searching for contracts means more time spent on handling legal matters - immediately increasing the value of in-house counsel and creating ROI from CLM software."

Gatekeeper not only helps you to reduce administrative costs, but its powerful automation tools can save Legal teams an entire working day per week.
Watch the webinar below to find out how.
Outside counsel spend vs in-house expense
The increase in daily workload as outlined above can often leave in-house teams seeking additional resources. More in-house lawyers may be brought in to manage the administrative tasks, while outside counsel is sought to resolve legal matters. Bringing in outside counsel helps the Legal team to stay above water, without leaving the business vulnerable to unresolved breaches and disputes.
However doubling up with outside counsel can mean doubling up on cost, reinforcing any preconceptions that the Legal team is a cost-centre rather than a strategic function."

Naturally, there will be inconsistencies in the way outside counsel works in comparison to your in-house teams and these can be difficult to track. When you pass contracting processes to a third-party, you give up tight control of how and when a legal matter is handled, potentially resulting in slow resolution times. The longer external counsel spends on your contracts, the bigger the bill you'll need to foot.
One study of in-house lawyers revealed that 80% of respondents have fired a firm in the past, and the reasons they gave included poor communication, exorbitant billing, and slow responses to requests for information."

By implementing a CLM solution that automates high-volume low-level work, you can reduce the workload on in-house lawyers. This frees up time and resources within the in-house team to resolve legal matters and eliminates the need to increase headcount.
Gatekeeper's patent-pending Touchless Contracts technology can be used to automatically generate fully-executed NDAs, as well as contracts and counterparty records. Rather than these high-volume contracts taking up too much of Legal's time, other departments can self-serve and generate these documents based on existing boilerplates.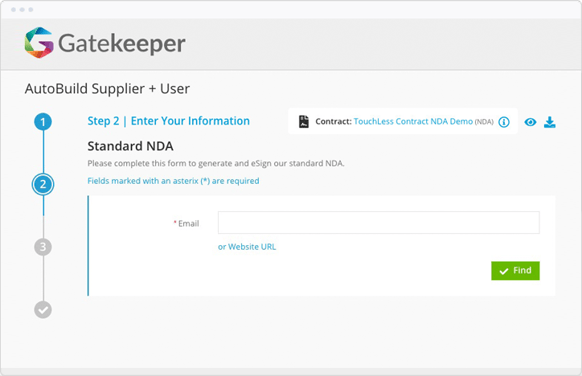 Automate the creation of NDAs with Touchless Contracts
Time-to-contract efficiency
According to Aberdeen Research, it takes on average 20-30 days for a company to create, negotiate and finalise a contract. Within this period, Legal teams will spend time:
Reviewing a contract
Chasing third-parties for information
Receiving additional and unexpected requests from other internal departments
Formalising any changes as a result of negotiations
Approving the contract and waiting for signatures.
CLM software that uses a Workflow Engine allows businesses to automate internal processes and to minimise the need for manual intervention.
Rather than in-house lawyers spending hours chasing stakeholders through phone calls and emails, individuals will receive automatic alerts when their attention is required - keeping individuals beyond Legal accountable for progressing the contract.
SLAs can also be used to alert admins when contracts have been in a certain phase beyond agreed timescales. Alerts can be one-off or repeated until the card's associated task is completed. This ensures the task is prioritised and remedial action is quickly taken.
Time-to-contract is elongated when processes are manual, collaboration is inefficient and overall visibility is poor. The more time Legal dedicates to trying to process a contract, the more difficult it becomes to add value elsewhere."

Gatekeeper's workflow engine makes use of Kanban principles to present a highly visual representation of your contracting processes. It also makes it easy to identify any potential bottlenecks by showing how many contracts are in any one phase and how long they've been there
By using workflows to automate processes such as negotiations, reviews and event reminders, time-to-contract is increased and a greater volume of contracts can be handled. This will boost the bottom line and allow your business to scale. All without creating additional costs in the Legal department.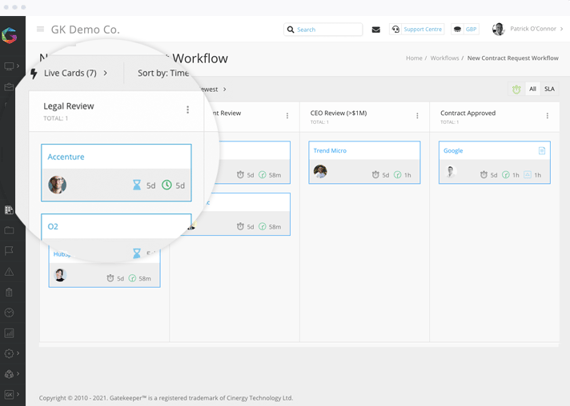 Gatekeeper's visual cards will help you to identify and resolve bottlenecks
Improved compliance
The ability of the in-house legal team to effectively track, monitor and report on compliance is a huge contributor to protecting the business's bottom line.
A failure to comply with regulations, legislation and obligations can disrupt your operations but the financial consequences of fines and damaged reputation could be far worse."
Investing in CLM software will give your Legal team:
A single source of truth about all contracts, suppliers and related documents
The ability to track changes, edits and approvals
Peace of mind that risk can be mitigated early on via automatic workflows
Complete and auditable timelines of what action was taken and when
A customisable RAG Status report of contracts so remedial action can be prioritised.
When Legal teams are given the right software to support their objectives, early and informed action can be taken. By mitigating risk early on, preventing costly disputes and ensuring obligations are being fulfilled, the Legal team becomes a revenue driver - helping the business get maximum value from its agreements.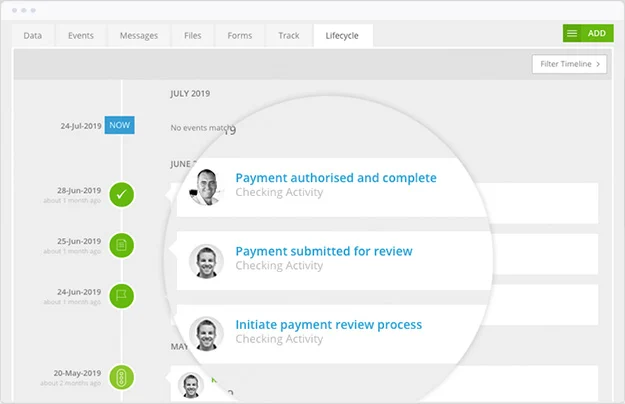 Build a complete history of all actions taken against a contract
Wrap Up
In-house legal teams can become a function that supports the bottom line when the business invests in the right technology. By using contract management software to automate manual tasks and allow other departments to self-serve, Legal can focus on high-value work without the need to add extra resources for support.
CLM software facilitates cost reduction for Legal expenses as it reduces the daily workload for the entire function. The team is given greater bandwidth to focus on compliance and legal matter resolutions - an area that best protects your business's bottom line."

Meanwhile, efficient and automated internal processes mean businesses can continue to scale - without worrying about bottlenecks occurring as a result of overworked teams.
If you're ready for the Legal team to become a revenue driver throughout the business, it's time to invest in the right technology. To see how Gatekeeper can support Legal and boost your revenue, book a demo or get in touch today.