Today's procurement professionals need to deliver across three areas, they must:
Manage compliance with internal (and external) policies
Deliver cost savings
Monitor and drive improvement in vendor performance
By implementing cohesive strategies across these areas, they can ensure that maximum benefits are realised from every agreement.
However, as vendor lists grow and diversify, manual processes can stand in the way of achieving that success. The answer to growing while remaining effective, is to deploy the right technology - in this case, contract and vendor management software.
At Gatekeeper, we speak to Procurement teams who need to resolve issues including:
Poor visibility of all contracts and vendors, third-party risk, spend and performance
Incomplete vendor information, resulting in valuable time being spent chasing data
Disjointed vendor onboarding processes causing frustrated relationships
Difficulty tracking deliverables and holding stakeholders to account
An inability to collaborate effectively with other areas of the business
By supporting your team with the right technology, you can help them to build effective procurement strategies. In this article, we take a look at how Procurement teams can benefit specifically from using Gatekeeper.
1. Save valuable time instead of manually chasing vendor information
Manually onboarding vendors can be both onerous and frustrating for both parties if it's not efficient.
Capturing the right data and documentation should be straightforward but all too often procurement teams will find themselves having to chase vendors for the right information.
This delays the commencement of any agreements, leads to data being questioned and can strain relationships right from the start."

Gatekeeper provides a dedicated Vendor Portal that Procurement teams can use to automate vendor onboarding. The process can be done seamlessly, creating a flawless and structured process for vendors from the outset and streamlining the resource required from the Procurement team - giving them back valuable time.
Combined with self-registration, the procurement team can delegate the entry of mandatory data to vendors using Public Forms. This improves data quality and accuracy, holds vendors accountable for their own compliance and saves the business time.
This ultimately allows the Procurement team to focus on the most crucial areas such as risk and performance management.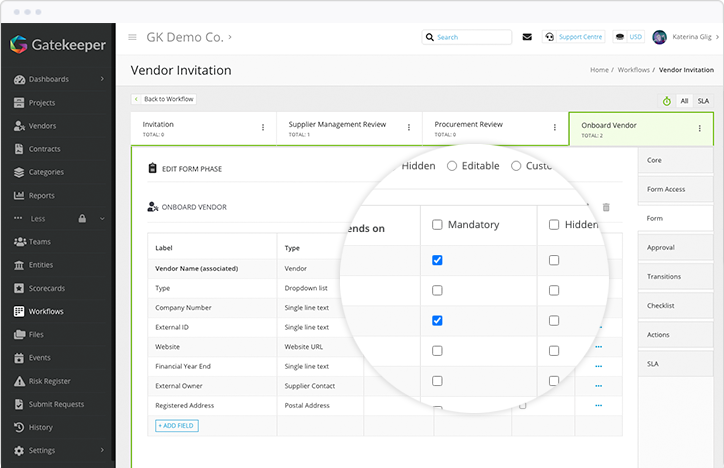 Alerts can also be sent to vendors when existing records need updating, helping to keep records up-to-date and compliant - without the need to chase.
This is particularly applicable for managing expiring documents - such as for security or insurance certificates.
All information is stored against the vendor record in Gatekeeper's searchable central repository, giving Procurement teams complete visibility of accurate data and the status of its vendor base.
2. Minimise risk entering the portfolio with real-time insights
Most contract and vendor management solutions allow Procurement teams to assess the level of risk within their vendor base retrospectively.
These insights allow teams to take remedial action after the fact - but MarketIQ from Gatekeeper gives teams real-time data that helps them to minimise risk before investing time in a new third-party relationship.
Gatekeeper provides aggregated data feeds about vendors, including information such as compliance history, legal issues and credit & risk profiles. With early notification about recent changes and instant visibility from the outset, Procurement teams can dismiss non-viable vendors and prevent potential risks being introduced to the business.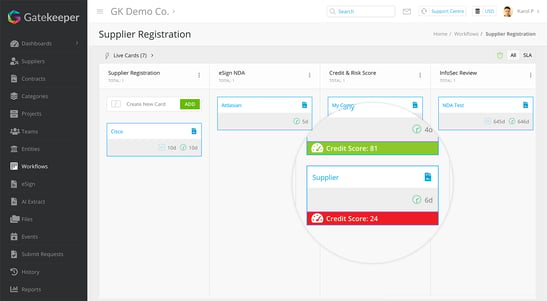 MarketIQ also alerts your Procurement stakeholders to any changes to vendors already working with your business. If a litigation issue is brought to their attention, they can communicate quickly with Legal - ensuring the business stays risk-free and compliant.
The information is also captured against the vendor record - providing historical information that can inform future decisions about vendor consolidation.
3. Proactively mitigate risk to protect the business
We all know that risk doesn't disappear at the point a third party is approved and added to your vendor base.
Whether it's shining a light on regulatory compliance or ensuring that Business Continuity Plans are in place, Procurement teams need to play an active and ongoing role in risk mitigation.
Regulations can change, unexpected events such as Covid-19 can occur and vendors can simply fail to fulfill agreed obligations if the relationship has a set-and-forget nature.
Procurement teams should be equipped with contract and vendor management tools that allow them to take a proactive approach and stay one step ahead of potential risks.
In addition to MarkeItQ, Gatekeeper also provides a dedicated Risk Module. It allows teams to centralise, measure and analyse the level of risk across their portfolio by providing:
Risk Scores that can be assigned based on probability and impact
Risk Heat Maps so Procurement teams can prioritise immediate action
Customisable dashboards and risk reports by supplier, type and category.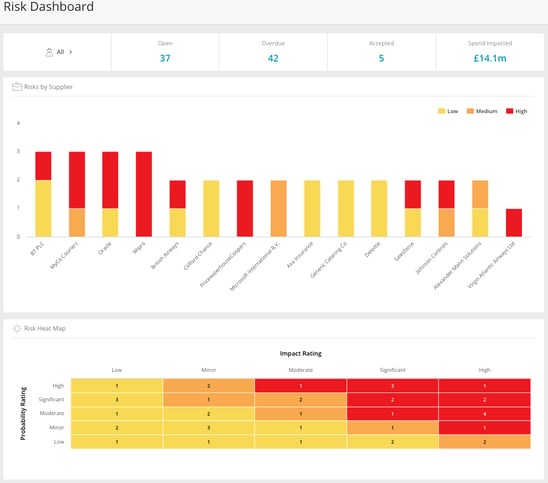 The insights gained from the Risk Module can inform risk mitigation strategies implemented by the Procurement team.
Mitigation actions may be as simple as renewing documentation that is reaching its expiry date or raising an escalation to internal and external stakeholders.
Risk Scores and Heatmaps can also be used to trigger relevant sequences of events through the Kanban Workflow Engine within Gatekeeper. This alerts any stakeholders to required remedial action and allows Procurement to collaborate with other teams.
4. Maximise the benefits realised from agreements with performance management
The performance of a third party will have an inverse relationship with the level of risk they introduce to your business, so it's crucial to monitor vendor performance against agreed KPIs.
When expected performance criteria isn't met, vendor and contract risk increases and your business could be left vulnerable to operational disruption or failure.
Poor vendor performance can go undetected if results aren't constantly monitored, if stakeholders aren't engaged to provide feedback and if deliverables aren't tracked."

Gatekeeper automates performance tracking over time by sending Balanced Scorecards and questionnaires to stakeholders who can provide a timely and honest review. The results are captured in an easy-to-read dashboard, so Procurement teams can see a complete history of performance and how it has improved - or deteriorated - over time.
This complete audit of vendor performance informs renewal decisions made by the procurement team by indicating whether or not a vendor is still viable.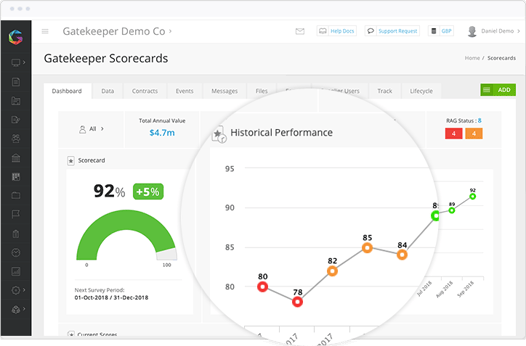 Measuring performance against KPIs allows Procurement to identify when action needs to be taken. Vendors can be prompted to improve their performance - whether that's delivering goods on time or maintaining the uptime of a service.
By holding vendors accountable, Procurement teams can focus on improving the relationship so maximum benefits are realised and expected contract outcomes are achieved. Not only does this approach create more meaningful relationships across the supply chain, it also puts Procurement Teams in the driving seat to improve ROI.
5. Prove cost savings with interconnected insights
Implementing the right technology gives procurement teams the ability to report on spend, identify opportunities to consolidate the vendor base and prove cost savings. This creates greater levels of control and allows the teams to contribute directly to the business's bottom line.
Seeing the entire spend of the organisation requires cross-team collaboration, with Procurement working seamlessly with Finance to collate the data they need for reporting."

Gatekeeper enhances this collaboration through its native integrations. Not only can businesses integrate the software with over 3,000 third-party solutions, Gatekeeper also offers native Netsuite and Salesforce integrations.
With this interconnectedness, Procurement teams can easily import spend data from across the business and see spend data at an invoice line level."
Once all this information has been collected, the dedicated Spend Module allows procurement to easily visualise critical information with customisable dashboards. Procurement teams can dissect spend information in a number of ways including:
Direct vs indirect spend
Actual vs forecast spend
Spend by Supplier type
Spend by Supplier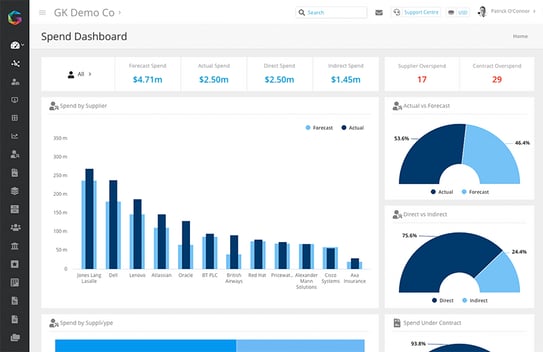 Wrap Up
Procurement teams are at their most successful when they have visibility of complete and accurate records, the ability to track deliverables and to drive corrective action in areas of risk, spend and performance.
Being supported by contract and vendor management software not only gives Procurement teams deeper insights into their existing portfolios, but it also supports deeper collaboration between departments and with external parties."
Gatekeeper helps Procurement Teams to minimise costs and risks while maximising performance and results. If you're ready to find out more or to see Gatekeeper in action, book a demo today.