Applying contract management best practices will help your business to realise greater value from its new agreements and from its existing portfolio.
Depending on the size and maturity of your business, as well as how complex its contracts are, the focus on which best practices you should apply will vary but there are some key aspects every business should have in place.
In this article, we take a look at these fundamental contract management best practices, how you can apply them and how contract management software has helped our customers to improve their internal processes.
Five contract management best practices for your business
By prioritising the list below, your business will be able to deliver improved contract outcomes, create new efficiencies for in-house teams, identify potential cost-savings and make informed business decisions. Applying contract management best practices will allow your business to:
Centralise contracts and documents
Track key dates
Automate and standardise internal processes
Review contracts and vendors on a regular basis
Monitor and report on contract and supplier risk and spend
Let's take a look at each of them below and they will support your business when managing contracts.
1. Centralise contracts and documents
Visibility should underpin your entire approach to contract management. When your contracts are kept in different locations - from spreadsheets to shared drives - or when team members are in different locations and can't access the information they need, problems start to occur. Issues include:
Hours lost to searching for contracts and their related documents
A lack of understanding around contract obligations
An inability to identify contract risk such as non-compliance
Poor version control
Centralising your contracts in a cloud-based contract repository software should be a priority for your business if it isn't already in place. Creating a single source of truth will eliminate data duplication, giving in-house legal teams back their time and improve collaboration across the business.
We have found that increasing the visibility of the contract lifecycle, and increasing communication about contracts and the vendors involved, has greatly improved our contract management process." - Jessica Helmka, Executive Assistant, Legal and Compliance, Missouri Employers Mutual

Documents associated with agreements need to be equally prioritised when it comes to contract visibility. Using contract management solutions such as Gatekeeper, which offers a centralised repository, will allow you to store documents against the master record as well as extract, upload and store the metadata contained within them.
This level of visibility will help you easily locate certificates and documents relating to suppliers while eliminating the burden of contract administration.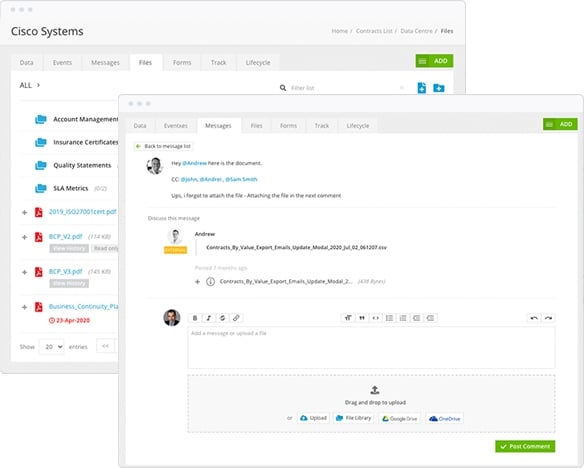 See everything in one place with Gatekeeper
2. Track key dates
Contract management doesn't simply end once you've stored the contract and its information in a central location. It's an ongoing business activity that should be built around the key dates pertaining to each contract.
If you are managing large volumes of contracts through Excel, it can be difficult to keep on top of key dates as information becomes buried.
Your business also has larger goals to focus on, so going back and checking contract dates can become a time-consuming task that falls on the backburner. It's easily done, but businesses that fail to track key dates unknowingly expose themselves to the following risks:
Missed contract renewals
Certificates passing their expiry dates
Breach of contracts
Unfulfilled contractual obligations
This can result in substantial financial losses for your business in a variety of ways. Missed contract renewals - or those that auto-renew - can mean you're spending money on services you no longer need or at a higher price than is currently available on the market.
Expired certificates can lead to financial penalties from regulatory boards, while breach of contracts can simply see your business out of pocket as goods and services fail to be delivered by agreed deadlines.
Knowing what I know now, I cannot ever imagine personally monitoringcontracts, without a contract management program.

For me, being able to rely on Gatekeeper to track important deadlines, and house all of our contracts in one location, allows me to focus my attention on other pressing matters, without the concern of contract deadlines slipping through the cracks, or endlessly searching for contracts, that you have no idea where they are kept.

Gatekeeper is that friendly tap on the shoulder to remind me what needs our attention." - Donna Roccoforte, Paralegal, Hakkasan Group

Contract management software can help you to easily apply this best practice across your business by automating the process.
Rather than manually referring back to dates for individual contracts in fragmented storage, you can centralise your key dates, see them easily in one dashboard and set automated alerts and notifications when a key date is approaching.
Not only will contract lifecycle management software ease the task of tracking key dates, but it also allows your business to act well ahead of time. With enough notice, you can dedicate valuable time to completing contract reviews, market research for negotiating purposes and risk mitigation efforts.
3. Automate and standardise internal processes
Contract management processes look different to different types of businesses, but when best practices are applied it should look the same to everyone engaged with contract management in the same business.
Without a consistent and standardised approach to contract management processes, issues can easily occur and be left without resolution.
Best practice contract management means being in control of your portfolio at all times - right from the contract's inception through to its close-out or renewal. If this control isn't asserted from the outset, chaos can quickly ensue and manifest itself in:
Complex workflows that create bottlenecks
Lack of accountability for actions taken against the contract
Contract approval being routed incorrectly or taking too long
Employee requests being missed
Fragmented contract data leading to poor decisions
These issues are exacerbated by inconsistent processes and siloed knowledge across a business. Those that rely on a "guardian of a spreadsheet" risk crucial information being lost if they leave the business or take annual leave.
Manual contract management creates a limitation when it comes to holistically viewing the contract's lifecycle and internal silos can quickly occur as a result of individual team members working in different ways.
Contract lifecycle management software digitises company processes, standardising internal processes between teams and external processes with suppliers.
Choosing a solution with a powerful workflow engine will help your business to simplify complex workflows and visualise each stage of the contract's lifecycle, capture any actions taken in an auditable trail and help you to effectively manage approval routines through automation.
"I feel it is crucial to know which phase of the lifecycle the contracts are currently in.

For us, that's where our Gatekeeper custom workflow keeps us on track, ensuring that the contracts are moving, and not stagnant.

There is great satisfaction watching the contracts move through the pipeline from the start, to finalising and signing the contracts." - Donna Roccoforte, Paralegal, Hakkasan Group


4. Regularly audit your contracts and vendors
Due diligence is an important contract management practice as it helps you to identify potential contract risks and take early corrective action with vendors. As outlined in our 'How to Audit Your Contract Management Processes' article, regular audits allow you to:
Track compliance
Strengthen relationships with suppliers
Prioritise your key contracts
Prevent contract breaches before they happen
Audits should take into consideration third-party performance, their costs and the risks they introduce to your business. You should ask yourself the following questions:
Have all obligations been met?
Are your contract templates up-to-date?
Have all services been met by the agreed deadline?
Are all documents up-to-date?
Unlike fragmented data that will fail to give you a full status update of each contract and vendor, contract management software can provide centralised, visual dashboards that allow you to see risks by supplier, type and category. These insights are valuable for analysing your risk landscape, identifying instances of non-compliance and quickly rectifying issues.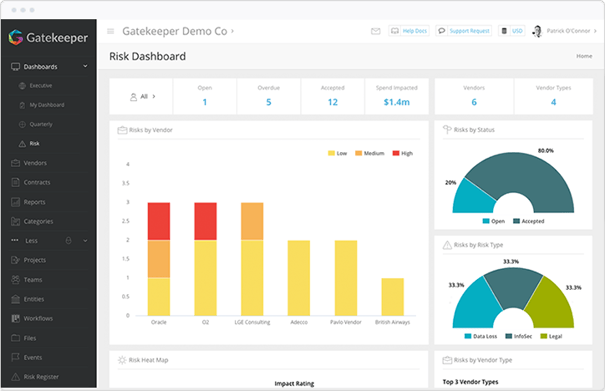 Gatekeeper's Risk Dashboard
Auditing your contracts and vendors is a risk mitigation effort that every business should make. This process can help your business to prevent bottlenecks, revenue leaks and helps you to ensure compliance. By using a contract management solution, due diligence becomes a more efficient task through automation.
"Thorough vendor due diligence, contract review and tracking of documentation should all be a focus for those engaged in contract management." - Jessica Helmka, Executive Assistant, Legal and Compliance, Missouri Employers Mutual

5. Choose CLM software that aligns and scales with your business
Effective contract management practices are underlined by technology that brings your people and processes together. Manual approaches that rely on spreadsheets or a combination of online and offline storage and work will become unwieldy and unsustainable as your business grows in size or the contracts you manage grow in complexity.
Contract management software will give your business the flexibility, security and scalability it needs to grow and mature through:
Unlimited users and licenses
Remote and secure access to the contract repository
Automated workflows
Seamless integrations with existing systems
Additional modules to support areas such as Risk, Spend and and Performance
ISO certifications
Ultimately, your business will be able to take control of its contracts, align departments across the business and drive greater value from its existing contracts. Contract management is an ongoing, collaborative task and each stage of a contract's lifecycle can be supported and improved with the right software in place.
To find out how Gatekeeper can support your contract management best practices, book a demo today.