In-house legal teams often face a delicate balancing act as they are required to work on new contract requests as well as maintain existing contracts through their lifecycle.
For growing businesses, those with complex structures or working in regulated industries, the Legal team requires the capacity to support scalability, stay ahead of compliance and be in control of contract processes.
Contract automation is the key to strategic freedom for in-house lawyers.

If you're an in-house lawyer or responsible for the performance of the Legal team, you need to be across renewal dates, ongoing compliance requirements and personnel changes to ensure that the expected contract value is always being delivered.

This can be challenging at the best of times, particularly if your department is under-resourced in terms of people and technology.
Not having the time or resources to achieve high-value, strategic work can be painful. Being overburdened with contract administration and overwhelmed with incoming requests is an issue that's raised by in-house legal teams time and time again. In this article, we'll take a look at how contract automation can help with these challenges.
What is contract automation?
Contract automation is a solution-based approach to eliminating manual processes when handling contracts. Contract automation software is used to automate internal processes, create new efficiencies around time-to-contract, and provide a single source of truth for every contract record.
Challenges caused by manual contract processes
We often hear from in-house lawyers that they have problems with the visibility of their contracts, fragmented processes for reviews and requests, and face a high level of contract administration.
In-house legal teams are often left firefighting what they don't know, contracts they can't see, versions they can't access or requests that haven't been submitted properly.
This leads to a lot of time spent searching for information, chasing other stakeholders and handling repetitive tasks such as data capture and updates.
One out of every five in-house counsel hours is currently spent on low-complexity, repetitive or routine tasks, with 87% confirming that their department spends too much time on these tasks - EY Legal.

The most common problem with contract management is that there's often no standardised way to store and manage contracts. Sometimes they're in someone's email inbox or hard drive; other times they are printed out and stored in a folder.
This brings up several potential problems:
You can never know who actually stored the contract or where
You can never be sure it's the most recent version
You might not have access to it at all
Your business could miss out on a renewal date and experience a financial loss
You'll experience justifiable frustration if there are issues down the line with agreements that you had no prior knowledge of, especially if it then falls to you to resolve them.
Ultimately, legal expertise can only be applied to the contracts you are provided with and are therefore aware of. Manual contract management processes make this harder than it needs to be.
Why your business should prioritise contract automation
Unlocking greater value from the legal team, giving them back valuable time to focus on their specialist areas and giving them the opportunity to add strategic value are just some of the reasons to prioritise contract automation.
Eliminating manual processes reduces the pressure on Legal teams, gives them one less plate to spin and allows them to apply their focus to urgent areas such as litigation."

Contract automation gives Legal teams freedom by removing high-volume administrative tasks that keep them tied to low-value, repetitive tasks.
Contract automation also empowers non-legal teams. When they can self-serve on tasks such as creating and completing NDAs, there's no need to interrupt the Legal team.
Contracting processes become more efficient and friction between departments decreases - creating a more collaborative and calm working environment for everyone involved.
The benefits of contract automation are plentiful but largely it:
Keeps all relevant stakeholders accountable for outcomes
Enhances collaboration between all teams
Prevents Legal becoming a silo that other departments have to wait for
How to automate contract management
Contract automation gives time, resources and focus back to in-house legal teams. Identifying the bottlenecks that cause friction - not only within the Legal team but between Legal and other departments - is the first step to creating a more efficient work stream.
Don't automate processes that cause bottlenecks as this just automates something that doesn't work. Processes that lead to issues need to be reconsidered and readjusted before they can be digitised.

The benefits of contract automation should be for your entire organisation, so don't assess your processes in a Legal silo. Come together with every stakeholder that's responsible for a contract's lifecycle to understand what's needed for them to work more effectively with the in-house Legal team.
Once the requirements are understood, your business can go to market and seek out contract automation software that fulfils the needs of each team. To help you find the right fit, let's take a look at what effective contract automation software allows your business to do and how it frees the Legal team.
1. Access contract templates and clause libraries to save time
In-house legal teams often find themselves buried in repetitive work - and many incoming contract requests from other departments look the same. Common contracts such as NDAs and MSAs take ups a lot of Legal time due to high volumes - yet they don't require a high level of Legal expertise.
When every day starts to look the same, in-house teams may feel stuck in the weeds of a role that doesn't give them strategic fulfilment.
Contract automation software eliminates mundane and manual effort, allowing Legal teams to reprioritise their efforts and get back to the job they were hired to do."

A contract automation tool such as Gatekeeper streamlines contract generation by allowing stakeholders to generate contracts via unlimited approved Microsoft Word Templates. Boilerplate copy is pre-approved by Legal and accessible from a clause library, giving non-legal teams the ability to execute some agreements themselves.
Standardising contract templates prevents Legal teams from being disrupted, gives them time back and allows them space to focus on activities that will have a greater impact on the business.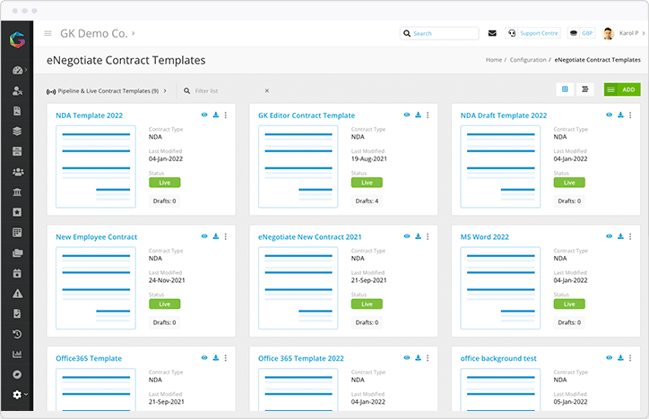 Use standardised contract templates within Gatekeeper to create efficiency
2. Allow teams beyond Legal to self-serve
Clause libraries and contract templates certainly save time, but your business can take automation one step further. Combining rule-based automation technology with external data feeds to create NDAs and MSAs takes administrative burdens away from the Legal team throughout the contract process and they can remain hands-off until their expertise is required.
Touchless Contracts from Gatekeeper allow stakeholders to issue an NDA for signature and create associated records without requiring any input from internal users. Watch our webinar below to find out to see this process in action.
Rather than the Legal team spending their time manually updating supplier information for the NDA form, a secure link is sent to the relevant counterparty.
Initiating an NDA or MSA in this way presents them with your standard NDA template with data that has been pre-populated based on their email domain. These agreements can then be signed electronically and the master record is stored in a central repository.
Contract automation allows stakeholders outside of the Legal team to self-service contracts at scale."

This frees in-house lawyers and counsel as they no longer need to focus on activities such as data input or record completion.
Once you take action on these key automation steps, you'll notice the impact it has on your productivity, time management, relationships with your colleagues and quality of communication with third parties.
3. Identify and resolve bottlenecks with visual workflows and reminders
Mapping out your processes and identifying any points of friction is much easier when you can visualise what's going on. Chasing emails, speaking to multiple stakeholders who have different views and trying to build a picture from missing data will never provide an accurate picture of how a contract is progressing.
The Kanban Workflow Engine from Gatekeeper automates internal processes and uses cards to represent phases of a contract's lifecycle.
The contract automatically moves across different phases once particular actions are completed by an assigned owner. This contract workflow automation provides visibility, defines ownership and drives accountability all whilst minimising the pressure and expectation on Legal teams.
Contract automation creates internal efficiencies for all departments - not just Legal."

Contract workflows such as negotiations, routing and approvals, renewals and updating compliance information become much slicker with the right technology.
Automatic notifications can be sent to stakeholders when a key event such as renewal is upcoming, if action is overdue or if an SLA isn't being met. Rather than in-house Legal teams chasing other people, other stakeholders can be proactive in their approach to contract management processes.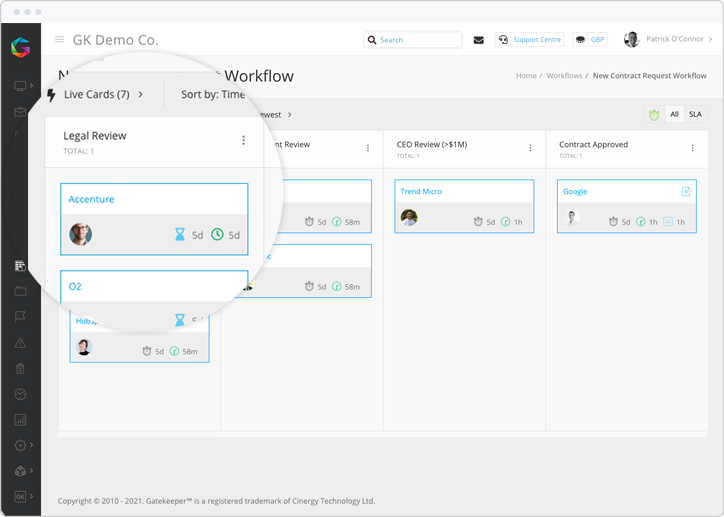 Visualise processes and bottlenecks with Gatekeeper's workflow engine
4. Build a single source of truth with a centralised repository
Intentionally or not, many in-house lawyers are left to balance their strategic input with looking for information, updating other teams and keeping contract information up-to-date.
Businesses taking a manual approach to their contract management often have their legal teams spending hours searching through fragmented storage options and systems.
Contracting is meant to be collaborative. Yet many businesses still use a combination of OneDrive, Google Drive, emails and Excel sheets to store information. This doesn't just make life difficult for the Legal team. Working from an incomplete and inaccurate picture also exposes your business to huge risks which could result in financial consequences.
It's clear that one of the most significant impacts of contract automation is that it becomes a streamlined process with a logical home for each asset and piece of data needed."

Whenever updates are made to a contract, they will be automatically recorded and stored in the repository - providing a complete and defensible history of any actions taken.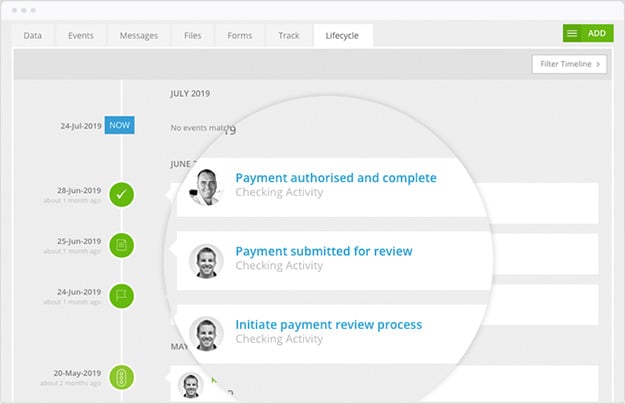 View a complete history of all actions taken against an agreement
In-house legal teams no longer need to send manual updates or chase for information as part of their contract management process. Everyone can see the most up-to-date contract information - along with a time, date and name stamp - within the contract management system.
Contract automation also benefits businesses that use multiple platforms across their business, such as Netsuite or Salesforce.
Even though Legal often sits outside of these platforms, Gatekeeper's native integrations allow for data syncs between the platforms and all contract data can be found in Gatekeeper's repository.
If Legal teams need any information, such as third-party data for compliance, they can find everything they need without leaving the contract management platform.
5. Automate contract management for the entire organisation
Businesses that seek to alleviate workload pressure on their in-house legal teams are often swayed by platforms that were created with just this team in mind.
And although Legaltech solutions can sound attractive for a function that needs help with providing value, working more efficiently and optimising processes - they actually increase workload for Legal teams.
LegalTech CLMs trap in-house counsels in a silo, when what they really need is contract automation software that helps them to collaborate more effectively with the wider business."

After all, realising contract outcomes is an organisation-wide responsibility.
In-house lawyers should not be the owner of contracts. Relying solely on this team exacerbates the problems that contract automation intends to solve.
Contract automation software brings the entire team together to improve visibility, help everyone to maintain control and safeguard compliance.
With central repositories, automated workflows and complete and auditable histories, all relevant stakeholders can access the information they need. Collaboration is enhanced without interrupting Legal and taking them away from priority matters.
How BlaBlaCar worked with Gatekeeper to achieve contract automation
The in-house Legal team at BlaBlaCar described their contracts as being 'everywhere and nowhere' before they worked with Gatekeeper. A combination of rapid growth and manual processes led to the in-house legal team facing:
Difficulties staying on top of key documentation
Disproportionate amounts of time being spent on administrative tasks
Disruption caused by ad hoc communication
The strength of Gatekeeper's centralised repository and its powerful Workflow Engine helped BlaBlaCar to increase its contract visibility, as well as automate and optimise key contracting processes."

By using contract automation software, BlaBlaCar took back control by building and optimising their own approval processes directly in the platform.
This standardised their approach to approvals, notifications and form fields for submissions, ensuring the Legal Team could replicate their existing processes, monitor for performance and then streamline as required.
Wrap Up
Gatekeeper works directly with in-house legal teams in a variety of businesses, in sectors as diverse as finance, technology and hospitality. Providing the benefits of contract automation, Gatekeeper helps Legal teams to reduce their daily workload and generate revenue for businesses as teams focus on high-value work.
If you believe your business could benefit from contract automation then get in touch today.