As your business grows, so too does the workload of managing contracts and vendors, as well as the risk of mistakes and oversight. It's the reality of a maturing organisation.
As an in-house legal professional, your resource can quickly become spread too thinly as you're tasked not only with working on new contract requests, but also with maintaining existing contracts through their lifecycle.
You need to be across renewal dates, ongoing compliance requirements and personnel changes to ensure that the expected contract value is being delivered. This can be challenging at the best of times, but particularly if your department is under-resourced in terms of people and technology.
You're not alone. The Thomson Reuters Legal Department In-Sourcing and Efficiency Report analysed the efficiency of in-house legal departments and found that some of their key challenges are keeping apprised of activities and ensuring processes remain compliant. The report also uncovered that:
In-house legal teams spend more time handling contracts compared to previous years; this is also the area where the time spent has increased the most
Top planned measures to improve efficiency are migration to electronic document storage and paperless process policies
Contract automation sits only at the sixth place of technology systems in place
You'll notice a pattern here: there's a need for consistency and a centralised system.
The most common problem with contract management is that there's often no standardised way to store and manage contracts. Sometimes they're in someone's email inbox or hard drive; other times they are printed out and stored in a folder.
This brings up several potential problems:
You can never know who actually stored the contract or where
You can never be sure it's the most recent version
You might not have access to it at all
Your business could miss out on a renewal date and experience a financial loss
Ultimately, your legal expertise can only be applied to the contracts you are provided with and are therefore aware of.
Furthermore, you'll experience justifiable frustration if there are issues down the line with agreements that you had no prior knowledge of, especially if it then falls to you to resolve them.
What is automated contract management?
Automated contract management is a solution-based approach to eliminating manual processes when handling contracts. A contract management solution is used to automate internal processes, streamline time-to-contract, and provide a single source of truth for the entire contract portfolio.
Why should you automate the contract management process?
Unlocking greater value from your legal team, giving them back valuable time to focus on their specialist areas and building a complete view of your contract portfolio are just some of the reasons to seek and implement a contract automation solution.
But contract automation doesn't just belong to, or benefit, the Legal team. Many businesses make the mistake of choosing a LegalTech CLM solution that actually makes the Legal team work harder as contracts become locked away in their department.
Automating contract management should be done to benefit the entire organisation, so choose a solution that:
Keeps all relevant stakeholders accountable for outcomes via automated notifications and alerts
Enhances collaboration between all teams and offering greater self-serve options to those outside of Legal
Provides a centralised contract repository that can be securely accessed by appropriate and approved parties
Benefits of contract automation software


Save time with automated compliance
The more contracts you manage, the higher the chances are of them being unique and carrying a different set of policies and regulatory requirements.
Keeping an eye on all that is hard.
Manual processes also leave lots of room for mistakes due to simple human errors like miscommunication and forgetfulness.
By automating your contract management and compliance with a contract tracking system, you can ensure every step of the contract lifecycle happens automatically, based on a predefined process. This will ultimately shorten the time between different milestones and tasks.
You can also automate contract administration such as requests for updated data from involved parties and alert them on any important changes.
This can be particularly useful for legislative compliance such as for GDPR, where your relationship to suppliers processing your data needs to be recorded and maintained.
It will also give you a quick overview of the progress of the contract, commitments and any deviations from the workflow.
The net result? Bird's eye view of compliance and reduced risks.
Reduce your daily admin workload
The faster you can close a contract, the faster the business can start generating the expected benefits.
However, if you're doing this manually, the only way to keep the contract management process up to speed is by hiring more in-house legal resource to take on the additional workload. This is typically an expensive and time-consuming process that might not even be on the company's roadmap.
You'll fall into this trap if you manage all of your contract lifecycles manually and the business is growing. The process simply requires a lot of manual work, like data input, approvals, alerts, setting (and respecting) completion and revision deadlines, and much more.
This can easily turn into a paper-intensive process leaving you without enough hours in the day.
Another downside to non-automated contract management is that it strips the process of predictability. Without having an immediate insight into the current status, the reminders sent, and key changes, bottlenecks are inevitable and your control over the process is reduced.
Automating your contract management will relieve you of tedious administrative work, speed up the time-to-contract process and enable you to focus on getting the best outcome of every business relationship you manage.
Touchless Contracts technology from Gatekeeper relieves legal teams from manual intervention during contract creation and also eliminates the heavy workload associated with high volume NDAs.
Using initial data-points, such as an email address, Touchless Contracts can generate fully-executed NDA, fully compliant contracts and counterparty records. In-house Legal teams no longer need to dedicate time to data capture. Find out more by watching the video below.

Gain full control with a central place for all contracts

By now, it's clear that one of the most significant impacts of contract management automation is the fact that it becomes a streamlined process with a logical home for each asset and piece of data needed.
There is a disadvantage of a non-centralised contract lifecycle management process that only becomes obvious once it's too late, and it's this: your colleagues will move between internal roles, change physical location, or even leave the company altogether. It's the lifecycle of every business.
The problem that arises if you don't have a central place for your contracts and vendors is that it can become particularly painful—or even impossible—to track down all the contracts, simply because you don't have a clear picture as to what is even out there in the ownership of each of your colleagues.
Here's another example. Let's say an account manager is working on a deal and uses a contract that they have kept locally on their hard drive for months. They make a couple of changes and get the deal signed, and you have no insight into this process whatsoever.
Not only are you unable to monitor compliance, performance, or upcoming term renewals; you also can't gauge the impact of these contract changes on your company until it's too late.
You can tackle these issues with a cloud-based system for managing all your contracts and vendor relationships. It will help you standardise all processes, communication, compliance practices and much more across all teams and allow for easy collaboration regardless of the location of your teams.
You'll also remove the hassle of tracking down all your contracts and spending time on emails and calls each time you need to look into a deal.
This will also create an audit trail so you never again have to worry about unmonitored changes to contracts.
Automating these processes will not only free you from this burden, but also free all involved teams from spending their valuable time on manual tasks that they can otherwise use to grow the business.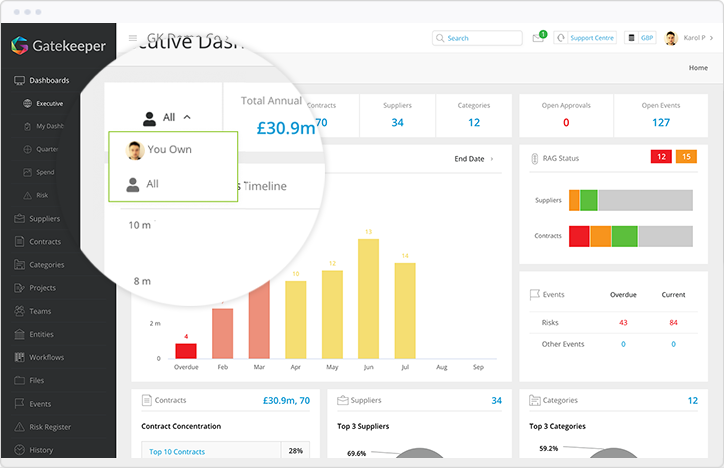 A central place for all contracts
How to automate your contract management
Implement a collaborative contract management platform

The first step you can take—and arguably the most impactful one to begin with—is implementing a collaborative platform for all your contracts and relationships with vendors and suppliers.
It is the necessary first step that ensures you can automate specific parts of the process as you get more comfortable with it.
Here are some of the actions you can take within this step to kick off your contract management and legal automation efforts:
Define different levels, like Supplier, Project and Team, which will replicate your internal business structures
Create and automate events like contract reviews or supplier assessments at appropriate levels, assign owners for these events, and set automated notifications and reminders
Pull together all previous documentation relating to each supplier and upload them to the relevant records to ensure they will be visible alongside all future agreements.
Move to messaging via your solution's internal platform so that all future communications are automatically tied back to the relevant records.
Enable self-service for vendor and supplier onboarding

The next step is to enable your vendors to onboard themselves. This will free you from an entire set of tasks in your vendor correspondence as they will be able to update key pieces of information for themselves, and respond to automated workflow requests.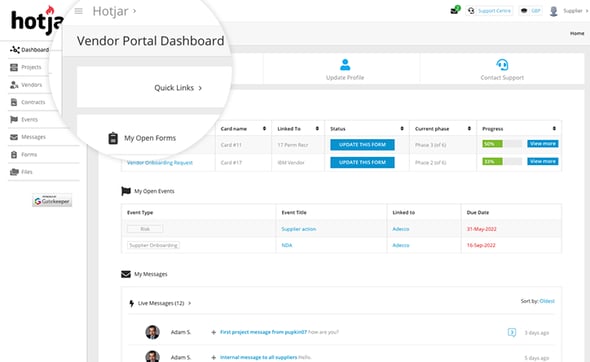 Provide vendors with a self-service portal
Not only that; with a self-service portal for your suppliers and vendors, you will:
Collaborate with them more quickly as you won't have to jump between electronic and physical documents or different apps as everything will be in one place
Strengthen your relationship with them by providing them with a branded, streamlined experience
Identify consolidation opportunities and room for savings
Report to stakeholders on vendor and supplier performance in a matter of minutes
Build conditional workflows and triggered activities

The final step is to adopt the use of contract workflows. A workflow is essentially a sequence of events that needs to happen from start to finish of your contract process, and by adding stages that trigger each other, you will reduce the time between different phases and remove the human error risk.
These workflows will more than likely start out by replicating your existing internal processes and can then, over time, be optimised to reduce timeframes and the number of touchpoints.



Contract workflow management allows you to:
Edit each phase of the process and add specifics like required approval and transitioning between stages on approval or rejection
Enable notifications when the process enters a specific phase
Set time limits on different phases so that the entire process can flow quicker and trigger necessary actions and follow-ups
Once you take action on these key automation steps, you'll notice the impact it has on your productivity, time management, relationships with your colleagues and quality of communication with your suppliers and vendors.
Gatekeeper works directly with in-house legal teams in a variety of businesses, in sectors as diverse as finance, technology and hospitality. By streamlining contract management, Gatekeeper helps Legal teams to reduce their daily workload and generate revenue for businesses as teams focus on high value work.
If you believe your business could benefit from centralised contract management then get in touch today.
You can also read our related blogs: