Working in the cloud comes with many well-documented, high-level benefits including unlimited and completely scalable storage, secure data back-up and fully-flexible access across device and location.
But how do these benefits apply specifically to contract and vendor management? And how can you weigh up the cloud against alternative deployment models?
What is cloud contract management?
Cloud-based contract management uses intuitive and dedicated SaaS solutions to manage the lifecycle of contracts, rather than using a combination of disparate spreadsheets and offline methods. Cloud contract management can help businesses to unlock greater value.
Why today's workforce need cloud-based contract management
Manual and fragmented contract management processes are no longer fit for purpose. The need for digital transformation has dominated businesses since the pandemic. Stakeholders that can't access contracts securely and remotely face delayed time-to-contract, frustrated relationships and uncertainty as to whether they are even working on the most recent version.
Working in the cloud allows teams to deliver meaningful value, wherever they are. Combined with automation, a cloud-based CLM software saves business time and money. It streamlines processes, enhances collaboration and allows all stakeholders to work from a single version of the truth.
How cloud-based contract management is in sync with remote working
The rise of remote working created a new reality for businesses that were unprepared. For those still relying on spreadsheets, there were issues of accessibility. For those that could adapt quickly but did so without structure, issues arose around security.
Agreements being accessed from anywhere may sound like a recipe for disaster. Contracts that are edited, shared or approved without any oversight contribute to increased risk. People working in silos - geographically or professionally - fosters fragmentation. But working in the cloud alleviates these fears.
Cloud-based CLM provides a centralised location where all teams collaborate. Contracts and their relevant documents can be stored and accessed securely.
Access can be determined by role-based permissions. Only relevant stakeholders can make changes to an agreement. All changes are captured in stamped audits, showing names, times and dates related to the changes made. This increases contract accountability and transparency.
All amends are made in the CLM system. This improves version control - a common issue cited when working with offline methods. By collaborating within the cloud, changes can be made in real-time. The latest version of an agreement or related document is stored automatically against the Master Record.
How cloud contract management software helps businesses to grow
As the workforce becomes globalised, you may be obliged to buy additional software licences for locations other than your headquarters. If you have to pay for every additional stakeholder you bring on board, any software investment may soon outweigh the returns you get. Applying for licences and getting team members set up may also cause delays to your process.
Many CLM providers offer pay-per-licence models which come at an increasing cost if your business experiences or plans fast growth. By choosing a CLM solution that offers unlimited users, you can avoid unnecessary overheads. Adding as many users as you need to your cloud-based solution promotes adoption and collaboration across your business.
Giving stakeholders the tools they need, at pace, can help them get to work faster. Rather than making additional investments each time your contract portfolio grows, your business can focus on ongoing ROI without negatively impacting its bottom line. Stop paying for new users and start paying a solution that grows alongside your business.
The Case for Cloud Contract Management
Having a a SaaS contract management solution hosted in the cloud helps solve two of the most common issues associated with contract management:
Centralisation of data
Accessibility of data
The lack of a contract repository software is the first major hurdle for a business wanting to optimise its pool of contracts and vendors.
If contracts are dispersed among different teams and departments and stored in a variety of formats, including hard copy, it makes it practically impossible to determine the scope of all the contracts. This leads to:
Missed renewals through lack of available information about key dates
An inability to strategise about, or consolidate, contract and vendor spend
Gaps in compliance and increased business risk as supplier records aren't kept up to date
Tedious manual work searching for information about contract commitments
These issues can all result in increased costs and greater chance of supply chain failure.
Moving all your contract agreements to a central, cloud-based repository addresses these issues directly by:
Displaying a calendar of key dates such as forthcoming renewals, meaning they can be planned for appropriately.
Providing visibility over your whole contract database, including costs, categories, and departments
Recording compliance against contract records and automating its renewal.
Providing delegated access to your wider team, meaning key legal and procurement personnel aren't tied up with having to find contract agreements on behalf of colleagues.
When it comes to centralisation, the cloud not only assists the staff responsible for contract management access the information, it makes it straightforward for the rest of the business to upload contract documents and keep records up to date.
Additionally, all your contracts are securely backed up, meaning you don't need to worry about them being lost. This can easily happen if they exist only in hard copy or in personal email accounts of staff, who may subsequently leave the business.
Cloud solutions in general, and Gatekeeper in particular, also simplify collaboration by providing permission-based access and making information accessible on any device, anywhere.
More than other business disciplines, Contract Management is a naturally collaborative process. This applies both internally, with different business areas such as Legal, Finance and Procurement being obliged to work together to progress contract agreements, and externally with the need to work closely with third parties.
As a result, in the cloud is the logical place to store and manage contracts.
Why you should choose saaS contract Management solutions rather than deploy an on-premise solution or build in-house
Both these options could be viable for your business if you have an engaged and responsive IT Team to support you.
The growth in SaaS businesses over the last ten years has broken down most of the barriers to adoption. Where companies might previously have been strongly sceptical of the idea, SaaS delivered via the cloud is now considered pretty normal.
Objections now would generally only come down to one of two major reasons:
IT/Information Security. If there is an absolute hard requirement for on-premise deployment to meet a security standard.
Cost - if the expected costs of an in-house or on-premise solution are calculated to be sufficiently lower than a SaaS deployment.
Security
Looking first at Security, we can see why certain businesses would be resistant to hosting their data in the cloud. In heavily regulated industries like financial services and healthcare the security standards are justifiably high and the potential financial penalties severe.
Beyond that, the reputational damage for data breaches is becoming so significant now that this can even outweigh the direct financial penalties that might be imposed by a regulatory body.
This is why SaaS companies have to be incredibly focused on their security credentials in order to work with enterprise businesses.
Gatekeeper takes an extremely proactive approach to this area, having achieved ISO 27001 accreditation for Information Security Management, as well as submitting for regular, rigorous security testing by external parties.
Not only does this provide the level of reassurance required for enterprise customers, it also means that smaller, growing businesses benefit from the same high security standards.
Cost
The other major objection is cost and it can be that over a particular timeline or in certain cases, that there is a considerable difference between the predicted cost of SaaS and an in-house or on-premise solution.
A typical comparison of costs over time between SaaS and on-premise might look like this: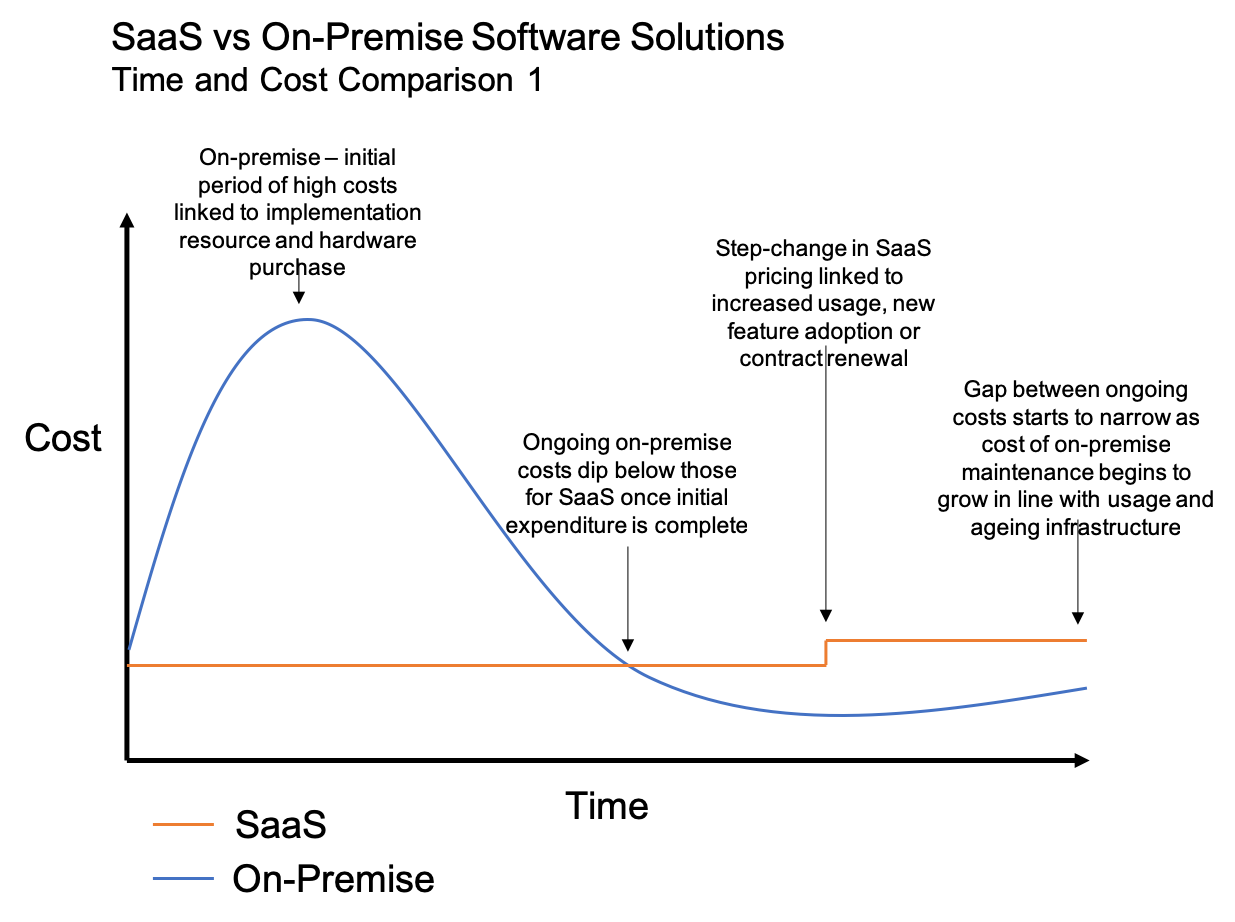 Looking at this model, depending on your time horizon, the comparative costs could look very different, with the initial spike for on-premise solutions gradually being eroded by the longer term costs of SaaS.
In the following simplified version, you need to assess whether the value of area A is likely to outweigh the value of area B over your chosen timeframe.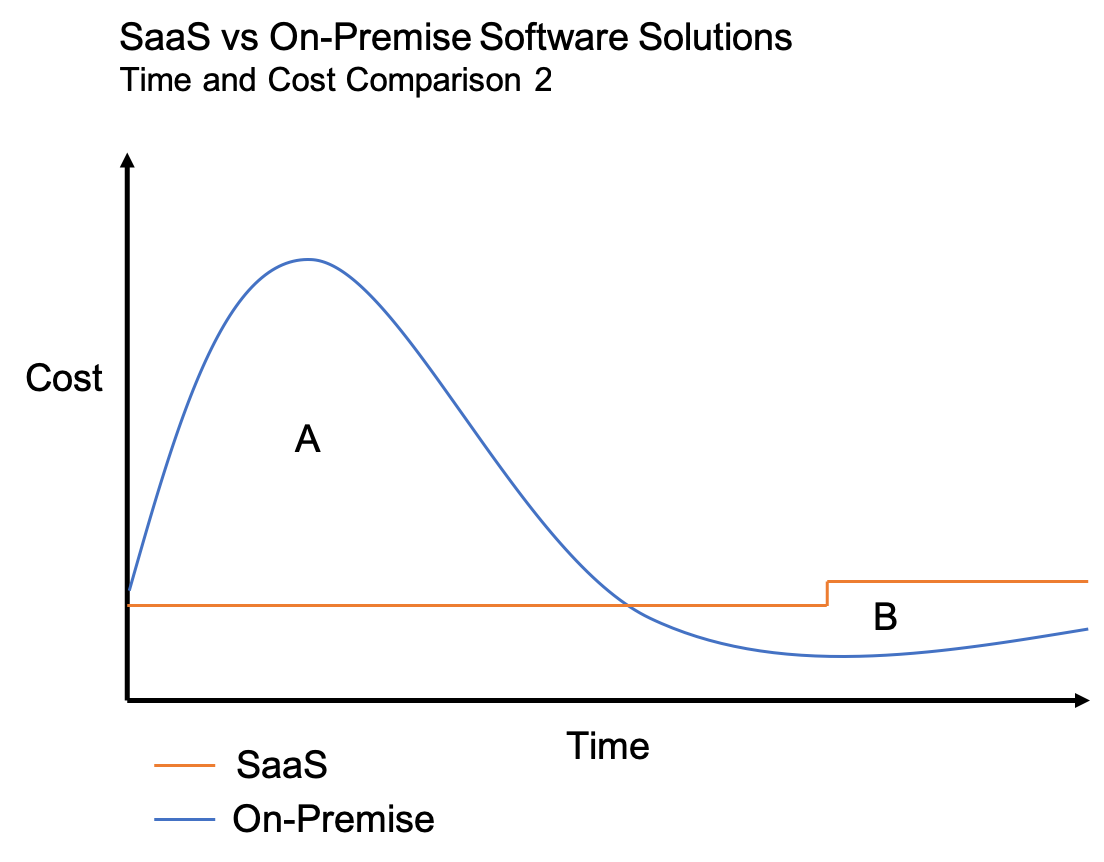 In simple terms, if A is bigger, then SaaS contract management would be the preferable option, otherwise on-premise could be the way to go.
That said, all you are comparing in this scenario are the flat costs. What this won't take into account are the comparative ease of management of the two options.
The on-premise solution puts the responsibility for updates and ongoing management in the hands of your IT team. It's possible that they will be able to provide the consistent level of engagement and responsiveness that you require but more likely is that when it comes to updating that you'll need to get into a prioritised queue.
For a SaaS solution, updates and enhancements are generally deployed automatically, meaning your version of the solution is always the most up-to-date.
The SaaS model also brings predictability of costs, which can also be of value to growing businesses who need to focus tightly on cash-flow. You also have the ability to scale up as required if your business grows rapidly.
With the on-premise model you may be required to go to the back of the project queue to get your upgrade completed, which could slow your business growth.
Integrations
On-premise solutions can be extended in terms of functionality, but not always quickly and not always easily. A huge benefit of a SaaS cloud based contract management solution is that it can easily interconnect with your existing tech stack.
On-premise solutions can lead to fragmentation due to a lack of flexibility - especially if teams are already using specific programmes. A cloud-based CLM system, however, brings teams together. Whether teams are using NetSuite or Salesforce, for example, a SaaS solution allows your teams to access all the contract information they need, while using the systems they prefer the most.
How cloud contract management software helps businesses make savings
Unlimited users on all plans is just one way that cloud-based CLM helps businesses to avoid increasing costs. The software can also help to save businesses time and effort. This may not always be marked in monetary terms but the more time teams have to focus on strategic activities, the better contract outcomes will be.
Cloud contract management software specifically creates savings via:
Centralisation and searchability

.

Teams no longer have to waste time locating contracts, relevant documents or even specific clauses. CLM that offers

OCR technology

allows teams to search for specific data points across the entire portfolio.

Automated data extraction. How many billable hours are spent manually uploading contract metadata? The risks include human error and data duplication. CLM automatically and accurately extracts data and stores it against the contract. Teams can get to work quickly with complete and correct information.
Alerts and notifications. A contract renewing without anyone's knowledge can cost thousands. Delayed time-to-contract can slow down returns. Putting the onus on a particular team to chase for updates is time spent better elsewhere. Cloud-based CLM sends automated notifications and alerts based around key dates, upcoming events and required actions.
eSignatures. Cloud contract management software allows people to work from anywhere, which means they can sign from anywhere too. Wherever they are, whatever device they are using, contracts can be signed with legally-binding electronic signatures. It saves time, money and effort otherwise spent chasing.
Trust the experts
Putting aside the benefits relating to costs, accessibility and centralisation for one minute, the obvious reason for working with a SaaS business is that they're the experts in their chosen field.
Their solution and team exist solely to solve a particular business problem.
Even if you were to work with a SaaS business that allowed an on-premise deployment of its solution, you would still begin, almost immediately, to diverge from their latest product version.
Compromises would need to be made during the integration and it's unlikely that the release schedule would coincide with those of the SaaS platform.
This means you wouldn't be benefiting from the full extent of their expertise and you would increasingly be reliant on your non-specialist IT team to adapt the software.
If you opt for a fully in-house solution built to your internal specifications, the problems are magnified as you're fully reliant on your IT Team and the requirements drafted by your internal stakeholders.
Naturally, they can't have the same depth of knowledge about the discipline as those that work day-in, day-out on this particular problem across a large spectrum of businesses.
This therefore becomes a recipe for poor execution and a sub-standard solution.
If you'd like to understand more about how Gatekeeper can help you leverage the Cloud and a SaaS contract management solution, then get in touch today.