The VC-backed world is a brutal place to be in 2023.
Fueled by low interest rates and cheap VC money, Contract Management Lifecycle (CLM) software companies have been pumped with over $1.78bn over the last two years at ridiculous valuations.
By May 2022, $1.78bn had been raised in the CLM space across 74 deals - up 54.3% from 2021. - Legal IT Insider"

The message from the VC overlords during these 'boom' years was clear - grow at all costs - scale your teams, and spend as much money as possible on all marketing channels. Grab the most significant market share, regardless of the unit economics. The music is pumping, and the party is rocking - let's spend, spend, spend!
Just look at the 'darling' of the CLM industry, IronClad. They raised a staggering $100m Series D at 50 times 'future revenue' at a valuation close to $1b in 2020/2021. This is for a company that generated $13m in revenue in their previous fiscal year at the cost of $20m. That's a loss of $7m for a single year.
To put into context how ludicrous a valuation this is during the boom VC years of 2021 and 2022, let's compare this to other $1b company valuations and unit economics outside of the technology bubble:

It's not just IronClad that got intoxicated by the frenzy to secure hyped valuations over the delivery of real value for customers and meaningful financial performance.
All the 'major players' in the CLM space took as much cash as they could get at the highest valuation possible, regardless of the long-term consequences: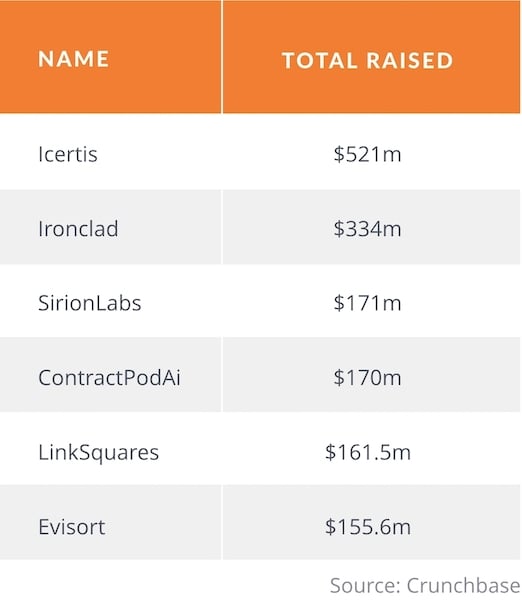 Well, the VC party is over, and the scale of the hangover is now clear. The changes in the macroeconomic climate, including the war in Ukraine, the energy crisis, 40-year high inflation, soaring interest rates, and widespread political unrest, have had a brutally sobering effect. The lights are on, and the view isn't pretty.
According to the latest Bessemer Parting the Cloud report, SaaS multiples are down 75% from a year ago. The average forward ARR multiple is now 4.6.
This is a reduction in valuation IronClad secured for their Series D valuation of more than 10x."

VCs are telling their portfolio companies to pivot overnight from 'growth at all costs' to profitability quickly, as there is no more cash any time soon - if ever.
According to the founder of SaaStr, the world's largest SaaS network and VC, Jason Lemkin, in the post 'Founders Today Just Need to Assume the Next Round Never Comes' on February 9th 2023,
Folks that raised significant money in the past 2 years may no longer be fundable — ever. If you last raised at a $100m, $200m+ valuation, you simply may never grow into that valuation if your growth has slowed, as it has for many."

Look again at the CLM providers that raised the most money and focus on the date of their last funding round in this context: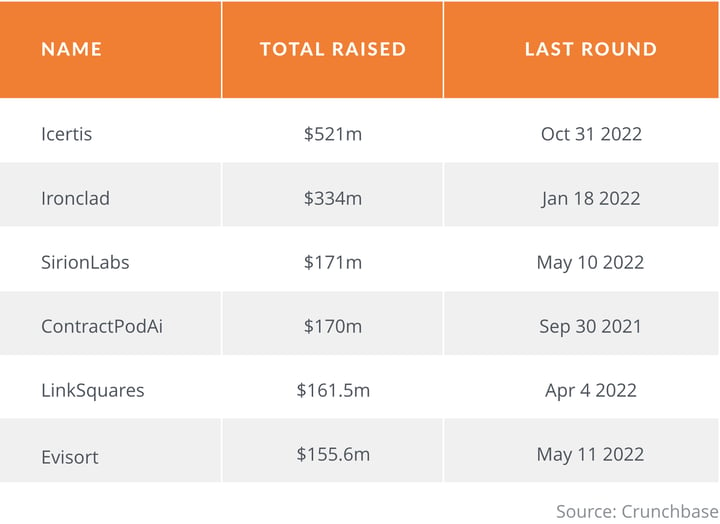 The reality is that if your CLM provider raised money in the bubble valuation years of 2021 and 2022, they are facing a terminal threat.
Investment firm January Ventures found that of the 450 founders in the U.S. and Europe polled, 85% had less than 12 months of cash on hand, according to the firm's new study.
The outlook from seasoned VC and Coinbase investor Tom Loverro is even more sobering:
There's a mass extinction event coming for early & mid-stage companies. Late '23 & '24 will make the '08 financial crisis look quaint for startups."

So how do you obey your VC overlords and go from growth at all costs to profitability within a year? It's impossible or close to, but the first place you start is by culling your team.
The tech layoff bloodbath that began in 2022 and continues in 2023 saw Google, Amazon, and Microsoft layoffs wiping out 40,000 jobs between them in the first five weeks of 2023 alone.
In fact, 'Tech layoffs already surpass Great Recession levels and are set to get worse.'
According to Layoffs.fyi the total number of tech layoffs in 2022 and 2023 is a staggering quarter of a million souls - and rising…..
A total of 159,786 tech employees across 1,044 tech companies lost their positions in 2022, according to watchdog site Layoffs.fyi. A further 101,617 tech employees across 334 companies have lost their job so far in 2023 - a number that we can expect to increase."

This contagion has already infected these over-funded and overvalued CLM companies, with Icertis announcing major cuts to their workplace, and for good reason.
Look at the stark contrast between the credit check for Icertis on 10th November 2022:

Automated Finance Check by Gatekeeper
Compare this to the same report on 10th February 2023, just four months later.

Automated Finance Check by Gatekeeper
This is a dire view of the financial condition of a company. In fact, 'Cash Transactions' only is a far worse credit score than your local family-owned business.
Automated Market IQ Finance Monitoring by Gatekeeper
This is a death call for a company that raised over half a billion dollars in funding.
SirionLabs also announced major cuts to their workplace. CEO Ajay Agarwal also warned of more to come:
"[SirionLabs] has to shift its business strategy toward profitability due to the current macroeconomic environment, and this will result in downsizing⁹."

All this is in response to a recession that has not yet begun.
What does this mean for you?

As a CLM customer, what do these heavy layoffs mean for you?
Weaker support - in a fight for survival, any non-revenue generating activity is halted
Research & Development - the focus is on finding new customers, not innovation
Organisational Intelligence - vital information within the business is lost as tenured team members are made redundant
Risk - the company is at risk, and so is your contract data
The team members that are not culled are understandably nervous and keen to find a safe new role. The company is in flux.
Will all VC-backed CLM companies be able to make this shift? No.
Will all VC-backed CLM companies be able to weather the recession over the next 2 years? No.
Will some VC-backed CLM companies go bust in the next 2 years? YES.
Where does this leave you as a customer? What could happen to your critical contract data?
Contracts are your number one corporate asset. They govern every penny in revenue and every penny in cost."

Do you want to host this vital contract data with a company that is in free fall?
The Way Forward


So, how do you protect yourself from this VC-Backed Contract Timebomb?
Find an independent, profitable CLM provider immune to the ups and downs of the public and private markets to protect your contract data.
Unlike our competitors, who rely on VC money and have never made a profit, Gatekeeper is independent and self-funded from over ten years of delivering for our customers. We have been profitable and cash flow generative for over a decade, making us unique in our sector.
We are hiring globally, not pivoting from a 'growth at all costs' mindset and an ever-dwindling 'runway' of remaining cash by reducing customer-facing staff.
We can help you migrate the risk posed by your VC-backed CLM provider to Gatekeeper without sacrificing the money you have committed.
We are so confident in securing your success that we will:
Buy out your remaining contract with your CLM provider
Migrate your data into Gatekeeper free of charge
Invoice in your next budget window so you can take action today
Get in touch to find out more.