Procurement has been going through a massive transformation over the past few years.
The COVID-19 pandemic, inflationary challenges, and global component shortages further complicate things for procurement professionals.



Keeping up with the latest trends and insights is crucial in this dynamic world.
In a recent interview, Dave Jones, a seasoned procurement professional, shared his valuable insights on procurement in the VUCA world.
Here are three game-changing takeaways from his interview.
1. Focus On Supplier Relationship Management
Supplier relationship management (SRM) has become a critical aspect of procurement. Suppliers hold the cards with the current market conditions, and building close relationships with them is essential.
Dave emphasised the importance of being the customer of choice for suppliers.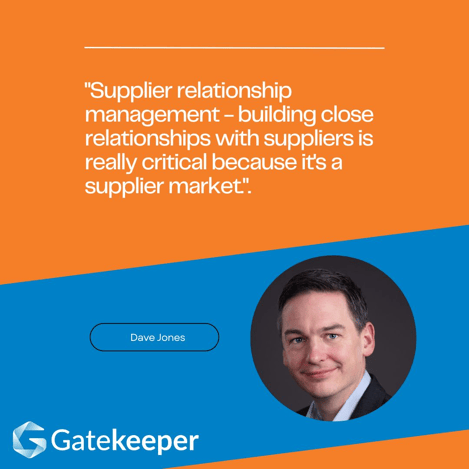 To achieve this, procurement professionals must collaborate with suppliers and provide them with incentives to ensure a long-term partnership.
Dave also stressed the need for supply chain visibility, especially for physical products.
Procurement professionals must understand suppliers' criticality, have alternatives, and diversify their supply base.
2. Broaden Procurement's Role
Procurement professionals must broaden their role beyond the traditional procurement process.
Dave highlighted that procurement had moved away from just running the procurement process.
It's now a broader risk supplier management role that includes sustainability, information security, ESG, and cyber vulnerabilities.
Procurement professionals must align with their company's top priorities and work with stakeholders to provide sustainable solutions that meet CO2 emission targets.
Dave also suggested that procurement professionals must honestly reflect on their CPO's effectiveness, influence, and involvement in shaping conversations with the board.
3. Make Procurement Easy
One of the most significant challenges procurement faces is its reputation.
Dave stressed the importance of making sourcing as easy as buying something on Amazon.
Procurement professionals must remove the treacle, allowing stakeholders to work with them better than ever.
This involves using user-friendly procurement systems and avoiding writing long, unreadable procurement policy documents.
Procurement professionals must collaborate with stakeholders to understand their business problems and solve sustainability challenges.
So my one wish for procurement would be, everyone, please make it as easy to buy stuff in your organisations as it is to buy something personally on Amazon. Please do that, because it is really hurting our reputation as an industry that we are still forcing people to use rubbish. And secondly, please don't write 65-page procurement policy documents or process documents that no one will ever read".

In Summary
Procurement has never been more critical than it is today. Dave's insights on supplier relationship management, broadening the procurement role, and making procurement easy provide valuable guidance for procurement professionals.
In a VUCA world, procurement must be agile, adaptable, and innovative to meet its challenges.
By following these game-changing takeaways, procurement professionals can lead their organisations towards success in the future.