Working with vendors involves a balance of trust, risk mitigation and accountability. As your vendor base grows, an increase in risk within your business is natural. But this doesn't have to skew the equilibrium in your organisation and impact its operations.
With vendor risk management software, you can take a strategic and proactive approach to issues - helping you to strike the right balance whilst maintaining control.
If manual processes and outdated software have you firefighting high-level risks only, your focus is taken away from other smaller issues with the potential to escalate.
Vendor risk management software allows you to proactively identify risks, plan risk mitigation strategies and automate areas such as compliance. Let's take an in-depth look at risk management processes, technologies and how your business can benefit.
What is vendor risk management?
Vendor risk management is a program, or set of processes, designed to help you minimise and mitigate financial and regulatory risks within your vendor base and improve compliance.
By managing your vendors proactively and using dedicated software to optimise your processes, you can protect your business from legal and operational consequences.
But you can also prove return on investment by driving revenue and cost savings through improved vendor performance.
To run an effective vendor risk management program, your business needs:
Visibility of up-to-date and accurate vendor data and records
The ability to identify risks, bottlenecks and upcoming key dates
A defined and standardised ways of managing vendor relationships
Open lines of communication with vendors
Mitigation plans that have been shared and agreed across different departments
Define a RAG status approach to defining levels of risks
DIscover how to manage vendor risks & how software helps.
Why do you need vendor risk management software?
Your organisation could be exposed to vendor risk if it's using manual processes, outdated software and lacks visibility of its vendors' statuses.
The consequences of poor vendor risk management can include disruption to your operations, non-compliance with regulations, revenue loss and security breaches - just to name a few.
Implementing vendor risk management software gives you visibility, control and the foresight to make proactive, remedial decisions where the potential for risk occurs."

It eliminates the fear of legal and financial consequences as you stay one step ahead of risk-related issues. Let's take a look at how this technology can support your risk management processes and put your business in a better position.
1. Work with accurate, centralised vendor data from the outset
It's impossible to identify and mitigate vendor risk when you don't have an accurate view of the status of your vendors.
If you're always looking for data, working with incomplete records or have records that are out-of-date, you can't have confidence in your vendor's level of compliance. This increases the regulatory risk throughout your business.
Specialist software allows you to mandate data gathering via self-serve for vendors and store the completed records in a secure, centralised repository."

By delegating the information required from vendors and making them accountable for keeping their records up-to-date, compliance-related risk is minimised from the start of the vendor relationship.
Centralising accurate vendor records in a secure location increases your visibility, so you can easily identify records that need updating ahead of expiry dates or upcoming changes in legislation and regulations.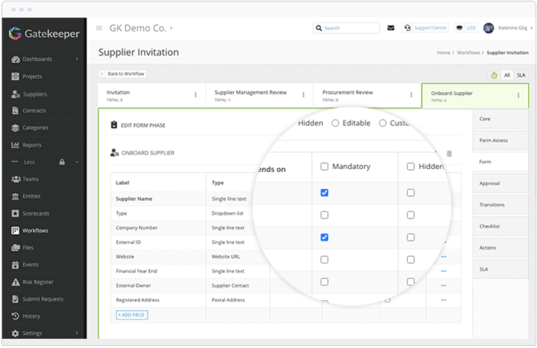 Mandate vendor data and allow them to self-serve with Gatekeeper
2. Define vendor risks, assign scores and assign ownership for mitigation
Risk mitigation plans can only be built when your business agrees what the risks are, the severity of their impact and who is responsible for taking action. This process is all about understanding the risk landscape across your organisation, analysing the probability and impact of events and driving strategies that will protect your business.

Vendor risk management software allows you to enter risks by vendor type and category, and calculate a Risk Score. These scores, which indicate the severity of the risk, can be used to shape mitigation strategies according to priority."

Assigning ownership keeps individuals accountable for mitigation efforts. It makes risk management a proactive and preventative process, rather than an activity that occurs after the fact.
With automated notifications to stakeholders and vendors that action is required, issues can be brought to their attention and made a priority - allowing them to be resolved before they escalate. This is especially useful in the case of regulatory requirements not being fulfilled or related documentation expiring.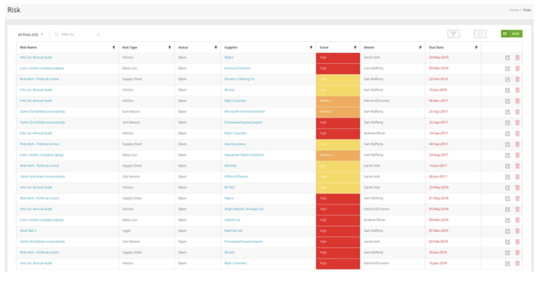 Easily identify and resolve vendor risk with Gatekeeper's Risk Module
3. Easily identify risks and drive corrective action via automation
Visualising your vendor processes as workflows allows you to easily see where actions need to be taken to prevent risk - whether that's updating a certificate, having a service delivered on time or carrying out a performance review to ensure KPIs are being met.
Automating remedial actions such as requests for updates or notifications of an upcoming deadline saves teams valuable time, stress and prevents potential business disruption.
A vendor risk management solution such as Gatekeeper, powered by a vendor workflow engine, uses Risk Scores to automatically trigger escalation workflows. Stakeholders and vendors are all notified that remedial action is required, creating a collaborative approach to risk mitigation."

Leveraging automation to reduce your risk exposure keeps your business in control.
Risks that may have previously gone undetected can be prioritised and addressed. A record of each risk, its resolution and who carried out the action can be seen by the vendors and stakeholders involved - creating a clear and visible record of accountability.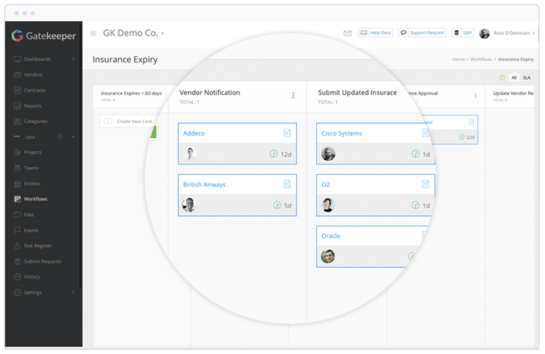 Trigger escalation workflows and automatically mitigate vendor risk
4. Continuously monitor your vendors with risk surveillance feeds
Take the guesswork out of vendor risk management with real-time information about your third-party relationships. If a vendor's status changes, your business can receive instant alerts about their risk profile - allowing you to communicate with Legal and set risk mitigation strategies in motion. This immediate view of vendor changes allows your business to act swiftly and put preventative measures in place.
Some vendor management software comes with integrated risk data. Access compliance history, litigation issues and credit profiles for your vendors, so you can continuously monitor your relationships and make informed decisions about their ongoing nature."

Your entire organisation can make use of this data. Legal and Finance teams can access real-time information stored directly against records to inform decision-making. Whether you're looking to consolidate your vendor base, renegotiate existing deals or introduce a new vendor to your business, dedicated software can deliver the best insights.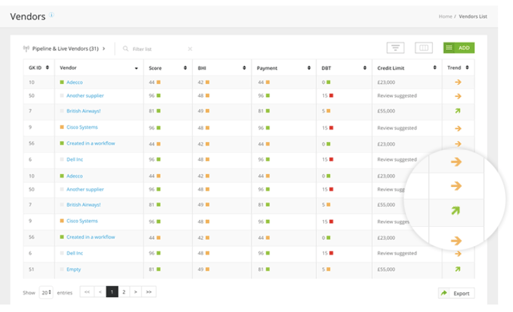 Gatekeeper's integrated risk feeds mean you're always in the know about your vendors
5. Monitor and optimise Third-party performance for better outcomes
Open and collaborative relationships with your vendors will lead to partnerships built on trust and confidence. Clarifying expectations through a list of key performance indicators and obligations, often defined during the negotiation process, will help all parties to understand how the success of the relationship is defined.
Poor performance can lead to third-party risk such as contract breaches and disputes - which can lead to costly resolutions. Time and money can be lost to resolving poor performance, while your business may experience operational disruption. Mitigating these risks requires ongoing monitoring, analysis and communication with vendors.
Gatekeeper provides automated surveys and scorecards that give stakeholders a a chance to complete a vendor assessment on performance."
The outcomes can be easily visualised, measured and analysed with data-driven dashboards.
This helps to provide evidence to vendors, identify areas that require improvement and make your vendors accountable for taking corrective action. Being able to easily assess, share and optimise performance minimises the risk of obligations being unfulfilled.
Visualise vendor performance with Gatekeeper's Balanced Scorecards
Wrap Up
Optimising your current processes and planning your risk mitigation strategies is simplified when you use vendor risk management software.
Automate your processes, visualise your vendors' statuses and easily identify and correct issues before they escalate. An investment in vendor risk management software could save you money and time further down the line.
A proactive approach to vendor risk can enhance your relationships, protect your business's operations and ensure that your reputation remains positive with third-parties and customers alike.
If you're ready to optimise your current processes, apply vendor management best practices and minimise risk across your portfolio, book your Gatekeeper demo today.