Juggling multiple vendors, tracking their performance, and ensuring compliance with regulations can quickly become overwhelming for Procurement Teams when they use a manual approach.
Using a combination of Excel spreadsheets, Sharepoint and email can lead to:
High levels of manual effort to capture data and complete vendor records
Fragmented and incomplete vendor data leading to poor decision making
Difficulty tracking communication history, finding messages and escalating issues
Bottlenecks and delays when onboarding vendors or routing approvals
These problems can be resolved when the Procurement Team is equipped with a Vendor Management Portal.
What is a Vendor Management Portal?
A Vendor Management Portal is a digital solution that provides a centralised platform for Procurement Teams to manage their vendor relationships more efficiently.
It is a web-based or cloud-based software application that automates and streamlines various aspects of vendor management, offering a single point of access for all vendor-related information and processes.
A vendor management portal serves as a hub for Procurement Teams to collaborate with vendors, track performance, manage contracts, and ensure compliance."

It eliminates the need for manual processes, spreadsheets, and paper-based documentation, replacing them with a user-friendly interface that simplifies and accelerates vendor management tasks.
Key features of a vendor management portal

Vendor management portals are designed to centralise and automate all vendor-related processes.
It alleviates administrative burdens from the Procurement Teams, gives them better visibility of their vendor base and allows them to prioritise the most important activities.
Vendor Registration and Onboarding: A dedicated portal allows vendors to register themselves by providing their company information, contact details, and relevant certifications. It simplifies the onboarding process by guiding vendors through the necessary steps and capturing essential information required for engagement.

Vendor Profile Management: Vendors can manage and update their profiles within the portal. They can edit company information, upload necessary documents such as insurance certificates, licenses, and tax identification, and keep their contact details up to date.

Document Management: A vendor portal provides a secure repository where vendors can upload and manage documents related to their engagement. It allows procurement teams to request and review documents such as contracts, compliance certificates, and financial statements.

Audit Readiness: A vendor management portal assists in ensuring compliance with internal policies and external regulations. They automate workflows, approval processes, and document management, creating a traceable and auditable record of vendor interactions. This simplifies audits and helps procurement teams maintain compliance.

Communication and Collaboration: Vendor management portals facilitate seamless communication and collaboration between Procurement Teams and vendors. They provide messaging systems, notifications, and document-sharing capabilities to ensure efficient and transparent communication throughout the vendor relationship lifecycle.
Four Ways to use A Vendor Management Portal

1. Restore visibility with centralised vendor records
A Vendor Management Portal centralises information by providing a single platform where all vendor-related data and documents are consolidated into a single repository and easily accessible.
By centralising information, a vendor management portal provides procurement teams with a unified, efficient, and transparent way to manage relationships.

It streamlines processes, improves collaboration, enables data-driven decision-making, and enhances overall efficiency in vendor management. All of this is achieved by restoring visibility that was once limited by fragmented spreadsheets and shared drives.
Vendor records, due diligence information or communication between your Procurement Team and its third-parties can all be accessed through a branded, personalised portal.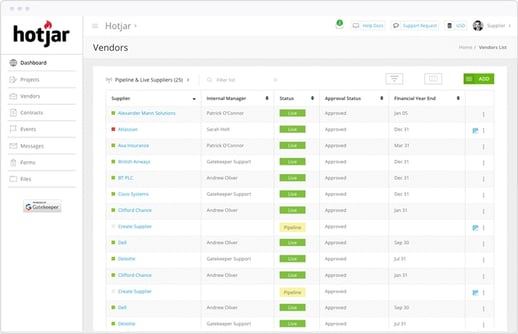 See everything in one place with Gatekeeper's branded Vendor Management Portal
2. Control vendor processes via automation
Without automation, vendor management processes will differ each time you come to onboard a vendor, capture their data or route approvals to other stakeholders.
Inconsistent processes can cause hidden bottlenecks in the early stages of your vendor relationships. This can foster poor relationships and tensions from the outset.
Using a Vendor Management Portal, alongside a Workflow Engine, streamlines processes, enhances efficiency for the Procurement team and improves the vendor experience.

By using predefined workflows within the vendor management portal, teams can establish a best practice set of steps and procedures for approvals, vendor onboarding, performance reviews and risk mitigation activities.

Vendor workflow automation reduces manual, repetitive tasks. Instead of spending hours on manual data entry, document processing, or tracking vendor activities, teams can focus on more strategic activities, such as vendor evaluation, negotiation, and relationship management.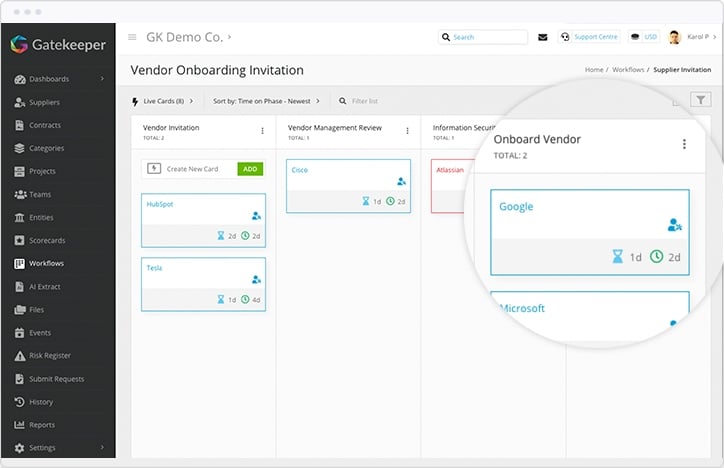 Vendor management processes within Gatekeeper's Workflow Engine
3. Improve data accuracy via self-serve
How much time does the Procurement team spend initiating contact with and chasing vendors for information? Think about the time dedicated to:
Updating documentation, such as insurance certificates for compliance reasons
Emailing or calling vendors to request that they provide complete information
Chasing other stakeholders to double-check the accuracy of current data.
This level of administration can create repetitive, low-value workloads that prevent Procurement teams from focusing on getting the most value from the relationship.
By using a portal rather than emails when managing vendors, your team can delegate data entry directly to the vendors. Using structured public forms, mandated fields and clear instructions leads to consistent data being submitted without the need for intervention.

Self-serve via a Vendor Management Portal puts ownership on your third parties by allowing them to:
Register themselves by providing their company information, certifications, and other relevant details.
Submit necessary certificates, licenses, insurance documents, or any other documentation required for engagement
Use a messaging centre to communicate issues and queries more quickly
Check the progress of any requests and updates at their convenience.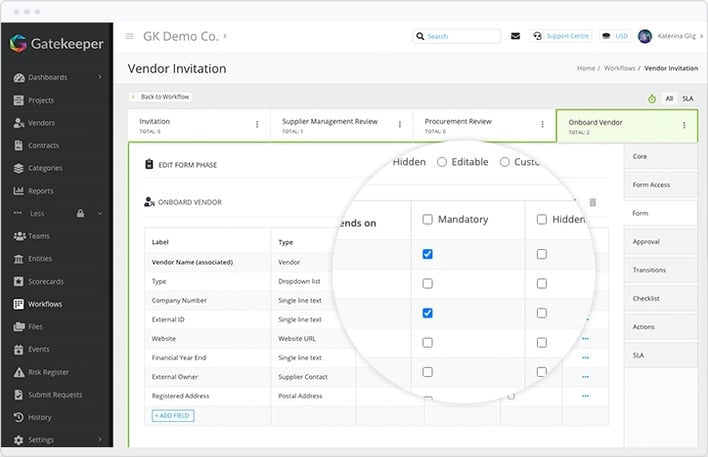 Delegate data input to your vendors
4. Safeguard compliance with audit-readiness
When it comes to preparing for audits, Procurement Teams need to demonstrate the controls they have in place for vendor management. This can include screenshots of processes, proof of communications and a presentation of all actions taken against a vendor record.
A vendor management portal supports audit-readiness by providing a centralised platform where all vendor-related information, activities, and documentation are securely stored, traceable and time-stamped.

By using a vendor portal instead of manual methods, Procurement Teams can eliminate the headaches and stress that can be caused by audit preparation. Gathering evidence becomes much easier because:
Centralised storage ensures that all required documents are readily available during audits, eliminating the need to search through physical files or disparate systems.
Procurement Teams can track document revisions and maintain a history of changes, enabling auditors to review the evolution of documents over time and verify the integrity of vendor-related documents.
Auditors can see a trail of user activities within the system. This includes document revisions, updates to vendor profiles and communication history. With named owners and time stamps, auditors can track a sequence of events and validate the completeness of vendor management processes.


To find out more about preparing for a vendor audit, watch the video below.



Vendor Management Portal FAQ
Q: What are the key benefits of using a vendor management portal?
A: Using a vendor management portal offers several benefits, including centralised information, streamlined processes, enhanced vendor tracking, self-service capabilities for vendors, and audit-readiness. It improves efficiency, accuracy, and collaboration between procurement teams and vendors.
Q: How does a vendor management portal centralise vendor information?
A: It centralises information by providing a single platform where all vendor-related data, documents, and interactions are consolidated and easily accessible. It eliminates the need to search through multiple systems or files and ensures that procurement teams have a comprehensive view of vendor relationships.
Q: How does a vendor management portal streamline vendor tracking?
A: It streamlines vendor tracking by providing tools and functionalities that enable procurement teams to monitor and manage vendor performance in one centralised location. It allows procurement teams to track key metrics, evaluate compliance, and analyse spending patterns, facilitating data-driven decision-making and proactive vendor management.
Q: How does a portal benefit procurement teams in terms of standardising processes?
A: A portal promotes standardised processes by providing predefined workflows and procedures for various vendor management tasks. It ensures consistency, reduces errors, and eliminates variations caused by individual preferences. Standardized processes enhance efficiency, accuracy, and compliance within the procurement team.
Q: Can a vendor management portal integrate with other systems used by Procurement teams?
A: Yes, many vendor management portals offer integration capabilities with other systems, such as ERP or accounting systems, used by procurement teams. This integration allows for seamless data exchange, eliminating the need for manual data entry or duplicate record-keeping. It ensures data consistency and enhances the accuracy and reliability of vendor-related information.
Q: Is a vendor management portal suitable for organisations of all sizes?
A: Yes, vendor management portals can benefit organisations of all sizes. Whether you're a small business with a limited number of vendors or a large enterprise managing a vast supplier network, a vendor management portal offers centralised control, streamlined processes, and improved vendor management capabilities that can scale to your organisation's needs.
Final Thoughts
Vendor management portals have emerged as indispensable tools for modern Procurement teams.
The benefits they offer, including centralisation, standardised processes, improved vendor tracking, self-service capabilities, audit-readiness, and workflow automation, significantly simplify the complex task of vendor management.
By embracing these portals, procurement teams can optimise their operations, drive efficiency, strengthen vendor relationships, and ultimately deliver greater value to their organisations.
To find out more about how a dedicated portal could improve your vendor management processes, book your Gatekeeper demo today or get in touch.