Giving your vendors an efficient, personalised experience at all times is critical to building strong, long-lasting and mutually-beneficial relationships.
The ability to communicate and collaborate effectively pays dividends when it comes to improving vendor performance, maintaining third-party compliance and realising the agreed benefits from your existing contracts.
Organisations that are still communicating with their vendors solely through channels such as email can face a number of challenges including:
High levels of manual effort to capture data and complete vendor records
Fragmented and incomplete vendor data that the business can't have confidence in
Difficulty tracking communication history, finding messages and escalating issues
Bottlenecks and delays when onboarding vendors or routing approvals
In this article, we take a look at five reasons why your business should manage vendors with a dedicated Vendor Portal rather than relying on email.
Five Advantages of a Vendor Portal
1. Centralised and secure vendor records
Communicating via email may seem practical at first - especially if your business only has a few vendors.
However, when your business starts to scale and add headcount, or its vendor base becomes more complex and more distributed, records and communications can quickly become fragmented as important data and documents are sent and received via different inboxes.
When you put a vendor portal at the centre of your vendor management processes, you create a hub for all activity that links directly to your vendor repository. With that in place, your organisation can securely request, receive and store information directly from vendors as well as managing all future communication and documentation.
This trackable, auditable central source of truth becomes the basis for productive vendor relationships."

By moving vendor communications from your inbox and centralising them in a contract repository software, you can make accurate and informed decisions about your vendor base at any moment - especially useful during periods of consolidation or negotiation.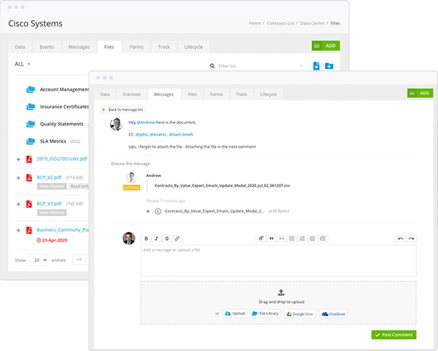 See everything in one place with Gatekeeper
2. Improve vendor tracking with standardised, visual processes
When individuals throughout your organisation manage and collaborate with vendors on their own terms, it leaves scope for inconsistency.
Without standardisation, vendor management processes will differ each time you come to onboard a third party, capture their data or route approvals.
Inconsistent processes can cause hidden bottlenecks in the early stages of your vendor relationships – risking tensions from the outset and, at worst, leaving vendors unwilling to fulfil their contractual obligations.
Using a Vendor Portal, alongside a Workflow Engine, will not only standardise your way of working but allow everyone in your team to visualise internal processes and see the vendor's journey.

At Gatekeeper, our workflow engine is based on the principles of Kanban, which immediately helps users to visualise their vendor and contract work under the broad headings of: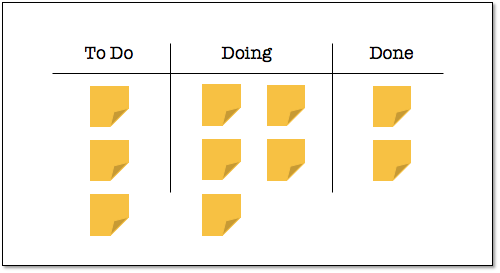 You can read more about Kanban in our related article.
Standardising and visualising vendor onboarding, invitation, documentation updates and performance reviews allows your organisation to act ahead of time, take action where it's required and effectively manage all types of approval processes.
Simply put, a dedicated Vendor Portal gives you a greater ability to track your vendors, their progress and their performance than any type of communication or data capture through email.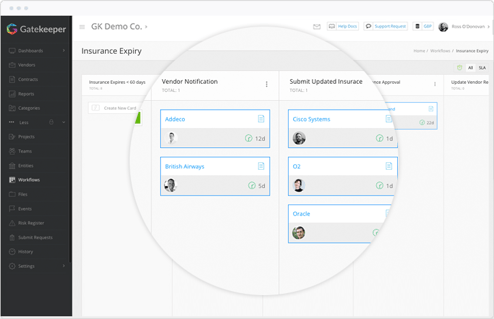 Gatekeeper's Kanban Workflow Engine
3. Encourage vendors to self-serve
How much time does your organisation spend initiating contact with and chasing vendors for information?
Outside of a vendor portal, time spent chasing third parties can quickly add up. Particularly if your team is required to manually request:
Update to documentation, such as insurance certificates, for compliance reasons
Information about stakeholders, key dates or obligations
Scorecards and performance reports
This level of administration can create an excessive, low-level workload for your team that prevents them focusing on more high-value work.
By using a portal rather than emails when managing vendors, your team can delegate data entry directly to the vendors. Using structured public forms, mandated fields and clear instructions leads to consistent data being submitted without the need for intervention.

Any information gaps or lapsing of certificates can be automatically resolved using notification directly to the vendors, saving your team manual effort and helping them to minimise third-party risk.
What's more, when using Gatekeeper's vendor portal, vendors are able to log in for themselves and check in on the progress of any requests or updates. This again saves your internal team from interruption for simple administrative questions.
4. Be audit ready
Whether your audits are internal or external, you need to have up-to-date vendor information that is easy to access. Managing your vendors through email makes this incredibly hard to do as you'll need to dedicate time to finding, downloading and organising compliance documentation ahead of an audit.
Collaborating with third parties via a Vendor Portal rather than through email allows you to keep a complete, transparent history of all interactions.

You'll be able to access enterprise-standard audit trails that include messages, documents and updates made by individuals within your organisation and the vendors themselves. This simplifies the preparation required for audits and gives your business confidence in the reports presented.
The same principles also apply to companies that are looking to acquire other business or be acquired themselves. Full audit trails, with easy access to documentation makes that process considerably easier, as well as making future consolidation much more straightforward.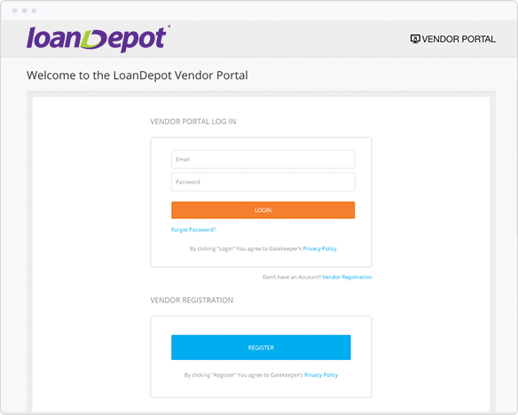 Gatekeeper's Vendor Portal
5. Never miss another renewal
Manually tracking key dates can become cumbersome as your vendor base grows and can introduce financial risk and delinquent spend to your organisation. It's vital to:
Record all key dates correctly
Avoid unwanted and unexpected auto-renewals of agreements
Consolidate where multiple vendors are being paid for comparable services or goods.
Prepare fully for renewals ahead of time so that you can negotiate from a position of comparative strength.
The most effective way to get the most from your renewals is to centralise key dates, review contracts ahead of time and negotiate from an informed position. Sprawling spreadsheets, fragmented data and inefficient internal processes are all issues that lead to poor vendor management and costly renewals.
A vendor portal centralises all your data, keeping all vendor and contract records and key metadata in one place.
This increases overall visibility and gives your business a single source of truth about its vendor base. Knowing when contracts are up for a renewal is crucial.
This information can help you to act ahead of time, review your agreements and vendors' performances and research alternatives on the market.
Vendor management software can also automate renewal tracking. You can set reminders that trigger a renewal workflow and send a notification to internal stakeholders that a review is needed ahead of the renewal date.
Visualising this using a workflow engine makes it easier to see exactly what action is required and when - so you can be in a strong position to negotiate the best terms.
Final Thoughts
Communicating and collaborating with your vendors through email, or other unstructured communication channels, can work as a quick solution, but this method will fail as your business scales and your vendor base grows. Storing messages, documents and actions within your inbox can soon lead to fragmentation that's heightened by a lack of standard processes.
If you want to build long-term, successful relationships with your vendors that allow you to collaboratively maximise the value of your agreements, you should prioritise a seamless vendor experience at every stage of their lifecycle.
Using a branded portal provides a personalised experience for your vendors while putting you in complete control of their onboarding, registration, performance and data.
To find out more about how a dedicated portal could improve your vendor management processes, book your Gatekeeper demo today or get in touch.