Businesses that rely on multiple suppliers via manual processes may find it difficult to achieve maximum value from existing relationships in an ever-changing world. Corporate climate change, an explosion of data and changing regulations all change the landscape of supplier management. Manual processes simply won't keep up.
Using a supplier management system can transform processes, deepen relationships and make third-party risk management seamless. Below, we outline some of the major benefits and important features you should consider when making a software selection.
Reasons Why Your Business Needs A Supplier Management Platform
Evaluating whether your business's suppliers fulfil their obligations and meet expectations is essential for success. It ensures that your business can maximise the value of its relationships, while identifying new opportunities for innovation and performance improvement.
A supplier management platform enables you to track:
Performance
Forecasted vs Actual Spend
Obligation Fulfilment
Levels of compliance
A supplier management system can centralise this key information about your suppliers so you have complete visibility. The right solution also includes dedicated modules for each of the areas above, providing dashboards and reporting features that can inform decisions about renewals and consolidation.
5 Ways A Supplier Management Platform Will Enhance Your Business


1. Effectively manage a growing list of suppliers
When your business first started, it's likely that it managed just a few suppliers and this was easy to do. But as your business grows, so does your supplier base - and the complexity of your supply chain.
This complexity is due to an increase in the scale of operations and third-party relationships that are becoming globalised."

As your list of suppliers grows, overall management becomes a much bigger task. There's a lot of information to keep track of and data can become quickly fragmented if your business still relies on spreadsheets and shared drives to manage suppliers.
Spending hours finding relevant information, keeping records up-to-date and chasing suppliers via email creates bottlenecks and can damage your relationships. Your business can use a dedicated portal where you can onboard, communicate and collaborate with suppliers from a central location.
When selecting a system, you should also consider one that can store unlimited supplier records and allows you to add unlimited users. That way your solution will scale alongside your business - no matter how many new suppliers it introduces.
2. It saves your business a lot of time
A dedicated platform can save you hours of valuable time through automation. From assessing the viability of suppliers right through to renewing their agreements, digitising the process will help you to drive internal efficiencies.
Some systems even provide self-service options for your business's suppliers. Using public forms and mandatory fields, you can delegate data input to them so you only work with complete and accurate records from the moment you onboard suppliers.
This reduces the time spent chasing suppliers for updates via email and gives you more time to focus on other aspects of your business.
3. You can evaluate supplier performance
The performance of your business is directly linked to the performance of your suppliers. If your suppliers are failing to meet agreed KPIs or fulfil obligations outlined during negotiations, your business could be at risk of operational disruption.
If services aren't delivered on time, materials aren't the expected quality or if goods just aren't provided at all, the knock-on effect for your business could include financial and regulatory consequences."

Automated surveys provide insight into your vendors' performance, giving your business the opportunity to measure and analyse outcomes - as well as the value added to the business.
Balanced Scorecards can help your business to measure the success of its suppliers. If poor performance is identified, the business can take corrective action - whether that's prompting suppliers because their attention is needed or taking early steps to reduce supplier base.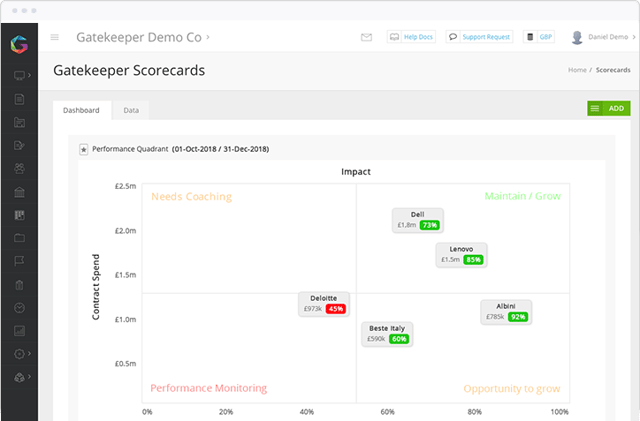 Measure your supplier performance with Gatekeeper
The ability to easily evaluate supplier performance creates better outcomes throughout your organisation, gives you more control and ensures that every relationship is contributing positively to your business's bottom line.
4. You can identify and reduce supplier risk
While you cannot effectively run a business without a few risks, you must stay on top of every situation and reduce the possibility as much as possible. When managing supplier risk through spreadsheets, emails and shared drives, issues can easily be buried and hidden - leaving your business exposed without you even knowing.
Supplier management systems can help you to track and mitigate risks in a number of ways. These include:
Access to risk intelligence feeds, giving you up-to-date financial and security information about your existing suppliers and preventing you from engaging with non-viable ones
Notifications that can be triggered by key dates, alerting suppliers that their compliance documentation needs to be supplied or updated
Assigned RAG statuses that give you a visual indication of the level and seriousness of risk that a supplier is introducing to your business
A dedicated Risk Module allowing you to create risk mitigation strategies based on risk scores calculated by probability and impact.
5. Be confident in your audit preparedness
All stakeholders must have access to up-to-date supplier records. Working in industries such as Healthcare or Finance means abiding by particular regulations and being able to prove that your suppliers are compliant too.
Even if your business doesn't operate in these industries, there is now a growing onus on businesses to prove they work with suppliers that minimise Environmental, Social and Governance risks."

These include compliance with Australian Anti-Slavery Laws. Gatekeeper provides a complete audit history of all actions taken complete with name, date and time stamps.
When it comes to internal or external audits, the data you need is readily available and up-to-date. This makes preparing for audits less stressful, more efficient and more accurate.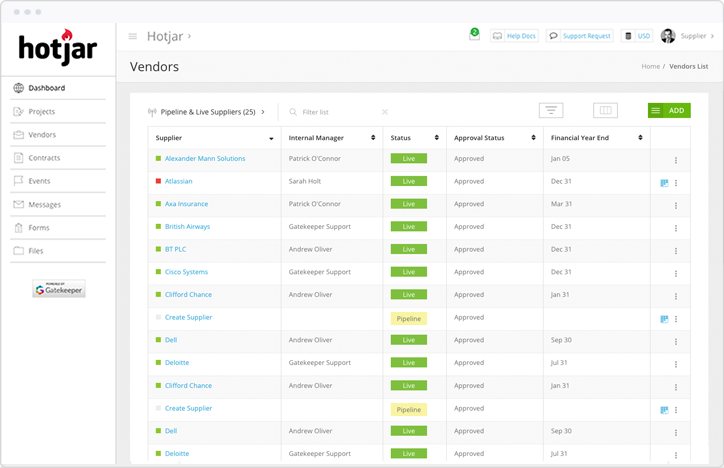 Capture all actions takes in a defensible and auditable history

5 Important Features To Look Out For In A Reliable Supplier Management System
We have pointed out the benefits of a sound supplier management system and how it can positively impact your business. But choosing a reliable system from the options available can be difficult. To help you with that, we have curated a list of the most important features of a supplier management system.
1. Automated onboarding and self-serve options
A supplier management system should support the seamless and automated onboarding of all suppliers. Standardising and visualising this process not only drives efficiencies but creates a better experience for third-parties - setting the relationship off on the right foot.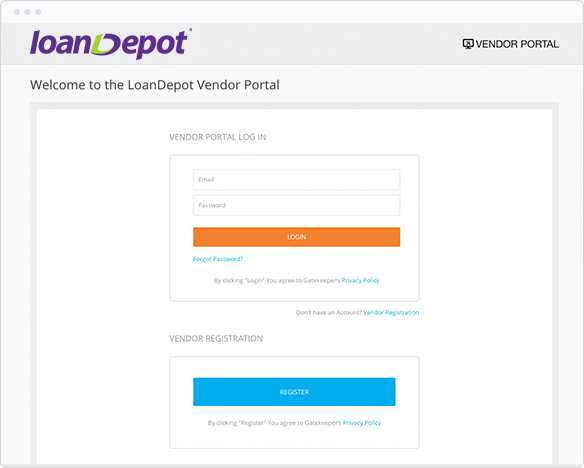 A dedicated supplier portal
Working from complete and accurate supplier records is also critical for making the right business decisions. Capturing this data, depending on the amount of suppliers you have, can be a long, complex and resource-heavy undertaking.
By delegating data input to suppliers, they become accountable for their own record-keeping while reducing the overheads on your internal team.
2. Ease of use and native integrations
Your chosen system should be easy to use for your teams and it shouldn't require a high level of expertise to configure. If it is too complex to use, individuals won't adopt the system.
Any supplier management system that you introduce to your business should streamline processes, improve the day-to-day work of the stakeholders and make supplier relationships easier to manage."

If your teams already use specific platforms, the right supplier management system can ease the fear of change by natively integrating with the existing tech-stack. Consider a solution that can work alongside platforms such as Salesforce and NetSuite.
3. Risk intelligence feeds
Integrated risk intelligence feeds within your platform can help you to identify and mitigate the inherent risks that are introduced to your business each time you work with a new supplier.
Storing all of your records within a centralised repository, tracking key dates and setting up notifications based on changes to your supplier base will help you to manage risk effectively.

Existing risk in your supplier base needs to be continuously monitored and mitigated when issues arise. But with supplier management systems, more can be done to minimise the level of risk entering your business in the first place.
With risk intelligence feeds, you can access up-to-date information about your supplier's credit history, financial changes and security updates. By knowing this information early on, you can make informed judgements about whether engaging with certain suppliers will help or hinder your business.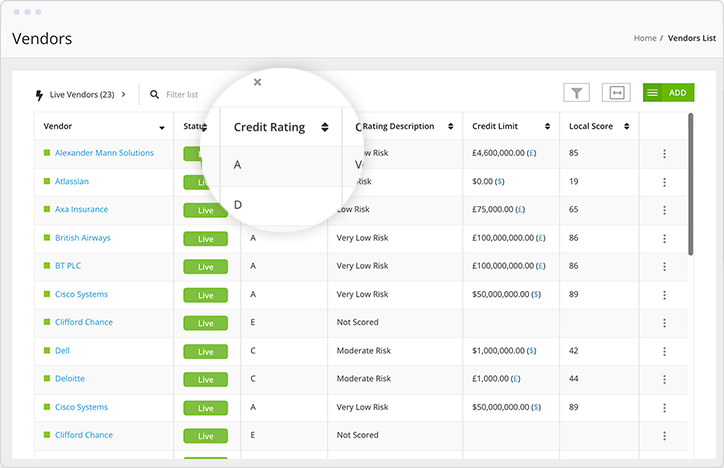 Access risk intelligence feeds about your suppliers
Monitoring, assessing, and preventing risks becomes an automatic and embedded process, rather than an afterthought that requires additional resource.
4. Robust reporting capabilities
At all times, you should be able to see an accurate snapshot of your supplier's statuses. Your business should look for reporting features that allow you to drill down into your supplier base by by category, types and even supplier size.
A supplier management system should make it possible to accurately track, capture and present the performance, spend and risk levels of your suppliers."
Reporting capabilities allow you to share important insights with the rest of the organisation and make accurate decisions about whether to reward suppliers with further work or end the relationship with them.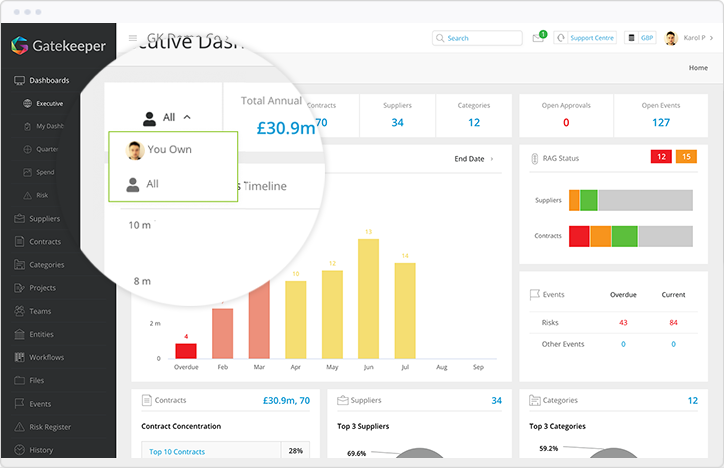 See supplier information in one place
5. Collaboration tools
Supplier management is an extensive process that shouldn't be owned by a siloed business unit. Choose a supplier relationship management tool that works for the entire organisation. It should allow your Legal, Procurement and Sales teams to collaborate effectively - as well as communicate easily with the suppliers themselves.
A combination of a dedicated portal, centralised repository and messaging centre will make supplier management processes accessible to all stakeholders, increase efficiency and provide a more streamlined experience that strengthens third-party relationships.
FAQs About Supplier Management Systems
What is a supplier management system?
A supplier management system allows you to effectively manage your third-parties. It provides complete visibility of supplier records, as well as performance, risk and spend. It allows for the streamlined and simplified management of your third-parties through automation and centralisation.
What are the main functions to look out for?
The main features include a centralised repository, risk intelligence feeds, automated workflows and the ability to send notifications based on key dates. A dedicated supplier portal, automated onboarding and an auditable history are also key features your business should consider.
Wrap Up
We have taken a look at some of the most important details you need to know about supplier management systems.
Implementing a supplier management system will significantly impact how efficient your business is, the strength of your supplier relationships and the level of risk introduced to your business.
The right solution will help you to achieve maximum value from your relationships while saving your business time and manual effort.
If you're ready to improve your supplier relationship management, get in touch today.