To manage contracts effectively requires a systematic approach and the discipline to stick to it over time.
The rewards for doing it well are reduced costs, an engaged and consolidated supplier base, better compliance and a more collaborative workforce.
Using free contract templates and tools to help with this process can be a good approach and can help you keep track of your contract and vendor relationships.
If you're not yet ready to implement a contract management solution in your business, then we've prepared a range of contract templates to help you structure your approach.
These templates will help you get your contracts organised ahead of 2021, but you can also use them right now!
Contract Management Excel Templates
To help you get started, we've created a single Excel sheet containing 13 different templates, covering different aspects of the contract lifecycle. These include:
A contract inventory sheet
A risk register
Issue and Dispute Logs
Plus many more
These contract tracking templates can be populated straight away or adapted to your own requirements.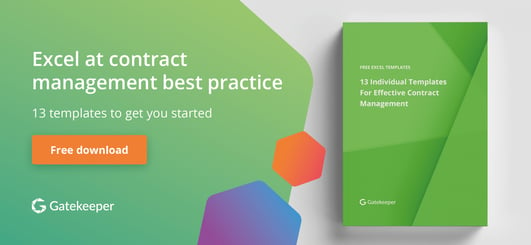 You can also read more about how to use Excel to manage contracts in our related blog.
Contract Management Framework - Free PDF Ebook
To help you further with your contract management, we've also created a free ebook covering all the stages of the contract lifecycle.
We've called it "The Complete Guide to Contract Management" and it has 38 pages packed full of advice and easy-to-follow 10-point checklists for every stage, from contract inception through to renewal and close-out.
Whether you're an experienced contract manager or a non-specialist looking for advice, our ebook has plenty to offer you and has been put together with the benefit of more than 50 years of contract management experience.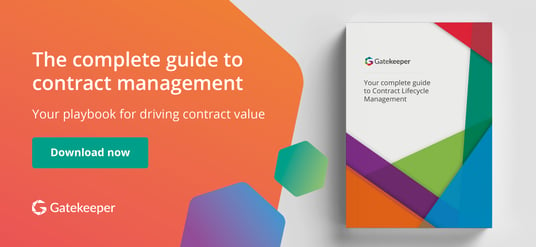 Recession Planning Guide
The world has changed drastically throughout 2020 and the economic impacts may be felt acutely throughout your business. We've created a free ebook to help your business plan for the upcoming months.

It's called "Recession Planning and Preparation for Contract Managers" and it has 13 pages of insights including in-depth planning step and essential guidelines to be used when supporting the rest of the organisation.
Whether you're a non-specialist contract manager looking for guidance on recession planning, or an experienced contract manager looking to sense check existing plans, this free guide will be able to help you.

More contract management resources
Our blog is a growing resource for contract and vendor management insight. We call on a variety of experts when creating our articles to make sure that they're useful and actionable.
You can subscribe at the bottom of this page and receive updates when new articles are published.
For further information about how Gatekeeper makes contract management easy, you can contact us.