Electronic signatures are now in common use in most countries. Advances in technology and the legality of e-signatures have freed businesses to use them where possible.
This is particularly true in the developed world where solutions have been readily built and adopted.
While it's true that many companies have grown on the back of simply supplying the technology to complete electronic signatures, it's also true that there are greater advantages to be enjoyed by linking online signatures with contract lifecycle management.

Integrated electronic signature and contract management solutions offer several key benefits to businesses and these can generally be categorised into three main areas.
Watch the on-demand webinar to learn more about Gatekeeper's eSign solution.

What are the benefits of signing contracts electronically?
There are three major benefits gained by signing contracts electronically. These are:
Faster time to signature
Increased transparency
Improved compliance and data integrity
Let's take a look at each of them below.
1. Faster time to signature
Electronic signatures generate obvious time-savings around the act of physically signing the document.
By signing electronically, the need for transporting hard-copies between counterparties is removed, which is particularly beneficial for contracts being signed internationally.

Where previously there may have been the need for couriers or for signing parties to travel to meet, now it's simply a case of completing the necessary online steps.
Even when contracts are transmitted electronically, signed and then scanned there can still be delays as the signers need to physically be in the same place as the contract to carry out the signing.
With electronic signatures, the contract can be signed securely on any device with access to the internet, again speeding up the overall time-to-contract process.
2. Increased Transparency
By keeping the process digital, the signing parties benefit from having a complete, electronic audit trail of the contract and its history.
Using a full-featured contract management system such as Gatekeeper means this audit trail will also include all the pertinent information from the redlining and negotiation process leading up the signature, as well as the actual contract file.
This will include who's reviewed the contract, their comments, whether those comments were accepted, adapted or rejected and all previous versions of the document prior to agreement. There is no room left for contract ambiguity when it comes to the signing process.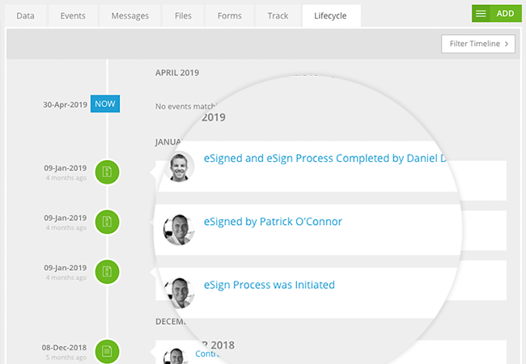 A contract timeline with electronic signature details
All updates and changes will be time-stamped and securely recorded for future reference.
This level of detail then gives the signatories the confidence and knowledge to sign the contract when it is transmitted to them rather than having to manually check with colleagues as to whether they've seen and reviewed the contract previously.

When it comes to the signature itself, not only are the date, time and counterparty details captured but additional metadata can also be recorded at this time.
Information like location, IP address and device type can also be added to the record to provide further context and to help with any future queries regarding the process.
Crucially, by using a contract management system with an integrated electronic signature function, and not just a stand-alone e-signature system, you then also set up the contract seamlessly for ongoing management.
In the case of Gatekeeper, a combination of AI and automation can trigger workflows to manage future contract obligations and renewals, as well as to maintain compliance over the contract's lifetime.
When we talk about transparency, we're not only referring to the contract's audit trail, but also to the actual document itself, including access to all the previous iterations using Gatekeeper's built-in version control.
We mentioned previously that some business's process is to have contracts signed in hard copy and then scanned for further transmission and record-keeping.
The act of scanning the contract can result in a degradation of the clarity of the final document. This particularly affects the hand-written elements of the document such as the signature itself, initials and dates.

If any of these parts become less than 100% clear following scanning it will have the potential to cause issues down the line if the contract needs to be revisited to clarify details or for a dispute.
Electronic signatures create flawless documents for ongoing storage and future reference as well as capturing vital metadata to enrich the contract record.
3. Improved Compliance & Data Integrity
By building the electronic signature process into an automated workflow, the legal or contract team is able to control the end-to-end process of contract approval.
What may once have been an inconsistently-followed process between different business areas can now be tightly managed and monitored.
A dedicated workflow engine, such as Gatekeeper's, can be used to mandate the full sign-off process so that it meets internal and external compliance requirements and so that each stage is tracked against an SLA.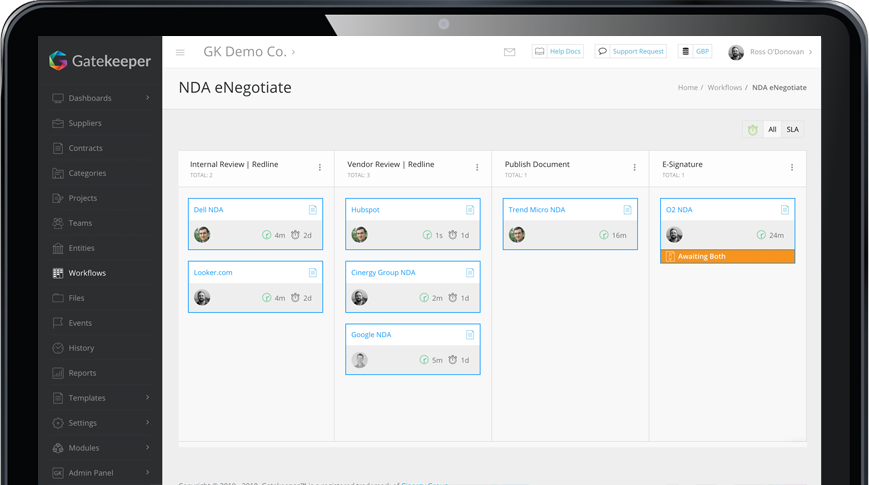 By including the electronic signature stage in that workflow, it prevents stakeholders from circumventing the process.
Should the process require documentation to be uploaded and certain information to be included, this too can be controlled with specific fields being made mandatory.

Every individual step of the process can be used to build up a thorough record of the contract and all the actions that have been carried out on it.
Integrations with electronic signature platforms
Gatekeeper offers native eSign functionality to help automate your processes, but recognising that businesses may already have a platform in place, it also offers a DocuSign integration.
The DocuSign eSignature integration simplifies the contract execution process and accelerates business transactions. Signature requests can be sent to multiple stakeholders and, once signed using DocuSign, it still saves automatically in the Gatekeeper repository.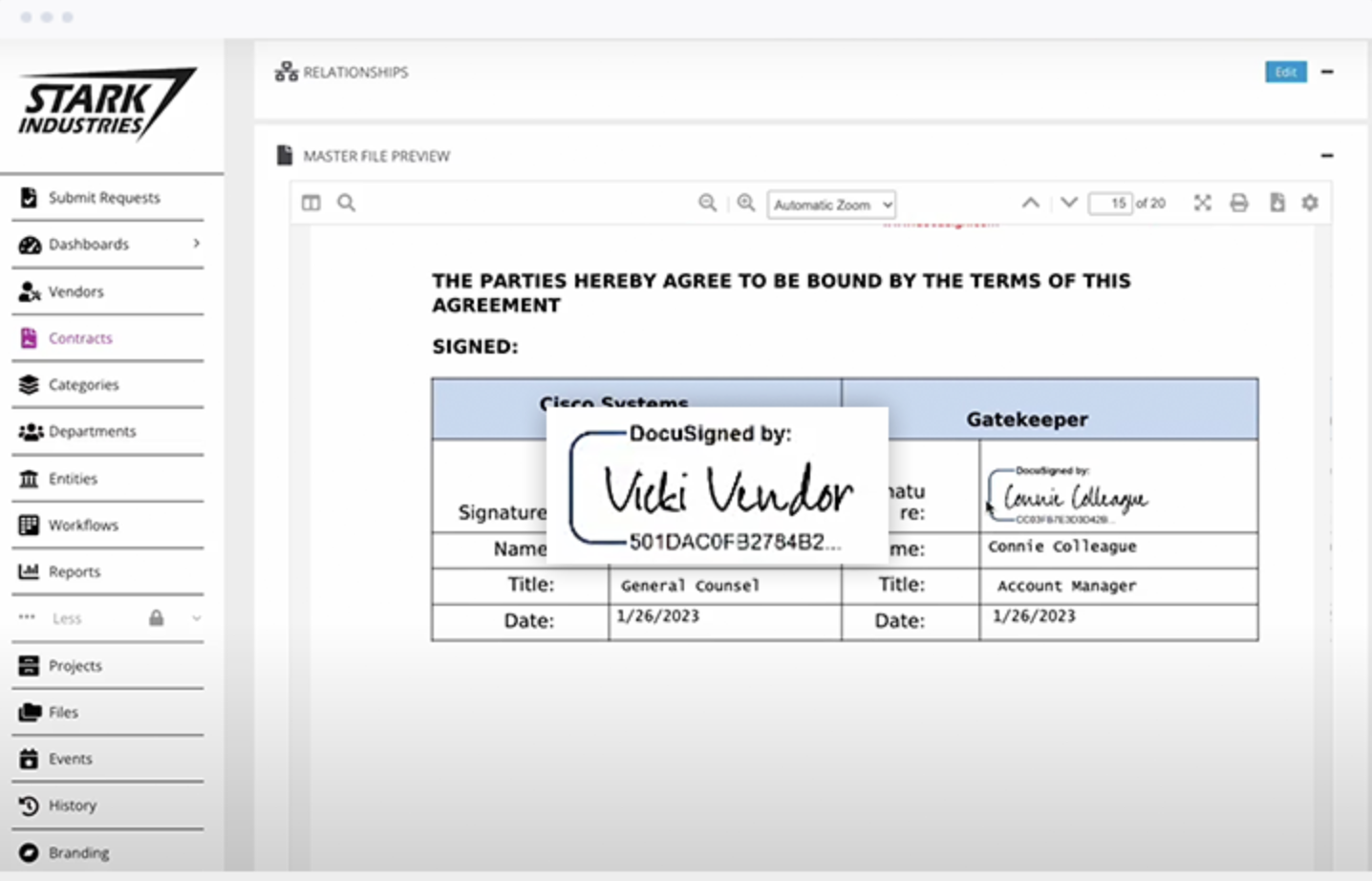 Use Gatekeeper's DocuSign integration
The additional benefit of using the DocuSign integration is that it supports several types of digital signatures, including Qualified Electronic Signature (QES). A QES provides additional verification of the signatory's identity. This maximises the efficiency and security of digital contracting for highly regulated transactions.
Wrap-up
The signature represents only one small part of the contract management process but it's clearly the key part that crystalises the work that's gone before and what's been committed to happen afterwards.
By making it electronic, you capture crucial ancillary information about the signature itself alongside the commitment that it represents.
However, simply using a standalone e-signature solution can leave significant gaps in record-keeping and won't help manage the future contract relationship.

Those solutions aren't enabled for obligation and renewal management and by splitting data between various systems it can become harder to pull together a clear audit trail if required.
By using a contract management solution with an integrated e-sign function, you simplify and speed up the signing process, while enriching the contract record for future reference and defensibility.
Put simply, a fully-featured contract management system, including electronic signatures, can help you:
Save time in your initial contract negotiations
Shorten the time-to-signature, while capturing crucial supporting information
Seamlessly create and maintain detailed contract records, including for renewal management
If you're interested in understanding how Gatekeeper can support your business with the above, then please get in touch today for a tailored demonstration.