Whether you're part of a scaling start-up, completing a merger or acquisition or your business is simply on a growth trajectory, there's one thing that's certain - your contract portfolio will expand alongside your organisation.
As you focus on your growth objectives, it can feel natural to let your contracts run in the background - trusting that everything is how it should be. But when your portfolio grows exponentially, without being carefully managed, your business could experience:
Data fragmentation, leading to inaccurate and missing records
Valuable time being lost to contract administration instead of strategic goals
Contracts auto-renewing without anyone's knowledge resulting in unnecessary spend
Inconsistent processes with teams working in different systems
These risks are most prominent if your scaling business is manually managing its contracts - an approach that can become unwieldy the larger your portfolio becomes and the faster your business grows.
So how can you scale successfully, manage your contracts and protect your bottom line? By staying in control with contract management software. Let's take a deeper look.
Centralise your portfolio in a cloud-based contract repository
Keeping a record of your contracts in Excel spreadsheets, inboxes and shared drives quickly becomes an unsustainable method as your business rapidly grows. As workload increases and teams set their sights on strategic objectives, manual contract management can quickly drop down the priority list.
Common symptoms of an out-of-control portfolio in a scaling business include:
Documents being difficult to find
Uncertainty about which document is the most up-to-date version
A general lack of awareness of executed contracts.
If this sounds familiar, data fragmentation is hampering visibility of your portfolio. Stay in control by investing in CLM software that offers a cloud-based contract repository.
This is a secure and centralised location to store all contracts and documents, giving you a single source of truth about your portfolio at all times. And because it's cloud-based, the repository grows alongside the business with no limitation on the amount of documents held.
A solution that also offers OCR Search and Analysis technology enhances your level of control by making contracts quick and easy to find. You can search your entire repository across all data-points and within all documents. This means you can quickly find key dates, contract clauses and any other information you need to stay one step ahead.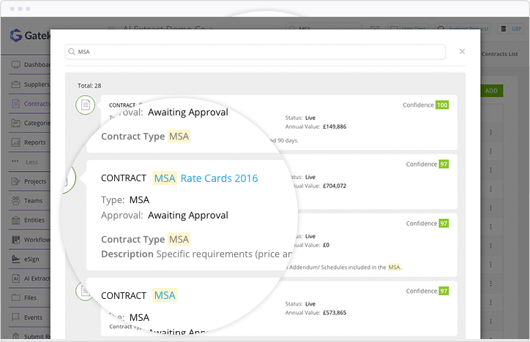 Global search results in Gatekeeper
Minimise contract administration with automation and AI
Businesses that experience significant growth often have stakeholders that are trying to balance multiple tasks. As responsibilities continue to increase so does the likelihood that contract administration is given less attention in favour of higher-value tasks.
When key tasks such as data extraction and upload are completed haphazardly, your business could begin to lose control of its contracts due to:
Working with inaccurate data, leading to poor decision making
Time being spent chasing information as a result of incomplete records
Auto-renewals as key dates such as 'Notice Period' and 'End Date' aren't captured
A lack of awareness about supplier compliance due to out-of-date records
An inability to create accurate reports that reflect the current status of the portfolio
Contract management software gives you the opportunity to use Artificial Intelligence tools to automatically extract key metadata. This can be used for any new agreements made as a result of your business's growth, as well as your legacy documents.
By creating fully digitised and accurate records, your business can scale quickly and confidently, with all teams being able to trust the data they are working with.
Automation improves data accuracy across your portfolio while minimising administrative tasks. Your stakeholders can save valuable time and focus on more important initiatives as you scale.
With contract management software, a growing portfolio doesn't need to be a growing pain."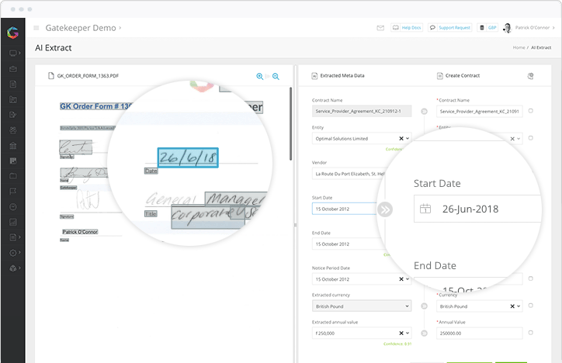 AI-Enhanced data extraction in action
Set alerts for contract renewals so you can act ahead of time
Auto-renewals are one of the most common issues that brings scaling businesses to Gatekeeper. While you're busy looking towards the future, it can be difficult to find time to review existing agreements.
This can put you in a reactive rather than proactive position and when you miss a contract renewal, any reaction will be too little too late.
Managing key dates by creating calendar events, using different colours in the column of a spreadsheet or even through verbal reminders to colleagues will become cumbersome as your portfolio increases.
Scaling efficiently while keeping the bottom line healthy means ensuring that your revenue leaks don't grow as your business does.
By using contract management software, you can use key dates such as 'Notice Period' and 'End Date' to automatically alert stakeholders that action (such as a review or renewal decision) is required - way ahead of time.
Rather than spending hours retrospectively checking spreadsheets and calendars to stay in control, stakeholders can focus on growth initiatives without it being at the expense of auto-renewals."

Integrate CLM software with your existing technology stack
As your business grows in terms of suppliers, employees and functions, it'll be no surprise to see your technology stack increase. A combination of Finance, Sales and general collaboration tools may make it seem like you're empowering your entire organisation to complete their work, but you could also be encouraging silos to occur.
When information within different areas of the technology stack doesn't match up, it's impossible to have an accurate understanding of your portfolio.
You won't know what stage a contract is in, what actions are left to progress it and if there are any risks associated with the agreement - such as poor performance. To stay in control of your portfolio, it's best to avoid this siloed scenario completely.
Invest in contract management software that easily integrates with your business's most important systems."

Whether it's NetSuite, Salesforce or something used by the entire organisation such as Slack, select a CLM software that works in harmony with what you already have.
This increases user adoption, keeps operations running smoothly and keeps your business in complete control as it continues to scale.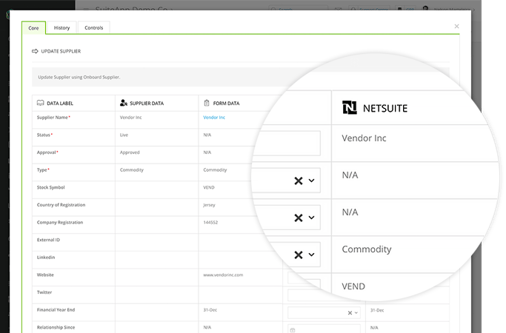 Gatekeeper is the only CLM with a dedicated NetSuite SuiteApp
Wrap Up
Scaling your business shouldn't mean growing its level of risk at the same time.
If you fail to control your contracts, your contracts will end up controlling your business's success."

You may increase the number of employees, services and suppliers but if you're also increasing revenue losses, potential for non-compliance and organisational silos then growth may stall and even stop altogether.
Contract management software gives you complete control of your portfolio by improving your visibility, automating your processes and allowing your business to stay one step ahead of where it needs to be.
At Gatekeeper, we know that growth has no limits. That's why we offer Unlimited Users on all our plans - so everyone in your organisation can stay in control.
If you're ready to know more about how Gatekeeper can support your business while it scales, book a demo or get in touch.