If your organisation is still relatively small, say up to 25-30 people and is handling a manageable amount of new contract agreements per month, maybe 5-10, then building your contract management processes around Excel or Sharepoint is likely to serve you well.
But will your team still have time to maintain your spreadsheets and your databases when your business grows? What about when it's twice the size, or ten times the size?
According to a study by EY Legal, while most (92%) organisations surveyed are trying to transform their handling of contracts, the majority of respondents are struggling in the face of significant obstacles."

Technology is often the centrepiece of any transformation attempt. But with so many contract management solutions available on the market, businesses that make a decision without any guidance may find themselves experiencing:
Failed implementations
Low internal adoption
Simplistic solutions that can't handle complex contract requirements
To help your business avoid any pitfalls when choosing a solution, this article outlines the key contract management features you should look out for.
5 contract management software features that will transform your business
While the technical requirements of businesses may vary when it comes to selecting a solution, stakeholders all want a similar thing: a better way to manage contracts.
That's why your business needs a solution that increases throughput without increasing workload, streamlines unwieldy processes and creates greater efficiencies day-to-day.
1. A secure, centralised contract repository
Order, control and a manageable contract portfolio comes from knowing where all your up-to-date agreements are. If your business is using spreadsheets, shared drives or offline methods to store contracts, it's time to change.
A centralised repository is a contract management software feature that offers your business a stable foundation on which to make informed and accurate business decisions."

Contract repositories create a single source of truth. This visibility allows you to stay ahead of upcoming renewals and potential contract risk. It also allows you to see a snapshot of what's going on with your portfolio at any given time.
Centralisation is a strategic decision that improves a business's contract management maturity level. Gatekeeper provides complete visibility of your portfolio, allows you to digitise any legacy contracts that may still be in paper and pen format and set permission levels so only relevant stakeholders can access the records.

See the contracts you own in Gatekeeper
2. Artificial intelligence and Global Search
The Journal of Contract Management highlights that 71% of businesses can't locate at least 10% of their contracts. While the central repository mentioned above helps to remedy this for existing contracts that have been migrated - businesses need to ensure that they standardise their approach for metadata capture for all incoming contracts.
Manually capturing metadata can be repetitive, especially with high-volumes of incoming contracts. Businesses can reduce this workload with AI-powered data extraction."

Artificial intelligence is a contract management feature that not only digitises processes, but optimises them too. AI Extract from Gatekeeper automates metadata extraction and upload.

This reduces workload for key teams such as Legal and increases the accuracy of information captured including key dates, obligations and specific contract clauses.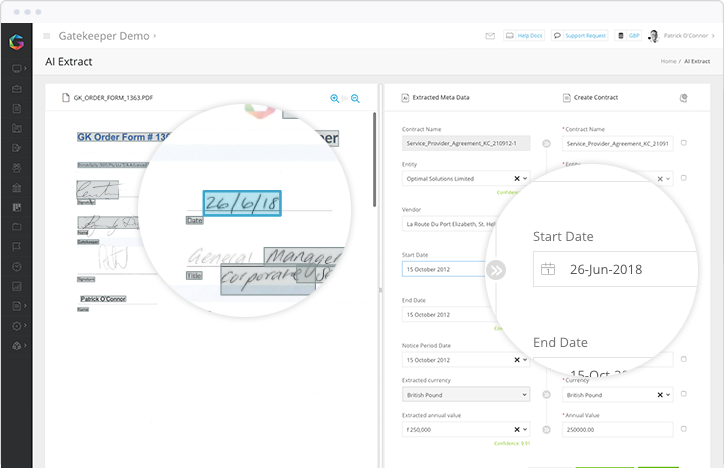 Unlimited eSignature from Gatekeeper
Capturing information and creating complete records becomes an automated process. Users can also provide feedback on the accuracy of what has been extracted - helping the software to 'learn'. This makes it faster to extract accurate information in the future - saving departments valuable hours.
With accurate information stored centrally, locating contracts is much easier. When assessing contract management features you want, search capabilities should be a priority.
Rather than spending hours trying to find information, the Global Search engine from Gatekeeper allows you to search across all data-points and within all documents. Results are shown by contract, vendor or file name making it easy to reference your findings.
3. A redlining solution of your choice
As you research contract management software, you'll notice a wide variety of native editors available within the market too. Many are designed to make the negotiation process easier, but do they fit in with your current ways of working?
Contract management software features should enhance your existing processes, rather than require you to adopt entirely new ones.'

Redlining involves back and forth between different parties. Without the right solution in place for your needs, the business could experience:
Inability to track version control with different agreements being created and saved
Difficulty comparing markups and knowing who made what change
Time lost to having to download, edit and reupload agreements
Rather than limit your choices, Gatekeeper offers a range of redlining options. Its document editors include Microsoft Word® and Office for the Web integration. Let's take a look at how these different options can save hours of training, chasing up-to-date versions and uploading and downloading documents.
| | |
| --- | --- |
| Redlining Option | How Gatekeeper helps |
| eNegotiate | Native support for Microsoft Word®. Track all versions and store them against contract records automatically. Generate unlimited Microsoft Word® templates from existing metadata for ease of use. |
| Office for the Web integration | Eliminate the need to download and reupload agreements. Edit internal agreements directly in your browser, collaborating with colleagues at the same time. Improve version control with real-time edits. |
4. Workflow automation
Businesses that are still reliant on manual, fragmented processes expose themselves to greater contract risk, missed renewals and issues related to non-compliance. This is due to a lack of process visibility, non-standardised ways of working and bottlenecks that delay a contract's progress.
Workflow automation is a key contract management software feature which optimises internal processes, increases collaboration and eliminates unnecessary delays."

With the CLM solution, you can automate simple notifications or entire processes such as contract reviews, onboarding suppliers or risk mitigation practices.
The Kanban Workflow Engine from Gatekeeper is completely customisable and entirely visual. This allows teams to see where a contract currently is, what actions still need to be taken and who owns them.
Where businesses are managing contract renewals manually, for example, the contract owner will need to spend time checking a spreadsheet to see what's coming up in the near-future.
With workflow automation an automatic alert can be sent to contract owners, alerting them that their attention is required. No manual administration needed.
Workflow automation keeps teams one step ahead of their contracts, streamlines internal processes and eliminates manual overheads. Using a Kanban Workflow Engine creates greater internal efficiency throughout the business, keeps all teams on the same page and makes collaboration seamless.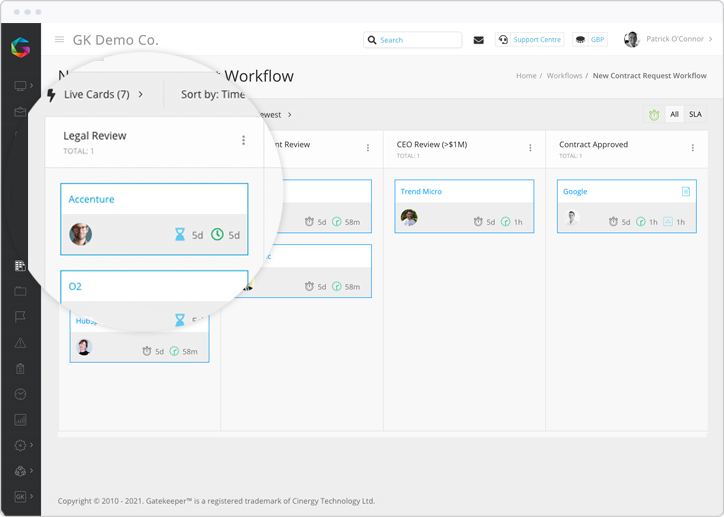 Automate and visualise your internal workflows
Gatekeeper offers best-practice workflow templates that allow you to transform your business through self-serve capabilities. Complete with in-depth set-up guides, users are taken through what each workflow accomplishes, the functionality included and the mandatory configuration required to get up and running.
Everything from Internal Contract Request to Risk Escalations is included, so you can start driving efficiencies throughout your business straight away.

5. Integrations with existing tech-stack
When assessing contract management software features, you should think beyond the CLM solution itself. After all, introducing a new solution to the business often leads to a learning curve for employees if it doesn't work effectively with other solutions and platforms that are already in place.
Ask yourself how a CLM solution fits in with your existing tech-stack. Will teams need to duplicate their efforts? Will they prefer to stay in the environments they're already working in - leading to poor user adoption? Does the CLM solution work with databases that already exist for different teams, from Legal through to Sales?
Integrations are an important contract management software feature that can bring your teams together - regardless of the platforms they are required to use.

Gatekeeper offers integration and application support across multiple ERP, CRM, and Document Management platforms. Gatekeeper supports thousands of applications through its Zapier integration - as well as offering native integrations such as Salesforce and NetSuite.
The best contract management software features never make you choose between ways of working. Instead, they are designed to make your current process more seamless. They bring entire systems together, make the secure sharing of data easier and allow all stakeholders involved in the contract to complete the actions they need without disruption.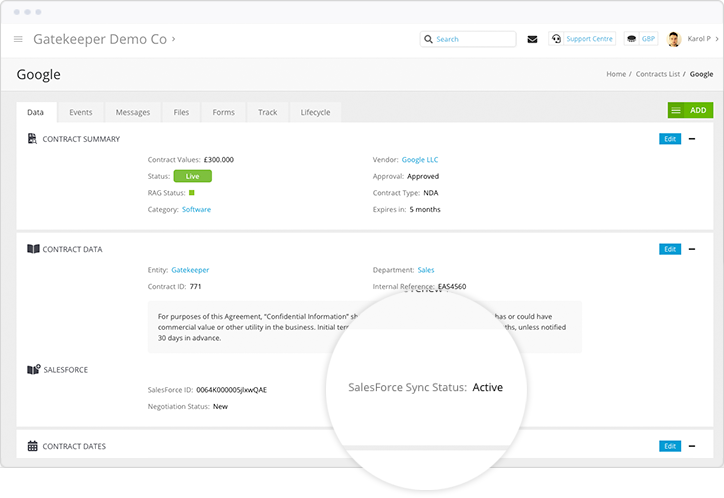 Gatekeeper's native integration with Salesforce
Wrap Up
Choosing the right contract management software for your business can be a difficult task with so many options on the market. Above, we have outlined some of the key features that you should look for when selecting a solution for your business. But features themselves won't be enough if you don't know how to apply them correctly to your current processes.
Seek the guidance of contract management specialists who can help you in all areas. The support the business receives during implementation to other activities such as building workflows is crucial to the future success of the business.
If you're ready to reach out to the experts and make the most of contract management features, get in touch with us today.