I spend most of my time helping legal teams increase efficiency in managing contracts. A common denominator I see speaking with them are teams full of highly capable individuals with very low bandwidth.
Further, I see that COVID-19 has increased this challenge by adding to legal's workload in at least a few areas:
The need to review all contracts, terms and renewals
Getting pulled in earlier and more often to vendor conversations
Getting pulled into other projects across the business
Because of this I decided to speak with a few lawyers and legal operations pros and asked them a simple question:

How can in-house save time and/or cover more ground?

This can be achieved by:
Understanding where time is spent
Managing approvals
Structuring teams
Empowering Sales
Documenting Standard Operating Procedures
Setting office hours
Prioritizing strategic projects.
Let's take a look at each in more depth.
1. Understanding Where Time is Spent


"The key is in not spending time, but in investing it." Stephen R. Covey

Here are two ways to optimize that investment:
a) Google Forms
Requesting a simple form be submitted with a contract or other request for legal resources.
One legal operations manager I spoke with at a large tech company said her starting point was a single question: Is this request related to revenue or spend?
By pushing this information to a Google Sheet they then had the beginnings of seeing the volume of work items in these two buckets.
From there the form was fleshed out to also capture the department making the request.
b) Kanban
Kanban or e-kanban is a great system for visualizing work items. For those unfamiliar, in Kanban work items get created as cards and move through lanes of to-do, being done and completed phases.
You can read more about Kanban in our related article.
Using a digital tool or simply sticky notes and a white board, team members can put up their tasks.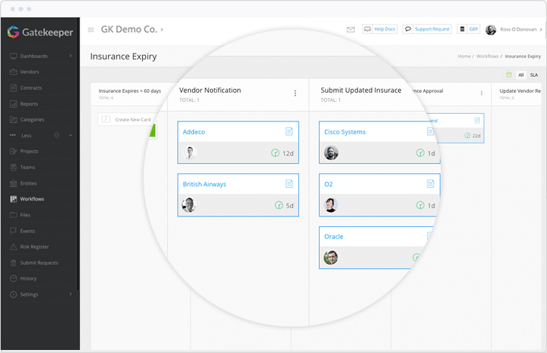 Gatekeeper's Kanban Workflow Engine
This allows for a few efficiencies:
A complete view of workload and bottlenecks
Visibility, so anyone in the company can see how far along their request is
2. Managing Approvals
It's understandably frustrating to spend time on a contract or negotiation only to find out that the proper internal approvals (exec sponsorship, budget, compliance) were not in place.
Short of that, after a request is raised many teams spend time playing chase to double check approvals have been met before beginning the real legal work being asked.
Going back to Tip 1, one way to solve this is by using a Google form with confirmations that the relevant approvals have been received.
Another way to better manage contract creation and approval, and even other areas such as high volumes of NDAs, is to automate as much of the process as possible.
Touchless Contracts from Gatekeeper automates contract creation, eliminates the need for manual intervention and saves Legal Teams hours that are usually spent on contract administration. You can find out more about this automation capability in the video below.
3. Structuring your Team
Rather than a round-robin ticketing system, there are several benefits for considering aligning attorneys to departments.
By implementing the steps described in Tip 1, an understanding now exists on legal resources needed to support each department. This alignment also underpins a focus area for legal which is getting more involved with the business.
By giving lawyers this focus, it facilitates a specific and deep rather than general and shallow understanding of how the business operates and the overarching strategy for each external team.

Or at the very least, a better instinct for when to double check on internal approvals :)
Last, by allowing the same individuals to work together regularly, it promotes genuine relationships and team building.
4. Empowering Sales
An opportunity exists for introducing light self-service into contract negotiation. One way this can happen is speaking with sales leadership and understanding the areas of a contract that meet two criteria:
Frequent pushback
Low risk

By having pre-agreed thresholds or wiggle room, sales reps can take ownership of items meeting these criteria.
Some common ones that come up are:
Payment terms (net 30 vs net 45)
If you are in the subscription business, renewals and the circumstances an auto-renew clause can be removed
Governing law (a pre-agreed list of states that are business friendly sales can recommend as alternatives if receiving pushback here)
5. Documenting a Standard Operating Procedure (SOP)
By documenting the process for the above strategies, best practises for working with legal can be socialized across the organization rather than living in the heads of a few people. This can be helpful for adherence as well as orientation for new hires.
This is also particularly helpful in a remote-first environment, such as that triggered by the pandemic. Having resources and procedures fully documented and accessible is a huge step towards overcoming the inherent challenges of distributed teams.
6. Setting Office Hours
Often, unconventional or urgent requests surface. By setting regular office hours legal can make itself more accessible to the company and also put some structure around unstructured work, avoiding disruption elsewhere in the day.
7. Prioritizing Strategic Projects
My last tip is more a reminder. At a given time there are an endless number of strategic projects that can be undertaken and it's easy to feel overwhelmed.
One strategy I have found useful is to:
Keep a backlog of all the projects you'd like to take on (eventually)
Pick one – either high impact or high-interest and allow yourself to focus on it for the quarter


What else are you doing to drive efficiency on your team? Let me know by connecting with me on LinkedIn or e-mailing me at josh.m@gatekeeperhq.com.

You can also see how working with Gatekeeper can save your in-house legal team 7.5 hours a week by watching the webinar below:

If you'd like to understand more about how Gatekeeper is helping legal teams become more efficient through automation and effective delegation, then please get in touch today.