Procurement has always been an essential function in organisations, but it has never been more critical than today's digital landscape.

To help organisations understand the digital landscape and prepare for the future, Dr. Elouise Epstein, a futurist and expert in procurement, has been helping organisations future-proof their procurement processes.

In this blog post, we'll discuss three game-changing takeaways from Dr. Elouise Epstein on future-proofing procurement from the Procurement Reimagined Podcast.
The Post-ERP World

One of the most significant takeaways from Elouise is the need to move beyond the ERP (Enterprise Resource Planning) system.

She argues that we are living in a post-ERP world and must accept it.
For the supply chain, we are anchored into this idea that the ERP is the center of our systems. And so as a futurist, I get to ask the question, what if that wasn't the case? And more importantly, I get to make the argument that, hey, we need to move beyond the ERP. And that's, I think, when I think Future back, it's sort of taking some of these big things that don't work today and sort of reimagining how they could work.

The ERP has been the centre of procurement systems, but it's no longer sufficient to meet the demands of the digital age.

Elouise suggests we must ditch the ERP and reimagine how procurement systems work.

We need to create intelligence, supplier intelligence, risk intelligence, and ESG intelligence, which are bespoke to every organisation.

The idea of having one monolithic, end-to-end provider that can do all of this is unrealistic in today's corporate enterprise.
Data is the New Oil


Data is the new oil, and AI (Artificial Intelligence) is often touted as the solution to all our problems.

However, Elouise suggests that AI is overhyped, and we need to improve our literacy and understanding of it.

We need to apply these concepts to what we do and determine how to use them better than our competitors.

While AI is important, it's irrelevant if we don't understand it and how to use it effectively.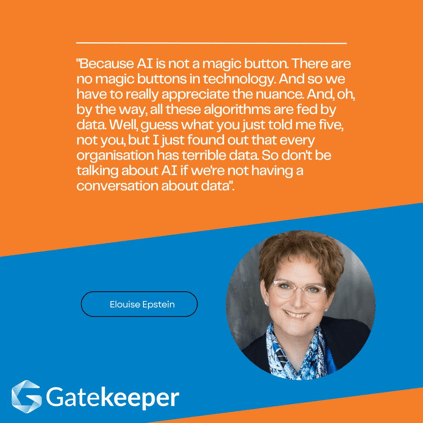 Digital Literacy and Analytical Inquiry
Elouise emphasises the importance of digital literacy and analytical inquiry in procurement.

She suggests that we must clarify who our suppliers are and have those golden records to create intelligence.
I'm working on my new book, by the way. And one of the reasons why I was late to this or discombobulated is so I was in a workshop a few weeks ago and somebody told me I was jabbing at them about contract lifecycle management. And somebody raises their hand and says, we have 430,000 contracts in our system. Wow. Oh, my God. That's great. That's great. Okay, then I'm just waiting. It got really uncomfortable. It was like, okay, so there's nothing else to be said. I guess we just got the 430,000 contracts, and then we stopped. And to me, first of all, I want to know what's in those 430,000 contracts…That's what it means to be digital."

Procurement professionals need to be at the forefront of what's going on in the market and be plugged into the community of startups.

By doing so, we can exchange information and be the face of many of these startups.
Elouise suggests that we need to focus on analytical inquiry, which draws us into intellectual curiosity. This is what it means to be digital, to go after data and draw insights from it.
In Summary
Elouise has been helping organisations future-proof their procurement processes by understanding the digital landscape and preparing for the future.

By taking these 3 takeaways seriously, we can future-proof the way procurement operates and be ready for whatever the future brings.