Managing contracts effectively requires a systematic approach and the discipline to stick to it over time. Contract management resources can be sought to help you improve your approach.
The rewards for doing it well are reduced costs, an engaged and consolidated supplier base, better compliance and a more collaborative workforce.
Using free contract templates and tools to help with this process can be a good approach and can help you keep track of your contract and vendor relationships.
If you're not yet ready to implement a contract management solution in your business, then we've prepared a range of contract templates to help you structure your approach.
Contract Management Excel Templates
To help you get started, we've created a single Excel sheet containing 13 different templates, covering different aspects of the contract lifecycle. These include:
A contract inventory sheet
A risk register
Issue and Dispute Logs
Plus many more
These contract tracking templates can be populated straight away or adapted to your own requirements.

You can also read more about how to use Excel to manage contracts in our related blog.
Contract Management Framework - Free PDF Ebook
To help you further with your contract management, we've also created a free ebook covering all the stages of the contract lifecycle.
We've called it "The Complete Guide to Contract Management" and it has 38 pages packed full of advice and easy-to-follow 10-point checklists for every stage, from contract inception through to renewal and close-out.
Whether you're an experienced contract manager or a non-specialist looking for advice, our ebook has plenty to offer you and has been put together with the benefit of more than 50 years of contract management experience.


Free CMS Requirements Templates
If you're planning to purchase a contract management solution for your business, it's likely you'll consider multiple options currently available on the market. With so many different features, integrations and add-ons to consider, it's best to start your search knowing exactly what your business requires.
We've created free Excel templates that will help you to capture all your business's requirements in a single document. We've outlined 18 requirement areas so you can capture enough information to categorise and prioritise your requirements.

Beyond the Legal Team ebook

The Legal Team's primary role is to protect the business's interests and to provide guidance on what they consider acceptable for any agreement. This is what they're trained for and specifically what there are paid for. Yet all too often, Legal finds itself distracted by administrative tasks such as contract storage, maintaining an overview of key dates and chasing other departments for information.
Our Beyond The Legal Team ebook demonstrates why contract management belongs to the entire organisation and why success lies beyond the Legal Team. Access real-world examples of how shared access to contract data and analysis can improve organisation-wide collaboration throughout the lifecycle. Download it now to start building your community of interest.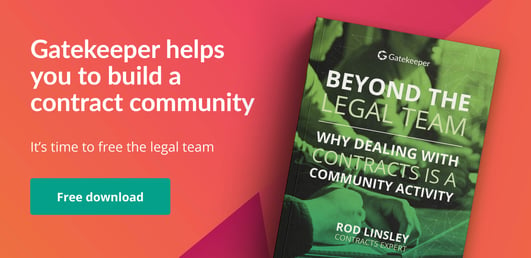 The False Promise of LegalTech CLMs
Contracts are the responsibility of all departments in your business. Legal teams need to be liberated with policies, playbooks and a business-wide CLM solution that allows them to focus on the critical, complex legal work that requires their highly trained skill set. Yet, many businesses opt for a Legal-only CLM that actually traps their in-house counsel.
Download 'The False Promise of Legal Tech CLM Solutions' to find out how to avoid the trap of LegalTech solutions and why an organisation-wide CLM solution will enhance your business. The ebook comes with a free CLM Buyer's Guide, providing crucial questions to ask your shortlisted suppliers before making a purchasing decision.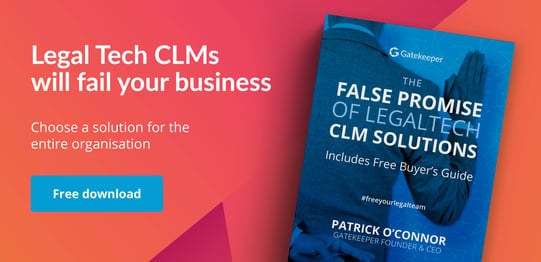 Recession Planning for Contract Managers
Businesses face a potentially challenging year, marked by recessions, supply chain disruption and layoffs. Stakeholders will be expected to achieve more with their contracts - maximising their value within tougher terms.
We've created a recession planning guide to help contract managers - and other stakeholders - to navigate this changing environment. Download the Recession Planning Guide to access an in-depth brief outlining four crucial planning steps for the coming months.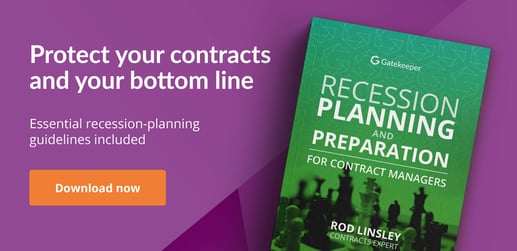 Request for Proposal Templates
Running an RFP for a contract lifecycle management system will help you to choose a solution that is fit for purpose and meets your business's requirements. It's crucial to get all your stakeholders together to really understand their expectations, so you can successfully compare different products.
Download our RFP Templates Bundle which includes templates to capture your requirements and to share with prospective vendors, as well as capture their responses, pricing and conduct scoring.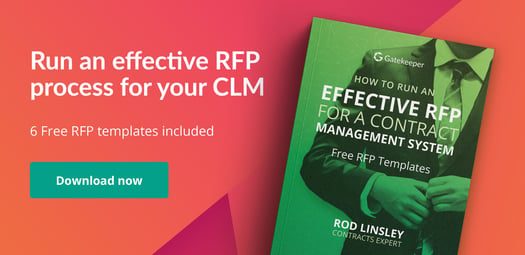 How to review a contract
A contract review is an important due diligence activity to identify anything untoward in the contract that needs to be corrected, negotiated, added or removed. It helps to keep your business protected. But with so many clauses, complexities and dates included - what should you really be looking out for?

We've created a step-by-step guide to help keep things simple. Download 'How To Review A Contract' now to access clear instructions, showing how to review for Accuracy, Adequacy and Reasonableness across your agreements. We give you jargon-free Excel checklists for each stage of the lifecycle and help you to apply a simple framework for your review methodology.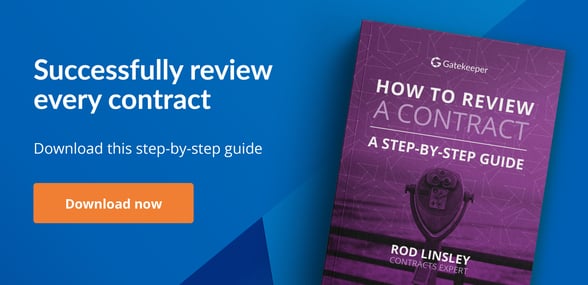 Contract Management for Small Businesses
Automating contract management processes can benefit businesses of every size. For smaller businesses, contract automation lends itself to greater control, scalability and helps businesses to achieve maximum value from agreements.
At Gatekeeper, we know that small businesses can often face challenges with visibility, compliance and control. We've created a guide, especially for these businesses to demonstrate the value of contract management software and how Gatekeeper can help them.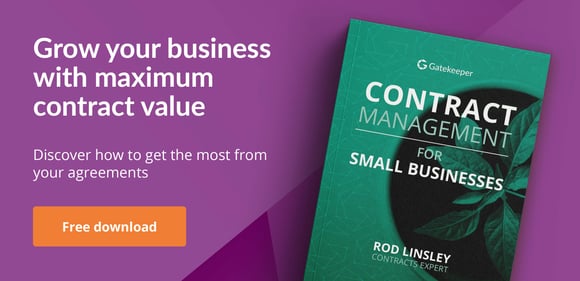 CLM Maturity Assessment
The CLM Maturity Model provides a basis for understanding an organisation's level of capability or maturity of its CLM function and practices. By completing a Maturity Assessment, your business can determine its capabilities in areas of performance, risk and change management
We've created a downloadable survey which is divided into ten key focus areas listed above, addressing important aspects of CLM both directly and indirectly. Collaborating with stakeholders across Legal, Finance and Procurement will help you to establish areas of improvement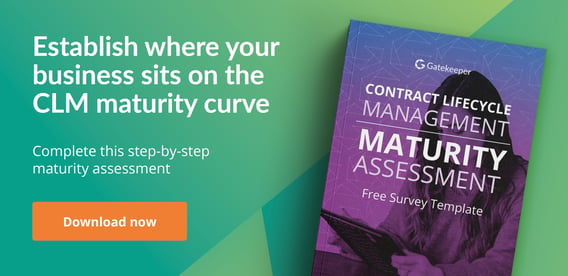 More Information
Our blog is a growing resource for contract and vendor management insight. We call on a variety of experts when creating our articles to make sure that they're useful and actionable.
You can subscribe at the bottom of this page and receive updates when new articles are published.
For further information about how Gatekeeper makes contract management easy, you can contact us.