In our series of articles on contract management and artificial intelligence, we aim to draw a distinction between AI and automation.
The value of automation in contract management is very clear in a number of areas. These include:
Routing contracts through predetermined workflows for review and sign-off
Initiating compliance checks and requesting relevant documentation
Ensuring contract renewals are flagged in good time and internal processes followed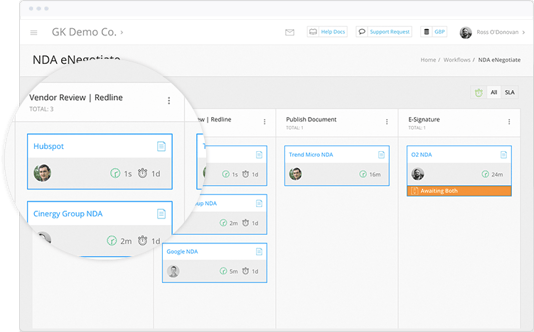 An example contract review workflow in Gatekeeper


This kind of relatively sophisticated automation can often be misrepresented or misunderstood as being the work of artificial intelligence.

In fact, artificial intelligence has far greater scope to transform contract management processes than automation alone.
One of the areas where it can have the biggest impact is managing contract risk.
Artificial Intelligence and Contract Risk
Assessing and mitigating contract risk can be one of the most time-consuming elements of the overall contract management process.
Traditionally, the act of reviewing contracts clause by clause and assessing them against the business's interests has been highly specialised work.

Requiring qualifications and experience, a business's legal representatives are expensive assets that need to be deployed as efficiently as possible.
And with even the most experienced legal representative having human limitations, the door is open for AI and Gatekeeper to play a crucial supporting role.
For risk management, AI data extraction can be deployed in the following way:
An initial version of a proposed contract is uploaded to Gatekeeper
The contract is scanned automatically and metadata extracted to create a comprehensive contract record
The extracted details can then be used to check against external data sources including financial and market information, to start to build up a risk profile for the business
AI is used to analyse the contract clauses, interpreting meaning and comparing to similar clauses from the rest of the contract library
Deviations from standard clause language can then be flagged for review, thus helping the legal representative(s) to focus their time more effectively
As well as flagging specific clauses requiring review, the amount of deviation can also be quantified and factored into the risk scoring for the particular business.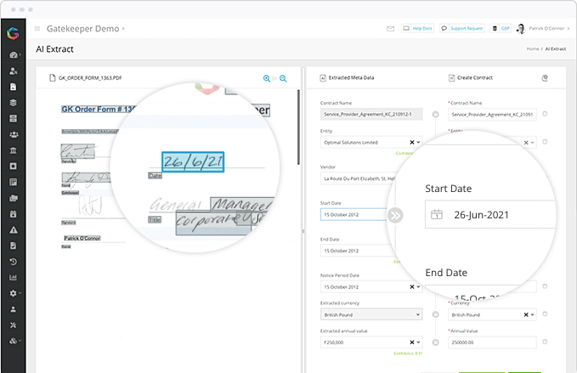 Gatekeeper's AI Extract™ in action, extracting metadata from a contract
This last step can be particularly useful when looking to compare potential suppliers before signing with one of them. Relative risk scores can be compared at this point and then also revisited periodically after one supplier is chosen to determine whether the initial assessments proved to be accurate.
In either case, through continued use, the AI will develop a greater understanding of the standard language used across contracts and be better able to distinguish the terms that require human review and input.

In this way, the AI layer is able to learn from the expertise of the legal representative who is able to confirm or adjust the extraction it has predicted and also learn from new associations that are applied.
This, in turn, generates greater efficiencies during all future analysis, which is exactly the role that we should expect and want AI to take in the future.
This kind of highly targeted, role-specific scenario is the perfect place to deploy AI.
It breaks a time-consuming process down and does not only the "heavy lifting" of processing significant amounts of data but also adds value above and beyond pure automation.
It's a system that can scale with and support the legal representatives meaning that they can complete more work without necessarily having to add more headcount and incur greater costs.
The Result
An AI layer, such as that which is integrated into Gatekeeper, helps to augment the established benefits of deploying a contract management system.
Savings in costs and time are multiplied as the system learns and areas such as Legal, Compliance and Risk are given the sophisticated support they need to better protect the business's interests.
It's more than automation, it's the future of contract management.

If you believe your business could benefit from AI-driven efficiencies, then contact Gatekeeper today to find out more.