Gary Salterpicco is a procurement expert working at John Lewis Partnership. In a recent interview, he shared his insights and thoughts on how procurement needs to evolve and change in rapidly changing times and expectations.
I've worked in several industries and within organisations of different sizes. Still, there has always been a constant theme: Procurement isn't always welcomed universally across the business.
There's often a disconnect with its most crucial C-Suite stakeholder, the CFO, and people do not enjoy going through the "Procurement Process".
My conversation with Gary about this problem is fundamental if we want to reimagine how procurement operates in a world that isn't slowing down for anyone.
Takeaway 1: Procurement needs to rebrand itself


💡 "Forward-thinking chief supply chain officers (CSCOs) now have a once-in-a-generation opportunity to future-proof their supply chains. And they can do that by recognising the three new priorities alongside the function's traditional objectives of cost/capital, quality, and service". - Future-Proofing the Supply Chain, by Jan Henrich.

While cost savings are essential, procurement must focus on risk management, building relationships, bringing innovation, driving the brand forward, and promoting sustainability, diversity, and human rights. According to Gary, procurement must rebrand itself to reflect the changing times and expectations.
By rebranding itself, procurement can demonstrate its value to the business beyond just cost savings by ensuring that the business has more than just the three nominal drivers for procurement locked in, famously known as:
Cost savings can become a trap for procurement teams. The need for cost savings never goes away. By seeking cost efficiency as a primary driver, procurement could be weakening its supply chain, creating risks by breaking up its supply to the best-priced vendor and taking on risks it's not aware of.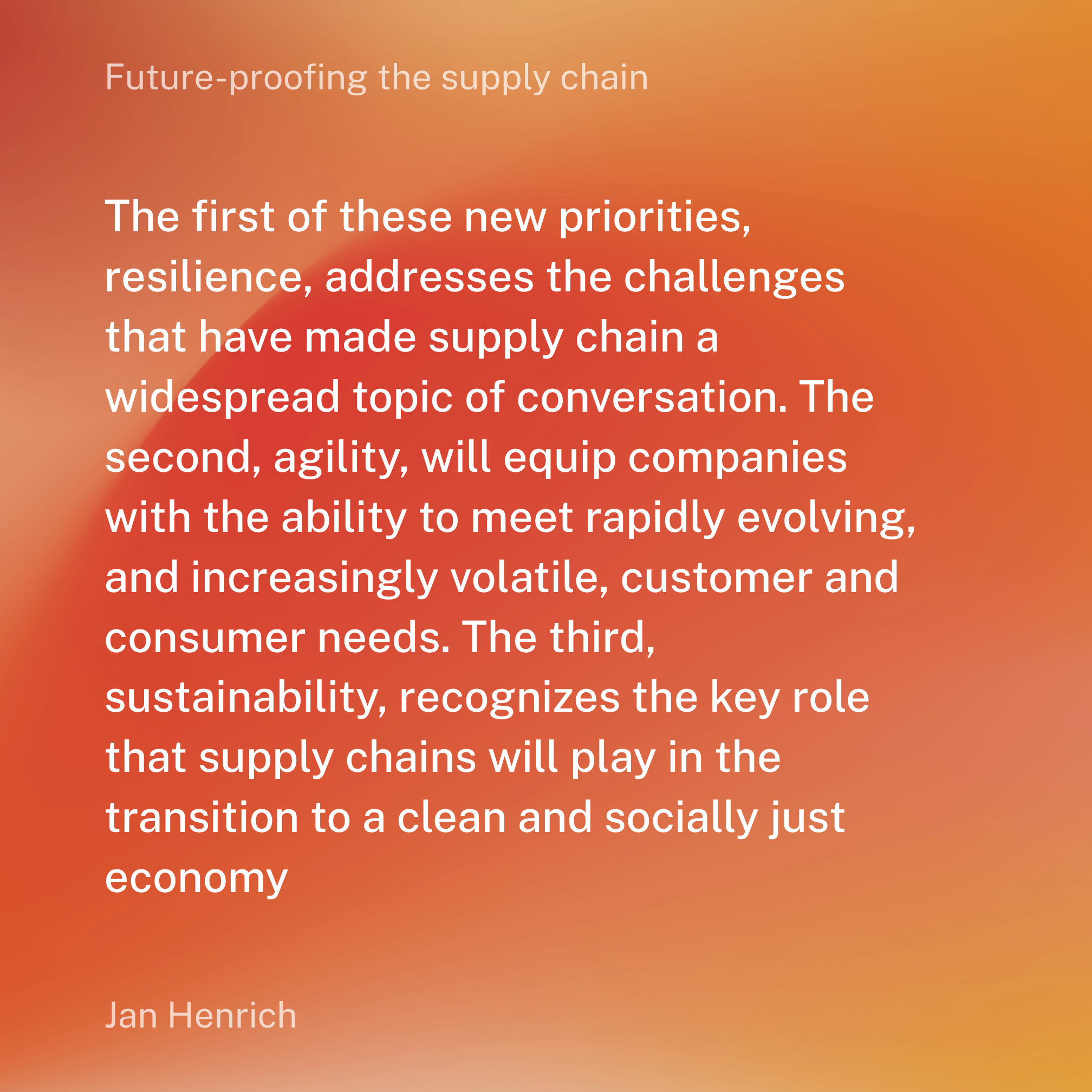 Read more about Future-Proofing the Supply Chain on McKinsey
To Gary's point, procurement is moving into new realms, where we must communicate what procurement does differently.
As part of the Procurement Reimagined podcast, we've asked guests to explain what they do as though they are speaking with a 5-year-old. The answers vary. Some focus on buying, some on cost, and some on the broader points Gary and others have made.
What is clear is that there is currently a mixture of what procurement teams are doing, with some not yet on the path to rebranding themselves beyond solely cost savings,
Takeaway 2: Procurement needs to be audacious in its goals
Gary believes that procurement needs to be audacious in its goals and not just focus on what it knows it can deliver (namely cost reductions, although, from many conversations this year with people in the crowds on negotiations, this is hard to achieve in many areas).
By setting bigger goals, procurement can push itself to deliver more value to the business and significantly impact it.
Gary suggests that procurement needs to be brave and have conversations with the broader business to understand what they need and want. We often refer to this as alignment with the business, which is needed throughout the procurement lifecycle.
To do this, you must understand the OKRs and KPIs your organisation is working toward and where your procurement team fits. Suppose you cannot fit what you're doing in procurement with what the organisation is doing. In that case, you need to rethink your procurement strategy.
World Commerce and Contracting notes in The ROI of Contracting Excellence that a digital strategy can align data, information, and communication flows within and across organisational boundaries. This alignment can enhance the efficiency and effectiveness of the contracting process.

You could extend this notion through the entire procurement cycle. Digital procurement will undoubtedly help with alignment, but the first task is to get clear on what procurement's OKRs and KPIs will be and how these ladder up into the broader organisational OKRs.
Takeaway 3: Procurement needs to expand beyond its bubble
Procurement must expand beyond its bubble and converse with people in other departments and on different platforms. I've noted that the procurement + CFO relationship can often be strained. That's one apparent relationship that needs work.
While LinkedIn is an excellent network for procurement professionals, having conversations with people outside of procurement is essential to understand better what they need and want.

Gary suggests that procurement needs to approach other teams, such as the ethics and sustainability team, and work with them to achieve joint goals. On this point, John Lewis has grown their ability to tackle Sustainability and ESG by creating a cross-functional working team built around the ethics and sustainability team.
This is an excellent example of procurement moving away from the traditional siloed approach to working and one where they collaborate with shared goals.
Takeaway 4: Procurement needs to work with internal audits
Procurement needs to work with internal audits to identify areas for improvement and pick up blind spots.
Internal audits can help procurement and the wider business identify areas where they are not doing well and work to improve them. Procurement can also use internal audits to identify areas where it can help the wider business.
Gary makes an excellent point here. This is a critical tenant in our 3 Pillar Structure, with the third and final pillar being "Safeguard Compliance" within our Vendor and Contract Lifecycle Management (VCLM) approach.
Additionally, an internal audit that calls out procurement areas for improvement can be a powerful method and reason to get C-Suite backing and investment to improve the team. A conversation that will typically be with your CFO, and this also gives you something "useful" to discuss.
If you've been eyeing Procurement Tech to improve your vendor management operations, getting this backing based on the audit that has suggested improvements could be a great way to prove the need for the investment.
It also provides a measurable framework to show the ROI gained from manual working methods to digital vendor and contract lifecycle management.
Work closely with your internal audit teams and give them everything they need. You don't want to shy away from the problems you're experiencing.
Closing Thoughts
If procurement is to improve, we cannot shy away from the hard questions about our perception within the workplace and how we communicate with our business.
I see a constant theme emerge - those procurement teams that you hear about that are crushing it daily in their organisation, they've all figured out what matters and have embedded themselves with their organisations.
They don't sit on the outside, siloed, doing their own thing in the name of good procurement.
Check out the full episode here, and if you want to learn more about Gatekeeper, the Vendor and Contract Lifecycle Platform behind the Procurement Reimagined Podcast, book a call here to speak with us.
Our customers utilising our VCLM platform are changing the perception of procurement regarding vendor and contract management.