"I can tell you without any hesitation, that Gatekeeper has checked off every single one of our boxes, above and beyond our expectations, and while we have finalized our implementation, Gatekeeper continues to this day to be an amazing Company to do business with, continuing to stay engaged, and always supportive of Hakkasan, Ltd." Donna Roccoforte - Corporate Paralegal, Hakkasan

Name: Hakkasan Group
Location: Las Vegas, United States
Description: Crafting remarkable experiences. We are a global, luxury hospitality company, located on four continents. Fourteen nightlife, daylife and restaurant brands. Spread around the world in twenty-one international cities. Thirty-seven venues located across the globe. This is Hakkasan Group.
Key Stakeholders for Gatekeeper: Legal Department

Summary

The primary reason for Hakkasan coming to market was the sheer volume of contracts and vendors they were dealing with as a business. This was placing significant pressure on the internal teams to manage them manually and was leading to missed renewals and a lack of awareness of contract responsibilities throughout the business.
Having initially signed with Concord, another Contract Management Solution, they quickly realised that it wasn't fit for purpose. The volume of contracts, the requirements around automation and the need for granular permissions were all beyond the scope of that tool.
They moved quickly to resolve these issues and selected Gatekeeper as the replacement.
As a result of implementing Gatekeeper, their teams are benefiting from far better visibility of contracts at all levels, resilient processes and are no longer missing renewals or other key dates.
"We no longer have to worry about missing any deadlines, whether we are renewing or terminating a contract, nor do we have to micro-manage contracts that have auto-renew clauses where it can be stressful if you miss a notice to terminate deadline, Gatekeeper takes all this, and so much more on for us" says Donna Roccoforte.
Why Gatekeeper?


The opportunity to streamline Hakkasan's contracting processes and save costs at the same time. The existing contract and vendor processes were not fit for purpose and left opportunities for renewals to be missed and for unnecessary costs to be incurred. Not only would Gatekeeper provide the overview of costs and obligations, split by department, team and location, it would also automate the associated processes to make sure that Hakkasan's internal teams would be able to easily stay on top of all their responsibilities.
Granular, secure access controls. With a multitude of venues, teams and departments across the business, it was imperative that Hakkasan find a solution that could enable the right individuals to access and manage only the contracts and documents relevant to them. This would maintain confidentiality and allow key stakeholders to manage their time better. Gatekeeper's Role-Based Access Controls (RBAC) provided exactly what they were looking for.
The user experience. Understanding that this would be key to driving adoption across the business, they immediately recognised that Gatekeeper's clean user interface, ease of use and smarter flow would ensure users with varying levels of technical proficiency would be able to adopt it happily and easily.
The ability to raise contract awareness across the business. The Legal Team was the key driver of the project but multiple departments, including the Executive Team stood to benefit from working with Gatekeeper. Greater visibility, combined with ease of use, helps to embed good contract management practices throughout a business, ensuring that the full value of contracts is realised.
The level of engagement and commitment demonstrated by the Gatekeeper team. This gave the team at Hakkasan great comfort that they were in safe hands and that the project deliverables would be met in the short timeframe required.

The Full Story

The team at Hakkasan came to market with a clear set of objectives for resolving some long-standing contracting issues and had buy-in from the wider business to move quickly.
At a high level, the key issue was a lack of visibility and process around the management of contracts.
As a growing business, the number of contracts signed and requiring active management was also becoming a significant issue. What had worked in the past in terms of process and personnel for a smaller number of contracts was no longer fit for purpose.
The main driving force for investing in a solution was the in-house Legal Team, who wanted to:
Have a dedicated tool for managing the business's contract approval processes
Bring together all contract documentation into a dedicated online repository
Never miss another renewal, which had previously resulted in paying for services that were no longer required
Eliminate excessive administrative work from their schedules by using automation
Increase visibility and awareness of contract agreements across the wider business
As is typical in a lot of businesses, the Legal Team was where the lack of process and contract visibility was felt most keenly day-to-day.
However, it was identified early on that the benefits of improving contracting procedures would be felt business-wide, including in the Finance Team, the Purchasing Team and at Executive level.
By resolving these issues and embedding good contract management disciplines across the business, the team at Hakkasan expected to be able to:
Drive efficiencies across their contract and vendor portfolios and eliminate unnecessary costs
Minimise the risk of goods and services failing to be delivered
Avoid sustaining reputational damage linked to poor management of contractual obligations
Build more resilient contracting processes
Track obligations such as payment terms more closely
Provide a stable platform for future growth
The implementation of the solution was both rapid and responsive as both the Hakkasan and Gatekeeper teams worked swiftly to:
Import all the data and contract records within the first month
Build and provision RBAC and map out the complex approval processes for automation
Build, test and optimise workflows
Train all admin users, allowing for seamless transition
As we now look back on this project in May 2020, amid the COVID-19 pandemic, the timing of this implementation was even more important to Hakkasan than originally expected.
With over 1,300 vendors and more than 500 live contracts in play, the benefits of having them centrally organised, accessible remotely via the cloud and with all key metadata recorded have been extensive as they try to manage the impact of the pandemic.
Different teams have been able to securely access their relevant contract documents, search using advanced OCR for key clauses and language and create auditable trails of activity for each vendor or contract record.
Department-level dashboards give clear timelines of forthcoming renewals and contract actions as well as being able to flag contracts according to Red-Amber-Green status (RAG).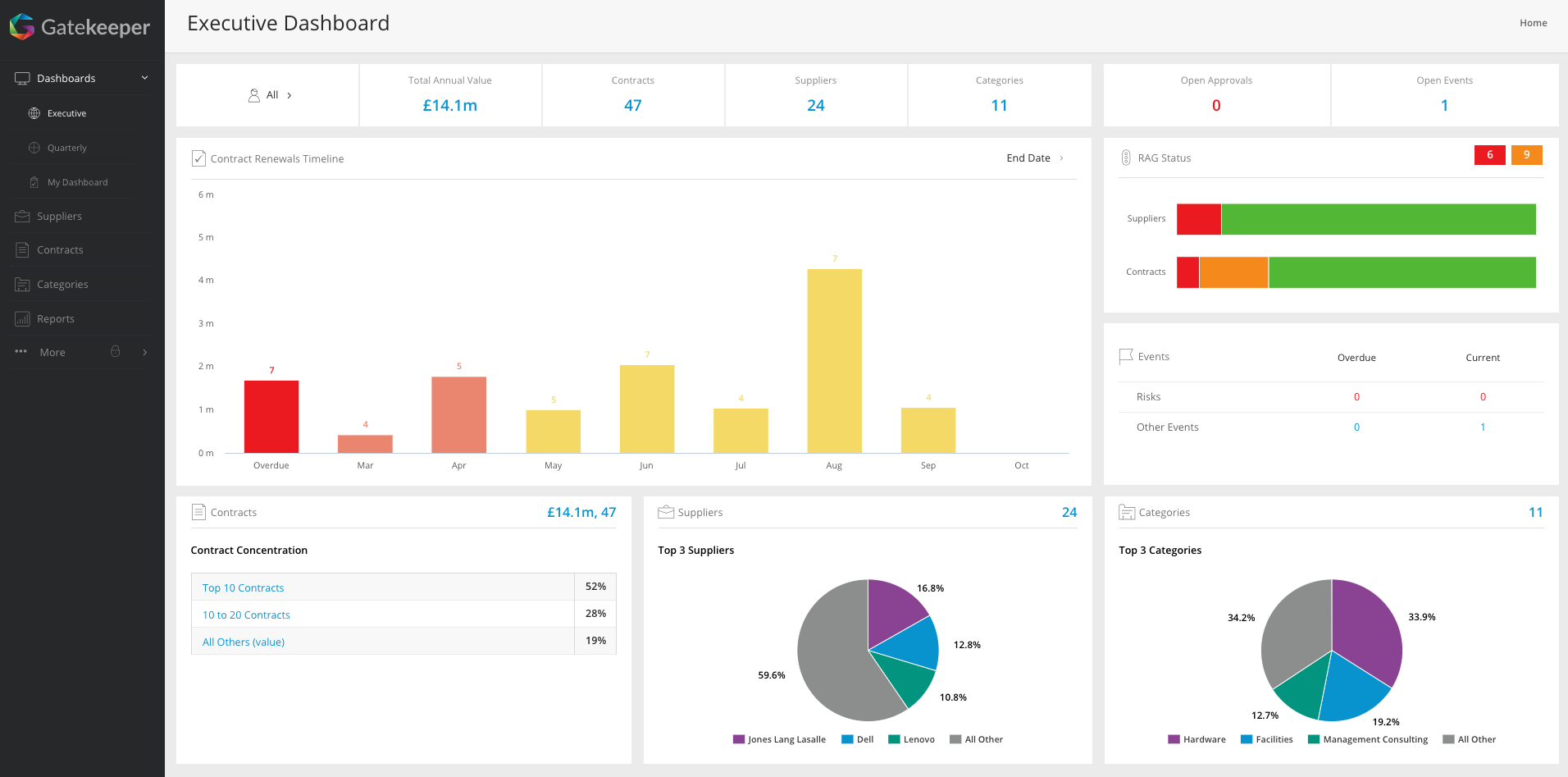 An example Gatekeeper Dashboard including RAG status
"Gatekeeper has been a lifesaver to have all of our files and contract information organized according to our business structure, and housed safely in Gatekeeper. I've been able to quickly provide the Attorneys and Executives the requested contracts, as well as update our vendor RAG status as our needs have unexpectedly changed, so that anyone in the company who needs to access certain information can do so easily" says Donna.

If you're interested to understand how Gatekeeper can bring clarity to your contract portfolio, streamline your processes and provide secure, remote access to contract documents then get in touch with us today.