This article is part 2 in a 2 part series. Please click here for part 1.
In our previous article in this series, we discussed the problem with using stand-alone eSignature solutions to manage the specialist documents that are Contracts.
Specifically, we looked at the problem of managing contract renewals when the executed contracts reside in eSignature solutions, siloed from the rest of the company and devoid of any automated processes:
The Renewal Timebomb



The solution of using dedicated Contract Management Software with native eSignature capabilities demonstrated how to solve and automate these contract renewals, reducing your risk whilst doing the 'heavy lifting' for you:
The Solution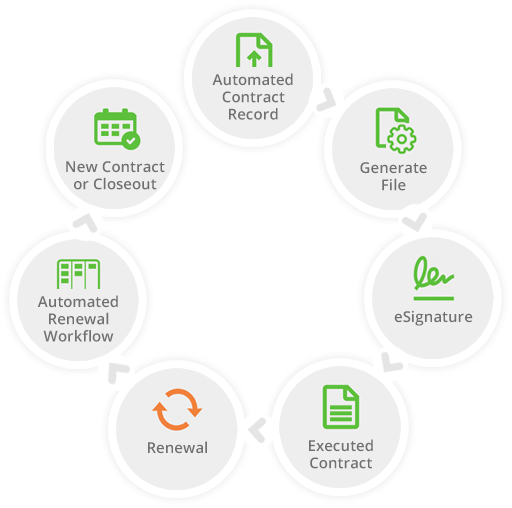 Digging Deeper than Contract Renewals
Whilst it is true that renewals are a crucial part of the Contract Management Lifecycle they are not the only area that is severely impacted by using a general-purpose eSignature solution for your contracts.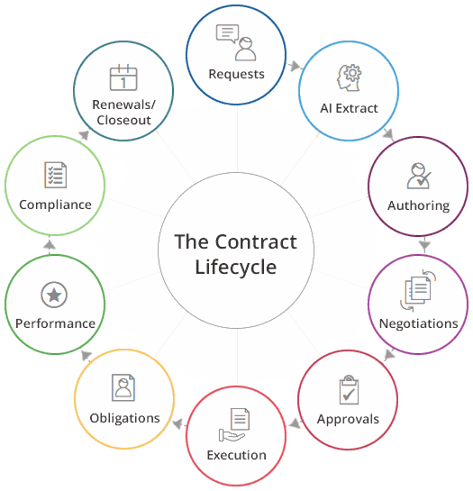 Your business contracts contain many other key stages that need to be managed that can have serious benefits or implications for your business.
The table below shows contract lifecycle management software reviews at a high-level and the stark difference between a general-purpose eSignature solution and a dedicated Contract Management Lifecycle solution for signing contracts: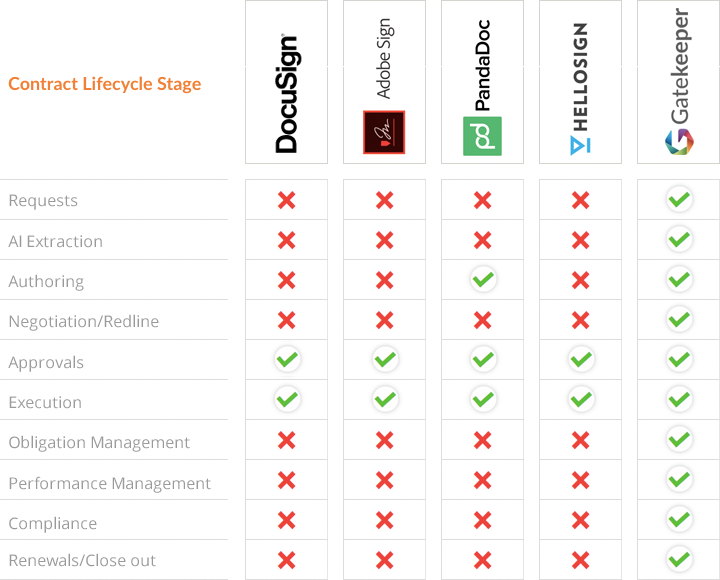 I just want to get my document eSigned. Why is this important?
Managing the key stages of the lifecycle of a contract is vital in ensuring your business is protected and the value that was negotiated prior to execution is realised. According to the Faculty less than 50% of negotiated contract savings are realised over the lifetime of the contract.
A contract's life doesn't end at the signature stage - it begins. (Tweet to share)

As the use of eSignature explodes, companies are increasingly exposed to major risks across their businesses by taking an 'eSign and forget' approach to contract management.
Let's consider each of the key Contract Lifecycle Management stages above and the collateral issues creating by using stand-alone eSignature solutions:
Requests. Contract requests are not tracked and there is no audit trail linked to the document or contract record listing the original requestor, rationale or any budget information. Tracking down this information a number of years later can prove extremely time consuming or even impossible and can seriously hamper renewal negotiations.
AI Extraction. eSignature solutions house files that lay dormant in siloed online storage without any ability to search within the document or leverage advanced features like AI to analyse key contract clauses. This can be a very expensive mistake when key changes in legislation like GDPR are enforced resulting in a manual review of all contracts.
Authoring. While some eSignature solutions offer authoring features these are isolated from the contract record and related metadata. This makes enforcing adherence on key terms difficult resulting in deviations from your boilerplate terms and exposing the business to unknown risks.
Negotiation/Redline. The negotiation phase of a contract is critical and can be iterative and prolonged. When using an eSignature solution this stage is often managed by email and when the document is uploaded for execution this invaluable audit trail of negotiated terms is lost.
Approvals. While eSignature solutions offer some basic approval features this is isolated to one stage of the lifecycle only. The key approvals at each request stage are not tracked resulting in a limited historical view of your contract's lifecycle.
Execution. All eSignature solutions can handle this stage well as this is their core focus. They do this and only this in isolation however without the context, the history of the contract to this point or the automation that is crucial for all future stages.
Obligation Management. Even a basic business agreement is essentially a set of promises made by two or more parties in the performance of a service or provision of a product. Tracking these obligations is core to effective contract management yet is completely lacking within stand-alone eSignature solutions.
Performance Management. Is this vendor performing? How would my business be impacted if their performance improved or declined? These are critical questions for strategic vendors for any business and are left unanswered by eSignature solutions.
Compliance. Businesses today face more legislation and regulation than ever before. The terms of a contract can have serious implications for the companies compliance overhead. The management of compliance is well outside the scope of even the most advanced eSignature solution.
Renewals/Closeout. As we covered in detail in part 1 of this series the implications for businesses missing key renewals can be serious. There are simply too many contracts and too many moving parts to leave this area to human oversight when automation can elevate your business into the high-performers.
The issues outlined above can have a profound impact on your business. If you are ready to see how a dedicated Contract Management Solution such as Gatekeeper, featuring integrated electronic signatures, can help solve each stage of the Contract Lifecycle please get in touch today.
You can also watch the following webinar, on demand, to see our eSign solution in action.


Gatekeeper provides unlimited users and eSignature licences to automate and transform your business.