This article is part 1 in a 2 part series. Please click here for part 2.
The benefits of using eSignature solutions for your business are compelling. The traditional approach of a 'wet signature' involves many manual steps that are both time-consuming and error-prone. The legality of electronic signatures has also led to an increase in their usage.
In the US businesses waste over $8 billion a year just on managing paper. The move from the traditional pen and paper approach to eSignature adoption can reduce document handling by 85% and save a further 80% on shipping costs. Additionally, eSignatures significantly speeds the contract execution process and can result in a reduction of 90% in processing errors.
Given the multitude of benefits, it is no surprise that the use of e-signatures is growing and fast.
Global eSignature transactions have increased from 89 million to 754 million over just the past five years with growth to continue by further 39% by 2020.

So with all of these benefits what is the problem with using these eSignature solutions for managing and signing contracts?
The problem is that contracts are more than simple documents. Contracts are, in fact, the foundation for all business globally. They define the products and services every company buys and every company sells.
They have a multi-stage lifecycle, of which the signature is only one step and where the true value is generated from other key stages such as negotiation, obligation tracking and renewal management.
A contract also normally has a defined start and end date. The implication of missing an end date on a key contract for a business can be profound.
Let's consider the simple process of eSigning a standard business contract with a defined end date:
THE RENEWAL TIMEBOMB


When a contract is uploaded to DocuSign, Adobe Sign, HelloSign or PandaDoc it lives in isolation. It is siloed from any automated business process or any workflow.
It is, in essence, an online filing cabinet with all of the shortfalls of a traditional 'pen and paper' offline approach.
Other than the eSignature process itself, there is zero business process automation. It is still up to you to manage renewals on all of your contracts - manually. (Tweet to share)

So what is the solution?
A document as specific as a contract requires a dedicated contract management solution. A solution that ensures every executed contract is either generated from or directly linked to a contract record. A solution that includes a native eSignature solution that automates all pre and post-execution processes, seamlessly.
To help you find the right eSign solution, it is always worth reading contract lifecycle management software reviews.

You can learn more about Gatekeeper's eSign solution by watching the webinar below.

This approach ensures that there is digital contract metadata such as 'Contract End Date' explicitly connected to the fully executed contract file.
Let's look at the contract renewal problem again this time using a dedicated Contract Lifecycle Management solution with native eSignature capabilities:
THE SOLUTION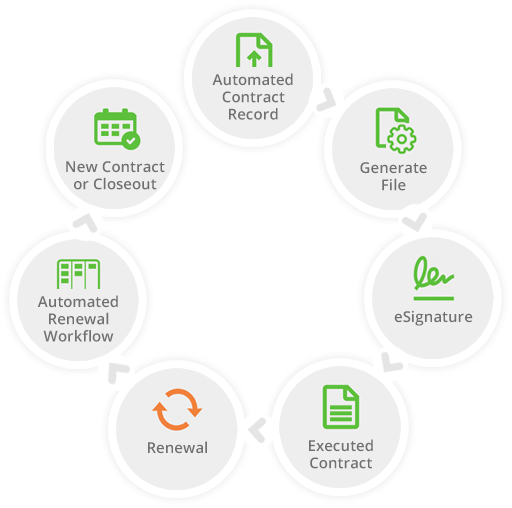 Using this approach an audit trail is built automatically, not only for the eSignature process but for all pre and post-execution processes. This approach provides all of the benefits of eSignature but also automates renewal management using simple alerts or a fully automated renewal workflow.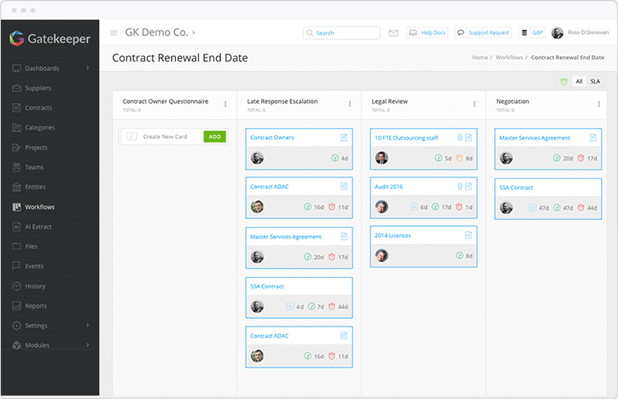 An example renewal workflow in Gatekeeper's Kanban Workflow Engine
This automation removes risk from your business and allows you to negotiate with your suppliers and customers proactively, maximising your commercial benefit while providing full visibility across your business.
The benefits of renewal management are significant but they are only one part of a contract's lifecycle to consider. In our next article in this series, we will look at the further risks of using stand-alone eSignature solution and the missed opportunity for your business.
Are you ready to see how a dedicated Contract Lifecycle Management Solution such as Gatekeeper, with integrated e-signature capabilities could automate your business processes?
Gatekeeper makes the decision easy with unlimited users and eSignature licences to transform your business.
To find out more, get in touch with one of our contract management experts, today.