When speaking to prospective customers, we generally have very positive conversations about the benefits of effective contract management and of using Gatekeeper specifically to manage their contracts.
We regularly talk about the benefits of automation, secure cloud storage, access controls, accessible reporting and renewal management.
But sometimes you can get a sense that the prospect, while enthused, is holding something back. That there's an elephant in the room that hasn't been revealed yet.
Often, when we dig a little deeper we find out that this elephant is actually their legacy contracts.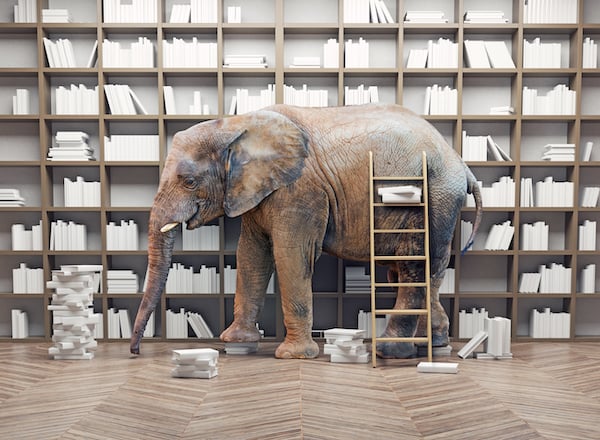 For some businesses, this can be the biggest single obstacle to adopting a contract management system.
The prospect of having to collate and sort through sometimes thousands of contracts, in mixed formats, in different locations, with partially completed records and spreadsheets is extremely daunting.

Not only do the documents themselves need to be gathered and stored centrally but the key information, or metadata, needs to be extracted in order to manage them effectively in the future.
Prospective customers understandably think that this will be an extremely manual process and have concerns that they won't have the capacity to complete this work alongside their regular responsibilities.
Meanwhile, while the task is put off, more contracts are signed and the size of the problem continues to grow.

We've recognised that this is a common and serious issue amongst our prospective customers, which is why we have developed our artificial intelligence solution, AI Extract.
The Role of Artificial Intelligence
We've written previously about the potential for AI to make a significant and positive difference to contract management across the full contract lifecycle.
In this article, we specifically talked about how AI data extraction can assist in areas involving:
Large datasets
Repetitive tasks
The use of specialist resource for basic administrative work
The issue of legacy contracts cuts across all three of those areas and as such, is an ideal opportunity for AI to have a measurable impact and take the stress and concern out of the process.
Specifically, deploying an AI-powered solution like Gatekeeper will allow you to automatically:
Extract key information from scanned or existing pdf documents, saving the need for manual review of every agreement.
Categorise and store that information against the contract record, matching it to your chosen data fields, meaning that you can immediately start to understand patterns and relationships between contracts
Enrich data records by drawing information from external Yploasources and adding it to your database.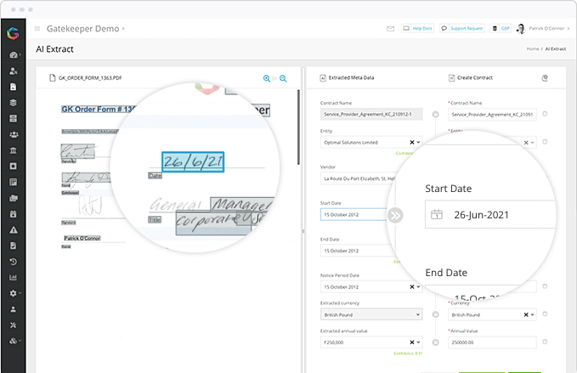 Upload handwritten contracts to automatically extract data
This is a far cry from the previously-envisioned manual process and shows not only how AI can help by doing the "heavy lifting" when it comes to data but also how it adds significant value to the process.
Furthermore, a feature of true artificial intelligence is that over time it will "learn" and get better at the tasks it's being used for through repetition.

In the case of Gatekeeper, that repetition doesn't just apply to the work carried out on your business contracts. As all Gatekeeper's customers use the platform, at the AI level the algorithms are anonymously aggregating the learnings from their interactions and improving the system for everyone.
Every time a customer imports data and trains the AI on what to look for and what it means, the system becomes more adept, saving further time and effort for your business in the future.
Measurable Benefits
AI is seemingly everywhere at the moment, with all kinds of businesses making claims about its capabilities.
The difference with Gatekeeper's AI technology is that its impact is both visible and measurable.
Our AI is not a stand-alone solution but is integrated into the core of our platform. As Gatekeeper is an all-in-one solution the extracted contract data is used to automate renewals, risk and compliance without any additional overhead.

The time saved when compared to the manual upload of documents is considerable and can be measured against that process.
The costs are also favourable when compared with a highly trained legal or contract professional spending their time manually uploading contracts, or even paying for temporary labour to carry out the work.
---

At Gatekeeper, we understand the power of genuine artificial intelligence and the value it can bring to the contract management process.
We're not interested in gimmicks dressed up as AI, we only want to invest in areas that we know will help solve the real-world problems of our customers.
In this series of articles, we'll show you how AI is an integral part of the Gatekeeper solution and how it will make a material difference to your contract management processes.
For more information on how Gatekeeper can help you today with managing your contracts and optimising your contract processes, please get in touch.