This time last year we published an article describing the two main trends that would drive greater awareness and investment in relation to contract management during 2020.
Neither of the trends identified referenced the potential impact of a global pandemic and, on reflection, that was probably a slight oversight.
As the pandemic has laid waste to established business practices, entire industries and of course contributed to significant loss of life around the world, it has also forced companies to confront some of their more long-standing issues.
While some businesses may have long resisted shifting to remote work for any number of reasons, they have been forced, for the most part, to adopt it in 2020.
With that being the case, responsible business leaders have been obliged to take further steps to enable their business not just to function remotely but to thrive remotely.
And this is what's led many businesses to re-appraise their current contracting processes.
We've long heard from customers that prior to investing in a contract management solution, it had been on their agenda or roadmap for some time. However, their motivation to invest hadn't reached a sufficiently critical point to warrant taking that next step. Until it did.
That trigger can vary from something as simple as a missed renewal resulting in unnecessary spend, right through to a global pandemic forcing businesses to assess every contract for outstanding obligations and force majeure clauses.
In this article, we'll look to pick apart the various strands of the pandemic and isolate the reasons that have led to a greater focus on Contract Management. We'll then look at how we expect them to develop during 2021.
Remote Working and Contract Management Practices
The first impact of the pandemic was to force the majority of companies to send their employees to work from home. Of course, many businesses already operated working-from-home policies before the pandemic, but most relied on offices for at least a significant part of their workforce, for a significant proportion of the week.
This hybrid model, or office-dominant model, meant that businesses were able to avoid implementing fully-scaled digital solutions to their working practices as there was always the option for in-person meetings and hard-copy document exchange and storage.
When it came to contract management, the pandemic-driven move to remote work was felt most keenly in the areas of:
Execution. Companies that had previously relied at least partially on wet-signatures were forced to overcome objections to fully-electronic signatures and adopt them universally. Gatekeeper's own integrated eSign solution saw usage increase by over 700% over the course of 2020.
Repository Storage. Clearly it was no longer appropriate to rely on hard-copy storage of contracts with a dispersed workforce. Digital storage was the only option, which meant that companies were obliged to appraise whether a simple shared drive folder structure or Excel spreadsheet was sufficient. Forward-looking businesses seized the opportunity to implement a scalable, future-proofed solution.
Secure Access. With more contracts being managed digitally and remotely, the issue of confidentiality became another key point of focus. The question of how best to work on and store sensitive documents needed to be answered and this again exposed the limitations of basic digital solutions like shared drives. The flexibility offered by features such as "Role-Based Access Controls" or team and individual-based permissions in solutions like Gatekeeper gives much more peace of mind to contract owners.
With remote working now firmly adopted across new sectors, the need for digital solutions to contract management, as well as a host of other business areas will continue to grow in 2021.
A Greater Focus on Risk Management and Contract Language
The graph below is indicative of how much businesses were caught out by the pandemic last year. It tracks searches for "force majeure" on Google over the last five years. The peak is through the end of Q1 and the start of Q2 last year.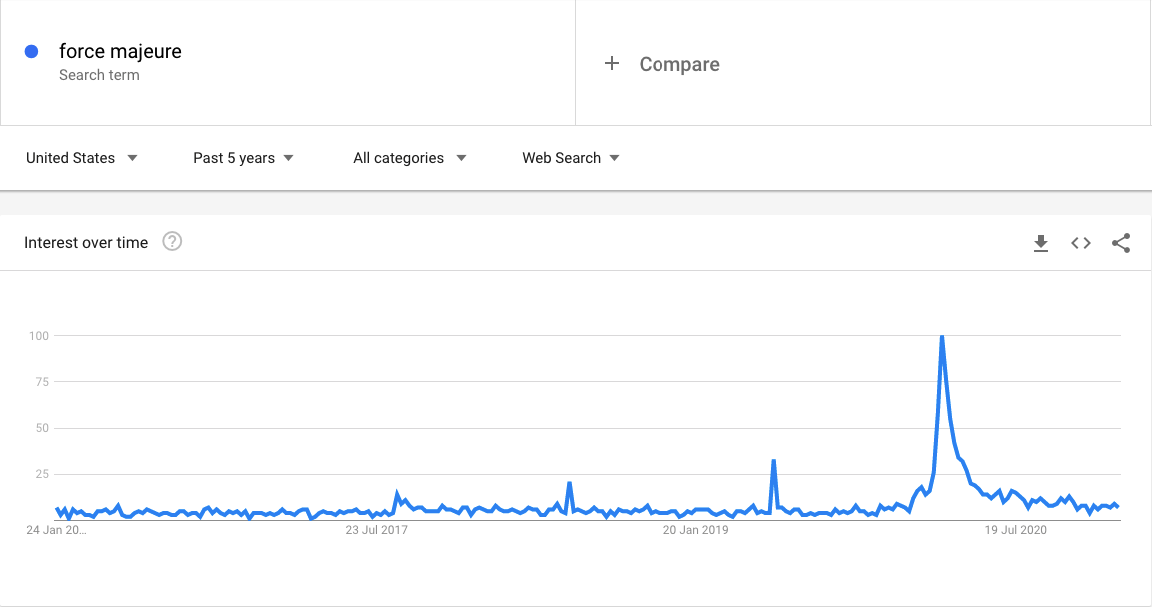 As company executives saw the immediate financial impact of lockdowns, restrictions on travel and general uncertainty, they were naturally asking themselves:
What are we obliged to pay out and to whom?
Who owes us money?
What can we cancel right now without penalty?
Which of our customers have the right to cancel their contracts with us and what is the revenue impact if they do?
Of course, Force Majeure was one option if it was deemed applicable, so clearly people were looking to check their understanding.
Where previously specific contract language relating to pandemics or acts of governmental authority may have been overlooked, it's now more than likely that parties will want to have it included. Recommendations to this effect can be seen in this recent article from Lexology.
The more advanced providers of Contract Management Software makes it easy to interrogate existing contract language as well as to ensure appropriate safeguards are inserted into future contracts.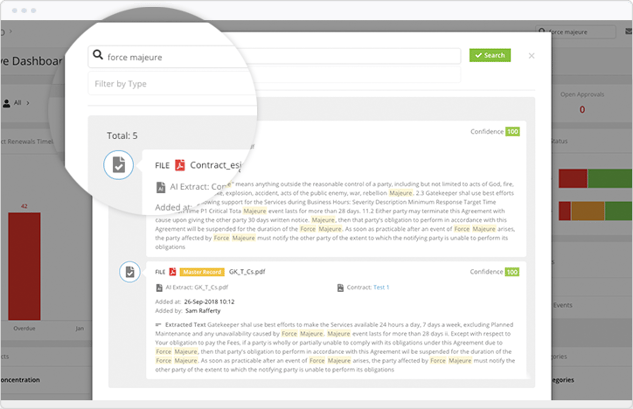 Searching for "force majeure" in Gatekeeper using Global Search
Furthermore, risk management has taken on an even sharper focus, with companies now more mindful of what could happen.
What does this mean specifically in relation to contracts and their management for 2021?
It means increased focus in two main areas:
Pre-execution risk assessment. This should manifest in more stringent redlining processes but also in more widespread use of risk-profiling for new vendors. Expect to see greater usage of third-party risk tools in contracting processes to establish prospective suppliers' robustness should there be any further shocks to the global economy. Take a look at Gatekeeper's MarketIQ to see how this looks for CLM.
Post-execution obligation and performance management. This combines ensuring that what's paid for is delivered on time and to standard, with meeting compliance requirements

Automation and efficient use of resources
With companies continuing to be mindful of costs and the threat of further business disruption, the motivation for efficient automation is strong. This can save on the need to invest in additional headcount, whilst giving companies the ability to scale quickly as required.
Contracting processes in businesses without dedicated CLMs are typically labour-intensive, relying heavily on key personnel for review, distribution, execution plus ongoing storage and tracking.

Assuming companies are continuing to sign new contracts and wish to maintain closer scrutiny over existing agreements, this can place increased stress on those same key personnel. Reluctance to increase headcount in non revenue-generating roles at this time is also understandable so these internal teams are obliged to do more with the same or less.
That's where effective use of automation and digital delegation can augment the scope of the existing team and remove the low value admin work from the equation.
Features such as Gatekeeper's Touchless Contracts and an Employee Portal enable those responsible for contract management to delegate aspects of data entry to their colleagues and even generate and execute agreements without any manual intervention at all.
While uncertainty persists over the pandemic and the global response to it, there will continue to be a focus on efficiency and lean operations to keep costs tightly controlled. This is where a contract management solution can easily fit in as a sensible, strategic option.
Mergers, Acquisitions and Industry Consolidation
There have been significant winners and losers in a business sense as a result of the pandemic, with plenty at the extreme ends of the spectrum. This means that there are companies that have money to spend on tactical acquisitions and plenty of other businesses that have been stressed by 2020's economic conditions, leaving them either reluctantly-vulnerable to acquisition or welcoming of the opportunity.
2020, has been described as "a year of two halves" in relation to M&A, with the strength of the second half of the year compensating for a dramatic drop in activity in the first half. With this trend set to continue onwards in 2021, the stage is set for a considerable boost in deals this year.
The knock-on effect of this activity is that those companies who progress with deals are obliged to then focus on all of the existing contracts of the respective businesses involved.
Effective consolidation and cost-cutting requires a forensic understanding of all contract commitments, which is where having the right CLM in place is key. Ingesting new contract documents efficiently into a combined repository and then being able to examine clause language, obligations and key dates is what helps ensure a successful deal.
With whole industries, such as aviation and hospitality, ripe for consolidation and restructuring as a result of the pandemic, we should see a greater need for contract management solutions in 2021.
Final Thoughts
The pandemic has obliged businesses to conduct digital transformation across many areas. As we've described before, Contract Management was always an ideal candidate for successful digitisation. It's a collaborative activity, involving multiple internal and external parties, often with legal requirements around audit trails and ongoing responsibilities.
The pandemic, as with many other aspects of business has merely accelerated an underlying trend and forced businesses to confront it sooner than they otherwise would have.
Remote working in particular has been a catalyst for change and investment into this area of business operations as the inability to function otherwise became immediately clear.
Now that these new practices have taken root and are combined with a higher degree of caution around how to approach risk and resource management in the near future, we can expect contract management to be a higher priority in the coming year.

For more information on how Gatekeeper can help your business to embed effective CLM practices in your business, access our contract management resources or contact us today.