The hotel industry is one of the most fluid and nebulous industries in the world.
Not only are individual hotels, groups of hotels and entire companies bought, sold, refurbished, rebranded and relaunched on an almost constant cycle, the relationship between the major brands, individual property owners, management companies and other parties creates a highly complex network of legal arrangements.
Throw in different geographies with varying regulatory requirements, working practices and intermediaries and you add further dimensions of challenges on to an already difficult process.
Whether you work in a central function such as legal, finance or compliance or are in a management role in an individual hotel, Contract and Supplier Management Software has a role to play in making your job easier and more productive.
What makes the hotel industry so suitable for Contract & Supplier Management Software?
There are a multitude of reasons but we've categorised them under three headings:
1.The size and geographical spread of hotel businesses
The natural geographical spread of hotel groups creates challenges relating to regulation but also ones relating to logistics and visibility.
There's always a tension between the need for central oversight/control and the varying needs of the individual hotels to act in their own interests to resolve issues or serve their specific customers.
A central record of contracts and agreed suppliers maintains visibility while offering the opportunity for cost control and consistency.
Through the careful use of access permissions, all parties throughout the business can be given the rights to view the relevant contracts for them and their level.
This means that management in a particular hotel not only have access to their list of approved suppliers but, if appropriate, the original contract.
A system like this removes the scope for employees to use lack of awareness as an excuse for going outside of the approved supplier pool, for example.
However, it can simultaneously make it less onerous for new suppliers to be added as required through the deployment of self-service portals, which will benefit all parties.
The scale and spread of hotel businesses doesn't just present communication challenges between individual hotels and central functions, but often within the same departments too.
Take the example of Legal, where a head office is likely to be supported by in-country team members as appropriate. Maintaining audit trails and version control for agreements can sometimes be challenging, not to mention multi-party redlines.
Again, this can be addressed by implementing a feature-rich contract management system such as Gatekeeper.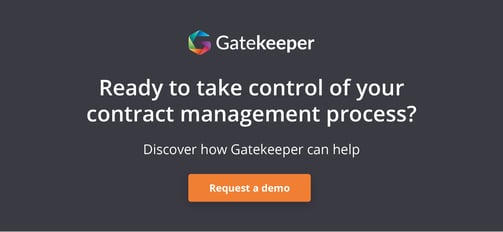 This extends to automated management of local compliance procedures, which can be run using bespoke workflows.
The size of some hotel businesses relative to internal resource such as Legal can also put a strain on staff as they seek to manage substantial workloads. Without automation and effective centralisation, there's little prospect of being able to maintain reliable records.
2. The variety of operating models
With all large groups having a different combination of Lease/Owner, HMAs and Franchise models across their portfolios, the variety of agreement types necessitates not only significant legal resource, but the strategic use of contract metadata.
This is vital to fully understand your business obligations right through from macro to micro-level
Having agreements categorised by different data points such as Operating Model, Location and Brand helps make quick aggregated sense of the data and also allows for rapid search and retrieval of specific contract documents.
A well deployed contract management system provides the tailored reporting necessary for strategic decision-making, whilst making it straightforward for all parties to access their relevant contract information.
3. Its acquisitive nature
The fluid nature of the industry sees acquisitions and rebrands occurring with regularity.
Making these acquisitions successful, particularly if they are being brought under an existing brand relies on being able to deploy standardised procedures effectively.
Contract and supplier management has a huge role to play here with determining existing contractual obligations and costs, ensuring compliance and utilising trusted suppliers to carry out new work where possible.
From the flip-side of the equation, the group or hotels being acquired can make that process easier by having meticulous, accessible records of all their contract agreements.
If acquisition is the desired outcome then having that information to hand with no surprises is the right way to go and makes for an efficient due diligence process.
Conclusion
Like all industries, hotels work to margins, with sophisticated pricing strategies being vital to turning a profit.
That said, optimising your contract and supplier universe can increase annual revenue by up to 9%. That doesn't require any more rooms to be sold or any more conferences to be booked, that value is already in the business just waiting to be released.
Contract and Vendor Management software helps release this value by:
Centralising the information you give to your internal teams such as Finance or Procurement, giving them the scope they need to optimise spend across the full contract and vendor set.
Automating processes - freeing up your trained legal specialists to focus on the work that adds value, rather than being highly paid admin assistants.
Providing delegated access to relevant contract information, which empowers employees at all levels to make optimal decisions.
Minimising contract and supplier risk. Recording compliance and obligations becomes straightforward and integrated into the process of signing new agreements.
If you'd like to hear more about how Gatekeeper helps its hotel customers optimise their operations, then get in touch today.