Featuring: 21 questions you need to ask to ensure you can automate your contract and supplier processes using workflows.
Choosing a contract management platform (CLM) can be a complicated process. It is rarely an 'apples for apples' comparison and requires some key steps within your business in advance of even reviewing potential solution providers, to increase the chances of a successful project.
Most companies are moving from the fragmented use of emails and spreadsheets and, quite rightly, they are often most focused on centralising their contract data. This allows them to finally get on top of renewals and start to provide the management reporting the business so badly needs.
The next stage for a company in maturing their contract management processes involves automating key business processes using workflows.
Most CLM solution providers have some form of workflow feature in place but this may not be given the same level of scrutiny in the buying process, as it has seemed more of a 'next phase' initiative.
Investing in a contract management platform that cannot automate your business processes can be an expensive mistake. When it comes to Workflows, not all are created equal - the devil really is in the detail.

Here at Gatekeeper, we experience this first hand with customers moving to our platform from other solutions. Whilst they were happy with the core functionality of storing their contract and supplier data, the solutions lacked the workflow sophistication needed to automate their business processes.
This is where the real return on investment (ROI) is unlocked and the business is finally freed of manual processes. Yet it is at this very same stage that companies often find themselves blocked from realising these savings from a lack of workflow functionality.
This often means moving, mid-term, to another contract management solution. This is a very expensive process, wasting valuable internal resources as well as all of the budget applied to the project, and can be avoided.

As a first time purchaser of a Contract Management Solution, understanding what is needed from the provider's workflow engine can be a difficult process.
All companies' requirements are different and require customised data to suit their industry and use-case. This data model is often only really understood when the contract data is centralised and then the gaps in functionality begin to show.
This can be as basic as not being able to customise the data model for each contract type separately (you don't need all the metadata against an MSA also shown against an NDA, as an example) but most often it is workflows where the real flaws are uncovered.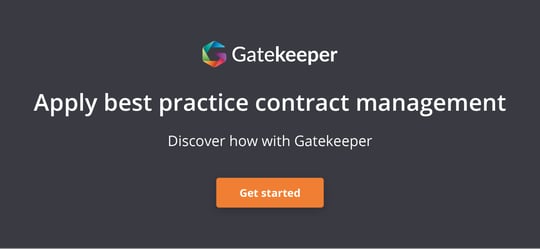 The 20 questions listed below will help you understand if your preferred solution can support you long term:
Workflow Triggers & Custom Data


Can you trigger a Workflow with any core or custom Contract data?

Example: Trigger Contract Type = 'MSA' + Contact End Date = 'Less than 3 months'

Can you combine data fields together to trigger workflows

Example: Trigger Contract Type = 'MSA' + Department = 'IT" + Value = '> $1m' + Contact End Date = 'Less than 3 months'

Can you trigger workflows for files that have expired, such as Insurance certificates?

Example: Trigger File Type = 'Insurance' + File Expiry Date = 'Less than 3 months'

Can any type of contract or supplier risk be mitigated using workflows?

Example: A drop in financial credit score triggers a mitigation workflow and notifies the compliance team

Approvals & Workflow Routing


Can you configure simple conditional routing?

Example: All contracts over $1m in value should be routed to the submitter's Team Manager and then the CEO for approval

Can you configure complex conditional routing?

Example: All contracts over $1m in the category 'IT' should be routed to the InfoSec team for approval and then the submitter's Team Manager and then the CEO for approval

Can you route workflows based on the management structure of the organisation automatically?

Example: Send this contract request to the requestor's manager.
Example: Send this contract request to the requestor's manager and their manager if the value is over $1m

Generating & Updating Contract Records


Can you generate Contract records from data within a workflow in a single click?

Example: Convert a Contract Request Form to a Contract Record without the need for data entry

Can you update contract records from a workflow with a single click?

Example: Manage contract variation workflows and update the Contract record

Can you clone a contract on a workflow?

Example: Manage a contract renewal workflow by generating a clone automatically linked to the previous archived contract record

User Permissions & Out of Office Management


Can you hide sensitive data from some users within a workflow?

Example: Hide all comments from the legal team from the rest of the workflow approvers

Can you delegate approvals to other users when key stakeholders are on leave?

Example: Delegate all approvals for 'Bob' to 'Lucy' between '1st-Feb-2020 to 14th-Feb-2020'

Are all of the steps in the workflow audited?

Example: All stages and any changes throughout the workflow are captured in a searchable audit log

Service Level Agreements (SLA) and Escalation


Can you set SLAs at each stage of the workflow to identify bottlenecks?

Example: Sales contracts over $1m should be in legal review for less than 5 business days

Can you escalate workflows if a user takes too long to perform a task?

Example: If a contract owner does not complete their review within 5 business days escalate to their manager

Advanced Configuration


Can multiple processes be combined into a single workflow?

Example: Onboard a supplier including NDA contract generation, eSignature and automated credit score

Can mandatory checklists be added to workflows to ensure offline processes are complete prior to any approval?

Example: Configure a list of mandatory questions with an audit log to ensure accountability throughout the process

Workflow Integration


Can you trigger a workflow from any third-party system and also update this data at the end of the workflow?

Example: An ERP (e.g. NetSuite, Dynamics, SAP) initiates a vendor review and the updated vendor record data is sent back to the ERP automatically

Best Practice Libraries and Implementation


Can you select from a library of best-practice templates to help build workflows?

Example: Build a contract renewal workflow with a single click from the library

What is the cost of additional workflows if not included in your implementation services and can I configure these workflows myself?

Example: Some providers can charge significant fees if you are unable to configure workflows easily and/or the service is not included within the implementation
Greater efficiency and reporting
Can you create parallel workflows?

Example: Can Procurement approve an agreement from their perspective while Legal are still reviewing it?

Can you provide workflow reporting?

Example: Can you provide data about about each of our process, including the average contracting time?

We hope you find these 20 questions useful. You can download these questions in Excel format to send to your preferred provider here.
Find out more information on Gatekeeper's industry-unique Kanban workflow engine or speak to one of our account executives to discuss a demonstration, today.
Should you need to move from another provider, don't worry, we have you covered - just book a call to get started.